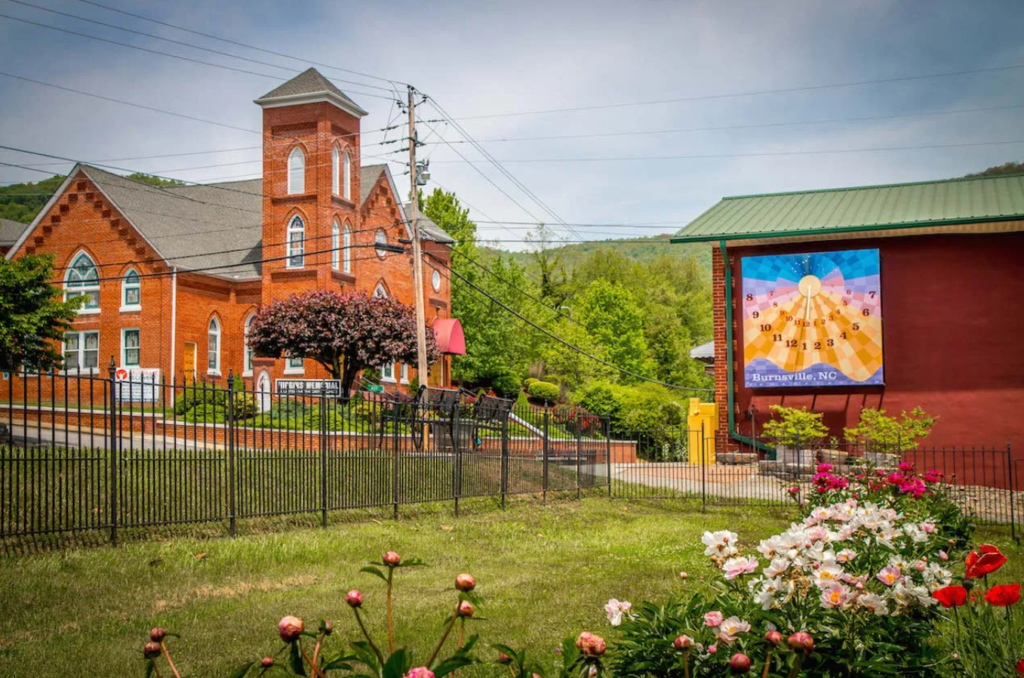 Burnsville is found in Yancy County and it's known as "The Gateway to Mount Mitchell." Mt. Mitchell has the highest peak found to the east of the Mississippi River. It's also part of a state park, which is found just off Blue Ridge Parkway. Thousands come to visit this state park every year due to the incredible mountain with an elevation of 6,684 feet.
The city itself is small, but covers about 32,000 acres with a very rural and mountainous feel. The scenery is incredible and wildlife is found all throughout. Blue Ridge Parkway is found here, as well, which is one of the most scenic highways in the entire country.
Burnsville, NC
A town with a population of 1,693 back in 2010, Burnsville was founded back in 1834. It's home to the Nu-Wray Inn, which was built in 1833 and stands as one of the oldest area buildings. Another older building found here is the Parkway Playhouse, which was started in 1947 and stands as the oldest continually operating summer stock theater company.
In addition, visitors and residents will enjoy the John Wesley McElroy House dating back to the 1830s. Of course, Mt. Mitchell is the main reason people come to Burnsville.
Living in Burnsville offers a slower-paced lifestyle with a wonderful mountain feel. Many of the homes are found close to Mt. Mitchell and endless outdoor recreational opportunities are provided including biking, hiking, whitewater rafting and so much more. The real estate throughout the town is quite different than what you will find in other areas of Western North Carolina.
The location makes Burnsville desirable with Asheville just 35 miles away. Johnson City in Tennessee is also just 50 miles from the town.
Yancey County
In 20120, Yancey County had a population of 17,818 residents. The county was founded in 1833 and Burnsville is the only town found within it. Many other townships and unincorporated communities are found here, however.
Mountain traditions certainly run deep all throughout the county. However, many modern changes have happened recently. The main highway, US 19E was expanded to four lanes in 2012, which makes it easier to get to and from the area. Yancey also stopped being a dry county in 2010.
Celo, which is one of the most unique communities in the area, is also found in Yancey County. Here about 40 families, predominantly Quaker, live based on ideals of cooperation between residents and care for the natural environment. They also run the Arthur Morgan School, which is known as a progressive middle school with a Montessori educational approach and Quaker values.
Tennessee borders Yancey County to the north and a portion of the Appalachian Trail makes up the southern border. Its close proximity to Tennessee and Asheville makes this area of Western North Carolina very desirable.
Living in Burnsville and Yancey County
Those looking for a mountain retreat will enjoy the properties found throughout Burnsville and Yancey County. It's a beautiful area with plenty to offer for those relocating, retiring, or looking for a second home. With beautiful mountain views, plenty of outdoor activities, and a location close to Asheville and Tennessee, it's a great place to call home.
Search for Burnsville real estate, or contact the experts at Altamont Property Group for more information on the Burnsville and Yancey County areas and real estate at 828-782-5582 or altamontpropertygroup@gmail.com.