Lake Lure and Rutherford County are known for their incredible views, amazing landscape and the Blue Ridge Foothills. Of course, you may have heard of Rutherford Country from Dirty Dancing, too. This area found in Western North Carolina is found between Asheville and Charlotte. Spartanburg is just an hour to the north, which gives residents plenty of attractions to enjoy just a short drive away.
Plenty of outdoor adventures, charming towns, incredible landmarks, and driving tours are found all throughout. Explore to your heart's content and discover something new around just about every corner.
Rutherford County
While Rutherford County is one of the most popular vacation destinations in Western North Carolina, many do call this area home. It's filled with natural wonders, incredible views, and amazing waterways. The mountains and foothills make this a special place with plenty of privacy offered all throughout.
The county is home to a number of small towns, such as Lake Lure, Forest City, Spindale and Rutherfordton. Many come here for the slower pace, friendly residents, and less stress. It's a place to get away and enjoy great resort towns, such as Lake Lure and Chimney Rock Village.
Offering convenience to many of the larger cities in this area of the state, Rutherford County has become a top choice for new residents and travelers of all kinds. Enjoy plenty of luxury and comfort throughout with upscale communities, all kinds of amenities and so much more. Rutherford County is a great place to call home when you retire or before. It's also an excellent spot for our vacation home.
Lake Lure
Found in the foothills of the Blue Ridge Mountains, Lake Lure is one of the most incredible man-made lakes in the entire country. It's located 27 miles from Asheville and sits on the Hickory Nut Gorge. Beautiful mountains and granite cliffs surround the area. You can easily look up and enjoy Chimney Rock from Lake Lure, as well.
This incredible area has been featured in scenes from Dirty Dancing, The Last of the Mohicans, Firestarter, Thunder Road, Forest Gump and A Breed Apart. It's also known for the Dirty Dancing Festival held every year.
Living in Lake Lure means you can enjoy the beautiful boardwalk and the Flowering Bridge. It's also close enough to enjoy shopping and dining in the village of Chimney Rock. Many private homes surround the lake, while others are found throughout the community, as well.
There's plenty to do throughout Lake Lure with all kinds of tours, a beautiful beach area, the Rumbling Bald Trail, the Morse Park & Greenway, the Lake Lure Golf Course and so much more. This is a top destination for those looking to enjoy hiking or biking.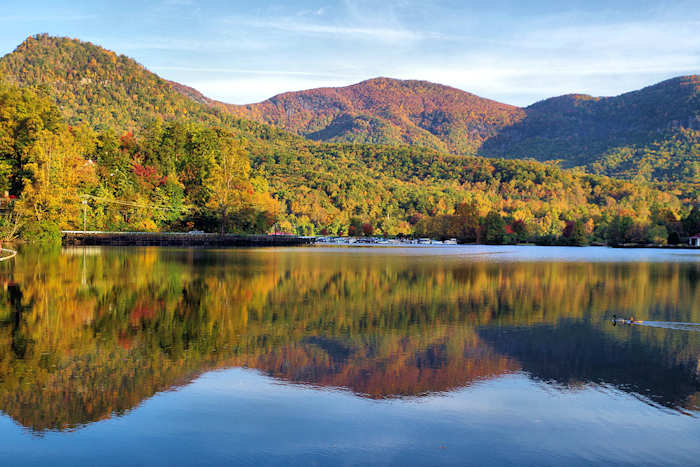 Living in Lake Lure and Rutherford County
Whether you choose to call Lake Lure home all year or just part of the year, you'll love the time you spend here. It's truly a peaceful place with so much to offer. Rutherford County also offers many other small towns and destinations to call home. With a location close enough to enjoy Asheville, yet far enough away for privacy, this area of Western North Carolina is one you have to see to believe.
Search for Lake Lure & Rutherford County real estate, or contact the experts at Altamont Property Group for more information on the Lake Lure and Rutherford County areas and real estate at 828-782-5582 or altamontpropertygroup@gmail.com.