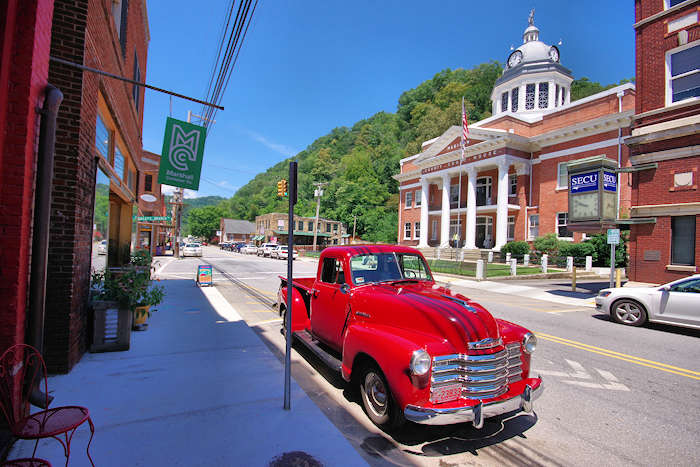 Marshall is located in Madison County as a township in the county. The county itself is a part of the Asheville Metro area and Marshall is the county seat. Madison County has a population of nearly 21,000 residents and was named for President James Madison. The county has also earned the nickname, "The Jewel of the Blue Ridge Mountains."
A Closer Look at Madison County
Found just 20 minutes from Asheville, Madison County is most known for the 55,000 acres of amazing National Forests and the third oldest river in the entire world, French Broad. The musical history combined with the outdoor recreation has made Madison County one of the top places for those seeking adventure. In addition, the county is home to natural hot springs.
There are plenty of things to do throughout Madison County. Numerous events go on all throughout the year. In addition, the area is home to great shopping, golfing, and plenty of good restaurants. Those looking to get outside and enjoy the outdoors will love the horseback riding, hiking, mountain biking, skiing, whitewater rafting, ziplining, and other outdoor activities offered.
A Closer Look at Marshall
Marshall is known for the historic downtown area found on the French Broad River. The town is set between rocky cliffs and the river with plenty of incredible views. Main Street is lined with historic buildings, such as the 100-year-old courthouse. Galleries, shops, a coffee shop, and even a brewery are also found here. The sound of bluegrass music is not uncommon around these parts!
The French Broad Friday Series is one of the events held throughout the year in Marshall. This event provides plenty of themed activities galleries and restaurants staying open and great music. In addition, the township is home to the Art on the Island Festival, which is held in the fall. This festival is held on Blannahasset Island and includes plenty of artists and live music. This quaint and quirky small town even holds an annual mermaid parade and festival!
Many buildings in Marshall are listed on the National Register of Historic Places, including:
James H. White House
Jeff White House
Capitola Manufacturing Company
Madison County Courthouse
Marshall High School
Company Cotton Yarn Mill
In addition, the Bank of French Broad and the Marshall Main Street Historic District are listed on the National Register of Historic Places.
Blannahassett Island is one of the most popular areas and it is located just over a bridge across from downtown Marshall. This island offers great fishing, picnic areas and the restored Marshall High Studios, a former school that was renovated and now houses numerous artist studios and galleries.
Living in Marshall or Madison County
Choosing to call Marshall home means you'll get to enjoy the charm of a small town with Asheville just 20 minutes away. Some people even say that Marshall is a town that captures the spirit of Asheville but in a smaller body. It's certain that Madison County gives you easy access to Asheville and allows for a slower pace of life with plenty of areas offering incredible views. If you're looking for a naturally beautiful place to call home, choosing Marshall or Madison County will provide just what you've been searching for.
Search for Marshall real estate, or contact the experts at Altamont Property Group for more information on Marshall and Madison County real estate at 828-782-5582 or altamontpropertygroup@gmail.com.