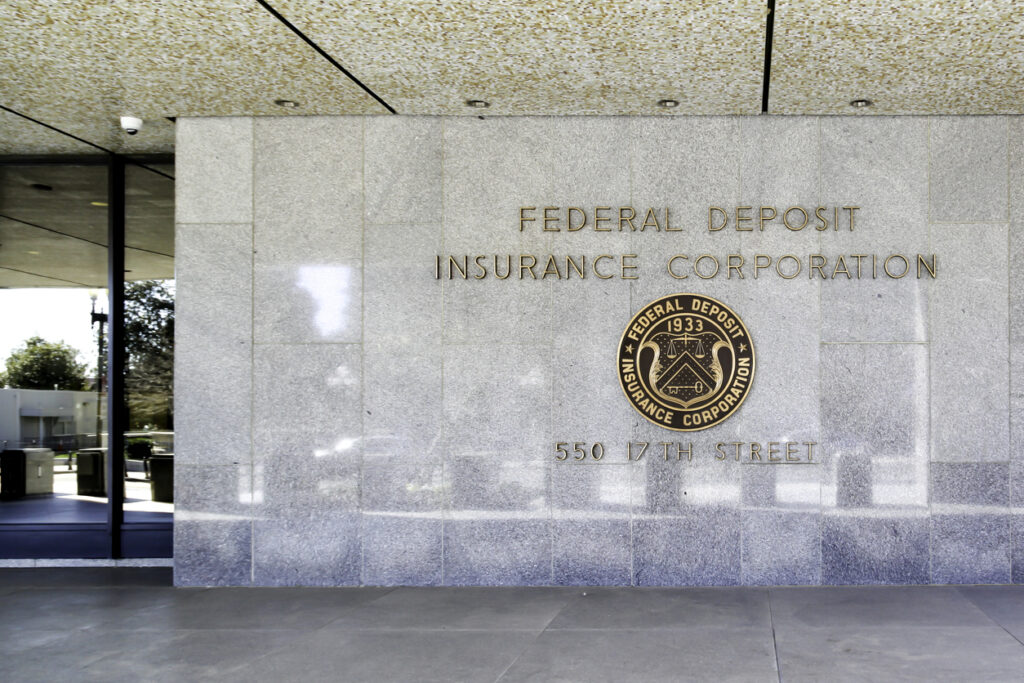 What is the FDIC?
The Federal Deposit Insurance Corporation (FDIC) is an independent agency of the federal government that was created in 1933 in response to the widespread bank failures that occurred during the Great Depression. The FDIC's primary mission is to protect depositors and promote stability in the banking system. It does this by insuring deposits at FDIC-insured banks up to certain limits, which gives depositors confidence that their money is safe even if their bank fails. The FDIC also supervises and regulates banks to ensure they operate in a safe and sound manner, and it provides resources and support to help banks and consumers navigate financial crises. Today, the FDIC insures deposits at more than 5,000 banks and savings associations across the United States, covering trillions of dollars in deposits.
FDIC Deposit Insurance – The Symbol of Safety and Security
Since the creation of the FDIC in 1933, its seal has been a symbol of trust, safety, and security for the financial institutions of the United States. With FDIC deposit insurance, customers can confidently place their money in thousands of FDIC-insured banks across the country. This insurance is backed by the full faith and credit of the US government, giving depositors peace of mind.
What FDIC Covers
To be covered by FDIC insurance, two factors must be considered: whether the chosen financial product is a deposit product and whether the bank is FDIC-insured. The FDIC covers a range of deposit accounts, such as checking, savings, and money market accounts, as well as time deposits, such as certificates of deposit (CDs). Additionally, the FDIC covers cashier's checks, money orders, and other official items issued by a bank.
What FDIC Does Not Cover
However, it's important to note that the FDIC does not cover certain types of investments, such as stocks, bonds, mutual funds, and crypto assets, among others. The FDIC also doesn't cover safe deposit boxes or their contents, life insurance policies, annuities, or municipal securities. U.S. Treasury bills, bonds, and notes are not covered by the FDIC, but they are backed by the full faith and credit of the US government.
How to Get FDIC Coverage
Depositors don't need to apply for FDIC insurance; it's automatic whenever they open a deposit account at an FDIC-insured bank. If customers are interested in FDIC deposit insurance coverage, they just need to make sure that their funds are in a deposit product at the bank.
Coverage Limits
The standard insurance amount is $250,000 per depositor, per insured bank, for each account ownership category. The FDIC provides separate coverage for deposits held in different account ownership categories, which means that depositors may qualify for coverage over $250,000 if they have funds in different ownership categories and all FDIC requirements are met. All deposits that a customer has in the same ownership category at the same bank are added together and insured up to the standard insurance amount.
Bank Failure and FDIC's Role
In the unlikely event of a bank failure, the FDIC acts quickly to ensure that depositors get prompt access to their insured deposits. A bank failure occurs when a federal or state banking regulatory agency closes a bank due to its inability to meet its obligations to depositors and others. The FDIC covers the balance of each depositor's account, dollar-for-dollar, up to the insurance limit, including principal and any accrued interest through the date of the insured bank's closing.
The FDIC acts in two capacities following a bank failure: as the insurer of the bank's deposits, paying deposit insurance to the depositors up to the insurance limit, and as the receiver of the failed bank, assuming the task of collecting and selling the assets of the failed bank and settling its debts, including claims for deposits in excess of the insured limit.
The Importance of FDIC Deposit Insurance for Consumer Confidence
FDIC deposit insurance is a valuable safeguard for depositors at FDIC-insured banks. It provides peace of mind by protecting their deposit accounts, up to the insurance limit, in case of bank failure. It's important to understand what is and isn't covered by FDIC insurance and to make sure that funds are placed in a deposit product at an FDIC-insured bank.
Do you have over $250,000 in an account at an FDIC-insured bank?
In the wake of recent bank failures, it's important for depositors to evaluate their banking relationships and the amounts they have in each account. If a depositor has over $250,000 in an account at an FDIC-insured bank, it may be a good idea to open up a new account(s) at another FDIC-insured bank(s) to be at or below the $250,000 threshold in each account. This helps the depositor to spread their risk across multiple banks in the event of a bank default.
Questions?
We recommend reaching out to your bank to discuss the FDIC protections they have in place for their banking clients. Speaking to your financial advisor is also a good idea to get their take on how you can invest and protect your wealth. And of course, please reach out to our Altamont Property Group team to discuss how real estate can play a beneficial role in your family housing and investment strategies over the long term. We are glad to advise!

Altamont Property Group
828-782-5582
altamontpropertygroup@altamont-property-group
Learn More About Bank Crises and the FDIC