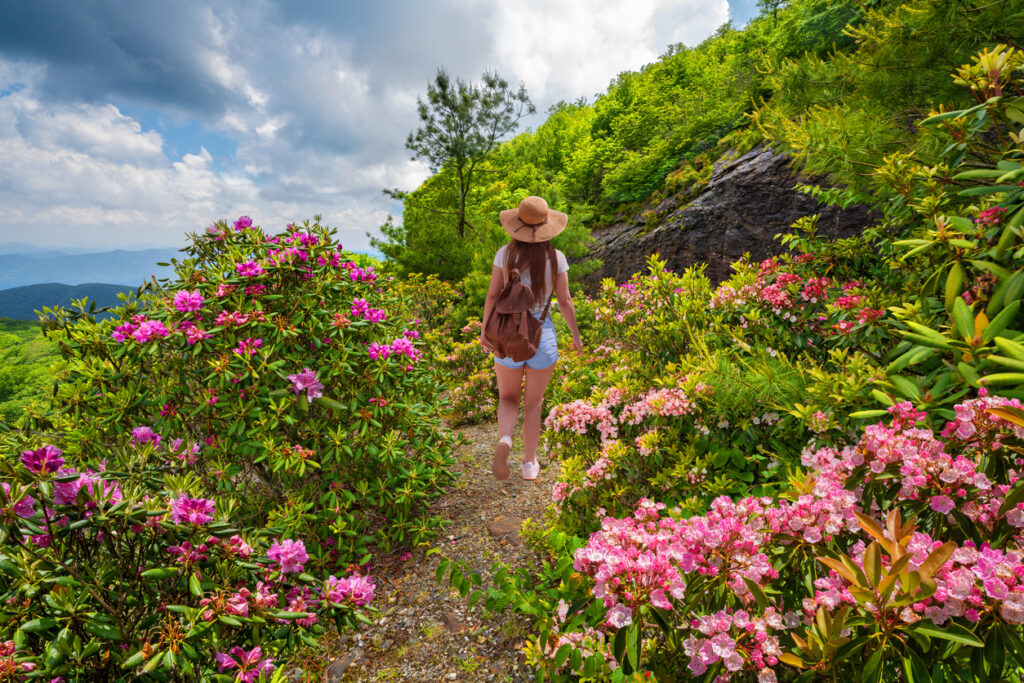 Connecting with the natural world is one of the most wonderful parts of living in Western North Carolina. These are some of our favorite hikes for spring in and around Asheville. Stay tuned for our favorite hikes for summer, fall, and winter, although most if not all of these hikes are amazing year-round! Happy forest bathing!
North Carolina Arboretum – North Carolina Arboretum offers more than 10 miles of hiking trails that connect to many other area attractions such as Lake Powhatan, Pisgah National Forest and the Blue Ridge Parkway. Visitors of all ages and abilities can enjoy their hiking experience at the Arboretum, as trail options include easy, moderate, and difficult challenge levels. The garden is handicapped accessible and wheelchairs are available.
Biltmore Estate Trails – Although perhaps not widely known, Biltmore, America's largest privately-owned home, also offers 22 miles of trails on its grounds. From leisurely strolls to intense workouts, the trails encompass a variety of routes that can be tailored to each skill level and offer incredible natural surroundings in every season.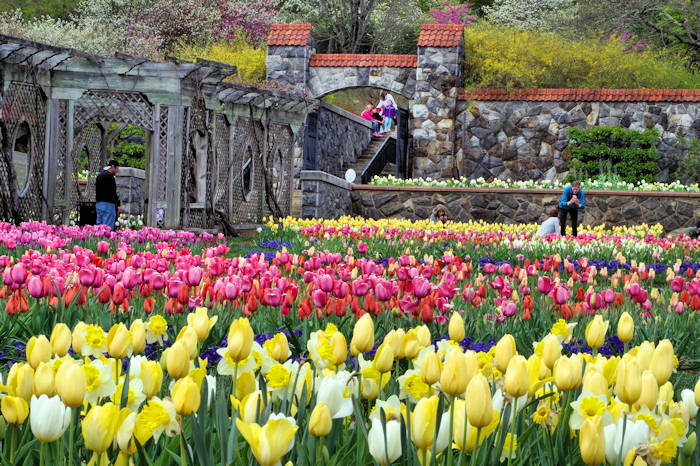 Pink Beds – Pink Beds is one of our favorite hikes to recommend during spring! This trail is a gorgeous, nearly-level 5-mile loop near the Cradle of Forestry in Brevard's Pisgah National Forest. Known for its springtime array of brilliant pink blooms, abundant wildflowers, streams, numerous bogs (rare in the area!), and beaver-dammed ponds, Pink Beds is a highly accessible hike for the family.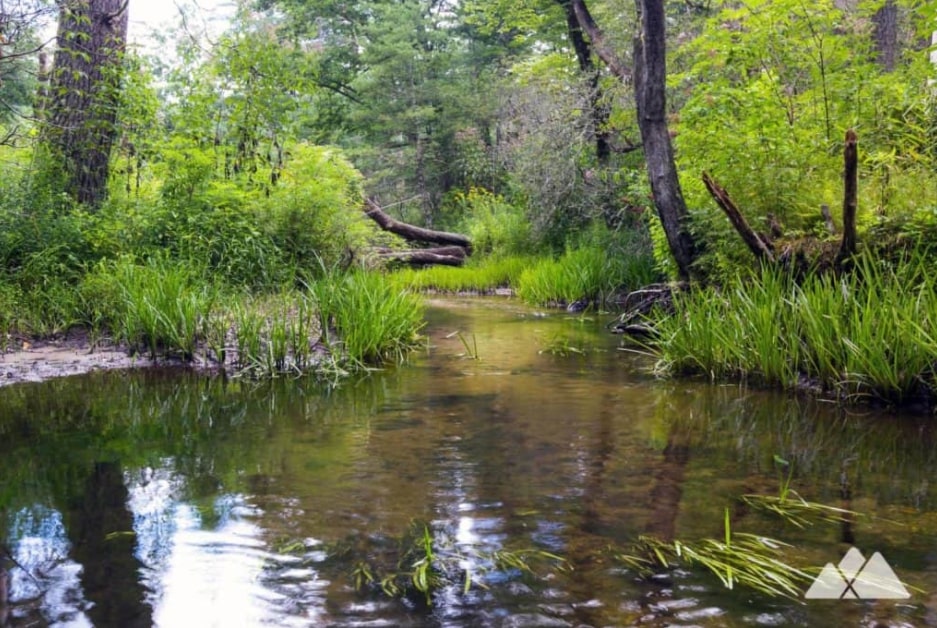 Carvers Gap to Roan Mountain – Hike to Roan High Knob on the Appalachian Trail from Carvers Gap, climbing through a mossy, fir-filled forest to beautiful mountain views at one of the highest elevation areas in the Eastern US. This 4.5-mile hike is an exceptional, sunny hike promising incredible vistas. The rhododendron blooms on display in this area are world-class! The display typically occurs in June.
Mountains-to-Sea Trail at Craven Gap – Along the Blue Ridge Parkway, you can jump on a section of the Mountains-to-Sea Trail for an excellent family-friendly hike. This 4.8-mile hike is a great way to enjoy mountain scenery on a trail that many of our locals walk or run, as it is very close to Asheville's residential areas. While there are not views along the way, you'll get an excellent feel for being in the Western NC mountains on one of the flattest mountain sections of the Mountains-to-Sea-Trail; you should still, however, be prepared for some small climbs and short downhills.
Grandfather Mountain – Grandfather Mountain is a place of amazing biodiversity and scenic beauty that towers 5,946 feet above northwest North Carolina. The mountain is estimated to be 300 million years old — with certain rock formations dating back 1.2 billion years. Guests to the park pay admission, and are able to enjoy a variety of activities, such as native wildlife exhibits, the Wilson Center for Nature Discovery, hiking trails and the famous Mile High Swinging Bridge. Numerous hiking trails offer options and lengths for all fitness levels, offering the potential for everything from gentle forests and meadows to atop rugged peaks accessed by ladders and cables.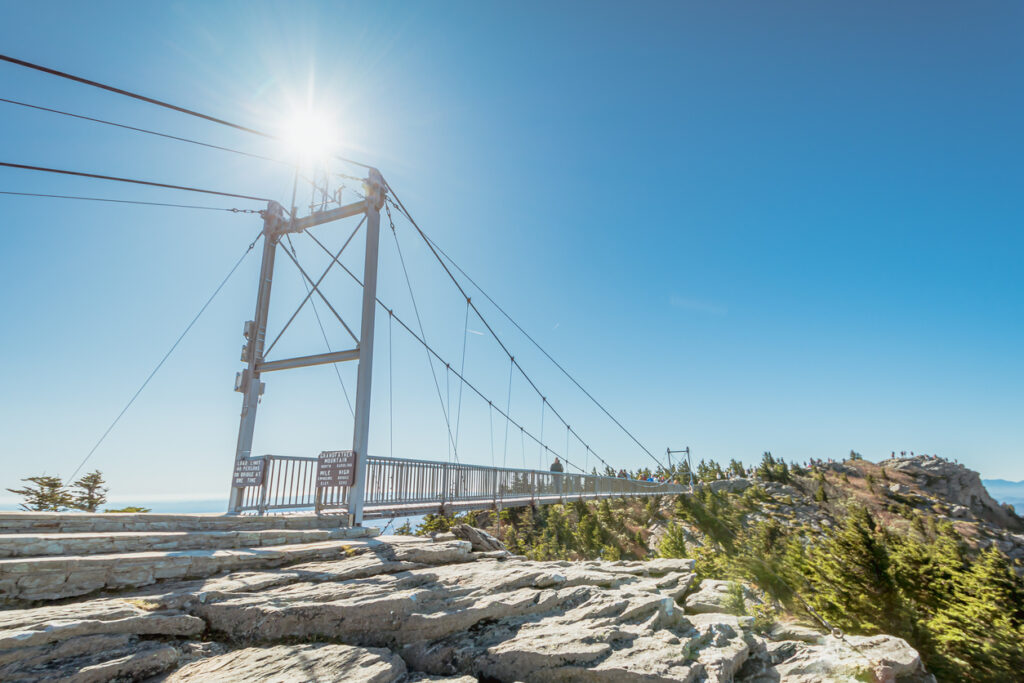 Craggy Gardens – If there's one classic trail that every tourist should set foot on at least once when visiting the Asheville area, it's arguably found at Craggy Gardens. Craggy Pinnacle trail is 1.5 miles round trip and simply iconic! As a bonus, this spot is located only about 30 minutes from downtown Asheville. The moderate hike winds through a magical rhododendron thicket and the pinnacle leads to stunning 360 degree views. Keep in mind that mist in the mountains is fairly common, so occasionally the view is obstructed, although the weather can change quickly and lead to views if you're patient. Also, temperatures at this elevation can be cooler than in the city, so you'll want to wear layers. This is a popular spot for sunset, and for spring and fall hikes. The spring Rhododendron blooms are spectacular!
Sam Knob – Sam Knob is a towering mountain just off the Blue Ridge Parkway that tops out at just over 6,000 feet. The mountain's high elevation summit comes after a relatively short hike that progresses from meadow to forest to rock. From the top, you can enjoy stunning views of neighboring peaks along the parkway and in Pisgah National Forest. Try this one at sunset and you can take in the colors of an end to a beautiful day in North Carolina, and then hike out along the same trail to finish your 2.5-mile hike.
Wildcat Rock – The 3-mile Wildcat Rock Trail climbs about 1,800 feet in elevation, taking you to a 100-foot waterfall, rock climbing area, towering cliffs, and a panoramic lookout point from Wildcat Rock. Enjoy awesome views and a heart-pumping ascent on this beautiful trail.
Bonus! Not one but three amazing waterfall hikes:

Rainbow Falls – This 3-mile, moderate hike will lead you to a beautiful 150-foot waterfall in Cashier's Gorges State Park. Expect a downhill hike that will take you to a wooden platform viewing area, and a return journey that is all uphill. If you want to extend this hike, you can add on just an extra half-mile (round trip) to view Stairway Falls.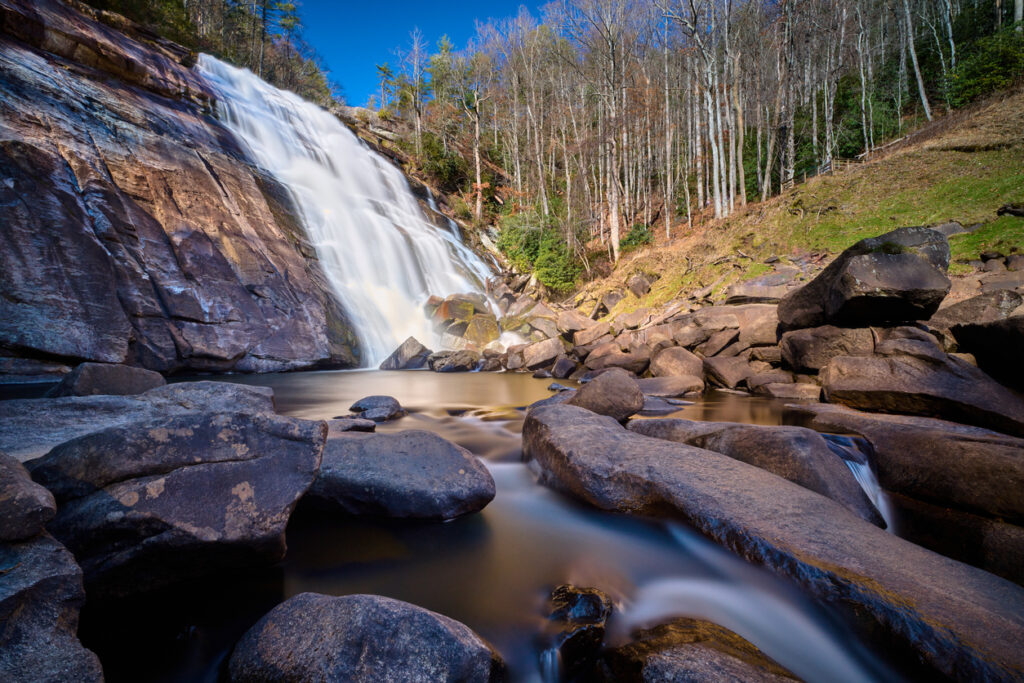 Douglas Falls – This 6.6-mile moderate hike to a 70-foot waterfall cascading over a cliff creates a rare treat of walking behind the falls. While the water flow is usually on the low side (except after a big rain), it's a beautiful setting and an easy hike in the Big Ivy area of Pisgah National Forest. If you decide to walk behind the waterfall, use extreme caution as the wet rocks can be slippery.

Schoolhouse Falls – Nestled in gorgeous Panthertown Valley, known as "Yosemite of the East" Schoolhouse Falls is undoubtedly the most popular of the area's scenic waterfalls. This is likely due to the relatively moderate hike and the stunning scenery along the way. The under 3-mile adventure promises the reward of a lovely waterfall that many walk behind (prepare to get splashed!), plus a refreshing pool perfect for an invigorating dip in cool mountain waters. Although the 20-foot waterfall is certainly not the tallest in Western NC, its surroundings and pool perfect for wading and swimming absolutely make up for it.