Western North Carolina is known for having some of the best hiking and outdoor recreation in the country. If you've come to Asheville to hike, you'll find dozens upon dozens of options for all skill levels and abilities. To narrow these down to some of the best trailheads close to Asheville, we've compiled this list of 10 major trails you can find close to our mountain city.
Bent Creek Experimental Forest
Bent Creek, popular with hikers and mountain bikers alike, is located at the northern tip of the Pisgah Ranger District of Pisgah National Forest and 15 minutes from downtown Asheville. This area draws everyone from families to experienced hikers and bikers, and is located adjacent to The North Carolina Arboretum, which makes it easy to pair the two areas together in one day. Trails range from easy to more difficult options, and some even allow for long distance hikes all the way to the Mills River or Davidson River areas down south.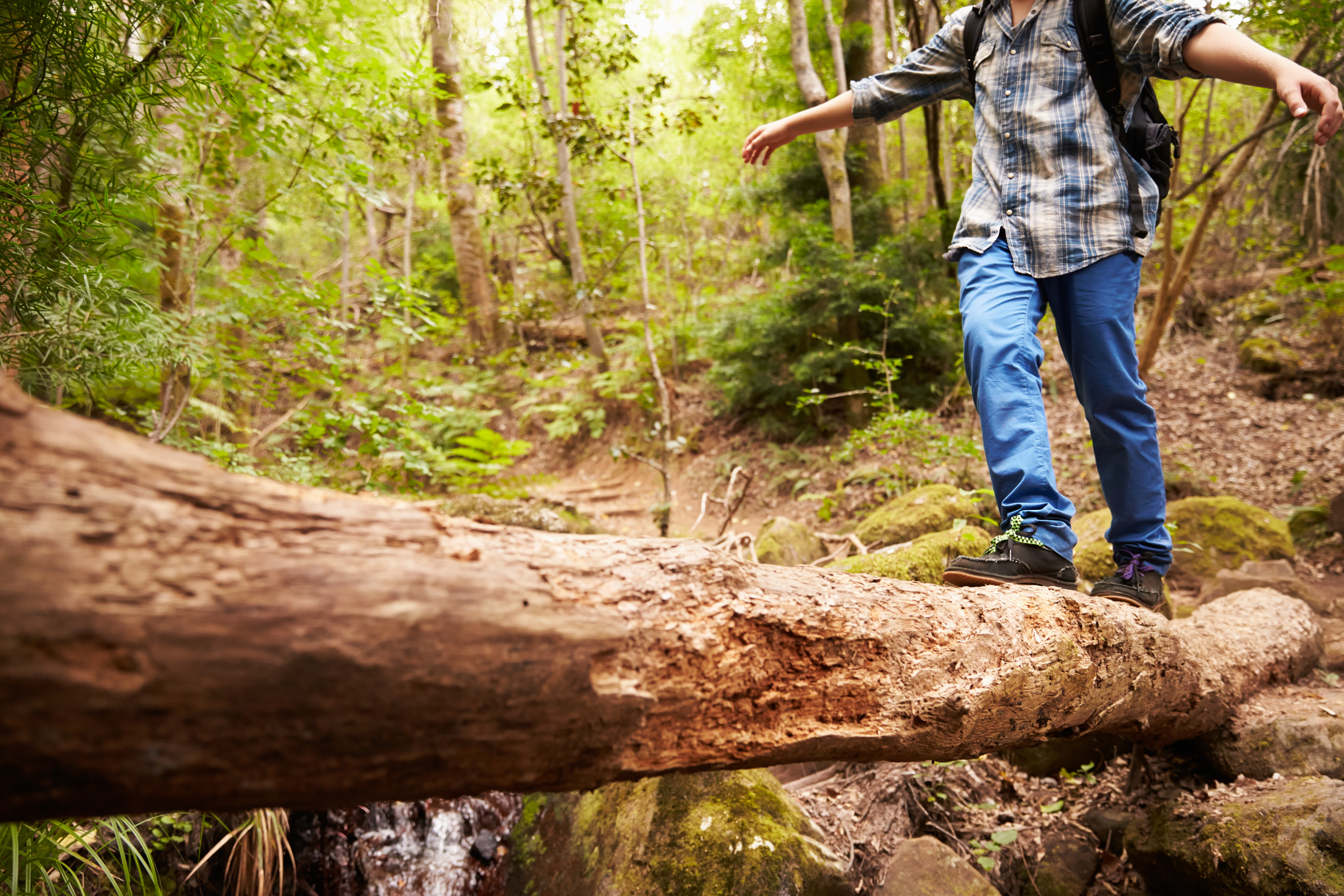 Craggy Gardens
If there's one iconic trail that every tourist should set foot on at least once when visiting the Asheville area, it's arguably found at Craggy Gardens. As a bonus, this spot is located only about 30 minutes from downtown Asheville. The moderate hike winds through a magical rhododendron thicket and the pinnacle leads to stunning 360 degree views. Keep in mind that mist in the mountains is fairly common, so occasionally the view is obstructed, although the weather can change quickly and lead to views if you're patient. Also, temperatures at this elevation can be cooler than in the city, so you'll want to wear layers. This is a popular spot for sunset, and for spring and fall hikes.
Catawba Falls
Catawba Falls is a wonderful option for a hike for the whole family, and offers a big reward at the end with its over 100-foot-tall waterfall. Just east of the city near Old Fort, Catawba Falls was once an off-limits historic area but now offers public access to its forested trail and impressive cascades. While the trail can be wet and muddy after a rain, it's considered fairly easy, with a generally flat trail and only one occasion that calls for an easy rock-hop creek crossing. This hike also offers a parking lot and restrooms at the trailhead.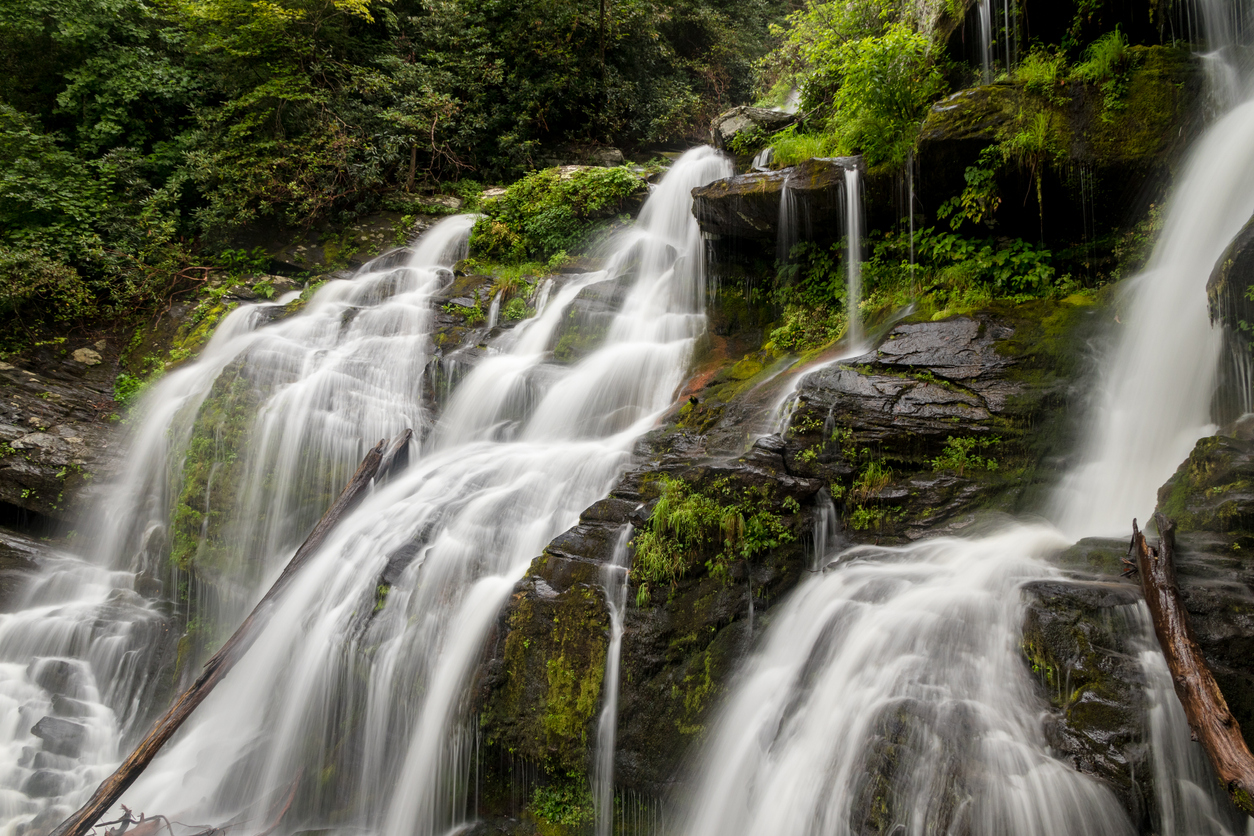 Laurel River
A flat hike in the mountains–couldn't be possible, right? At Laurel River Trail near Hot Springs, it is! That's thanks to the fact that this is a former rail-bed trail. Now visitors and locals alike enjoy the beautiful woodlands and gorgeous Big Laurel Creek, rife with swimming holes. Boulders along the banks make perfect picnic spots, and during the warmer months you'll find lots of families swimming and floating in the crisp mountain waters. While the trail is somewhat rocky and laced with tree roots, there are no steep sections. Pair this one with a trip into the town of Hot Springs for an idyllic Western North Carolina day.
North Mills River
The North Mills River area offers numerous trails, including Bear Branch, Bad Fork, Trace Ridge, and North Mills River itself. Close to South Asheville and offering a dense, more accessible network of trails than the adjacent South Mills River area, some trails here also interconnect between Bent Creek and the Davidson River networks, making overnight backpacking trips possible. Mills River has the largest number of trails in any of the National Forest districts in Western North Carolina.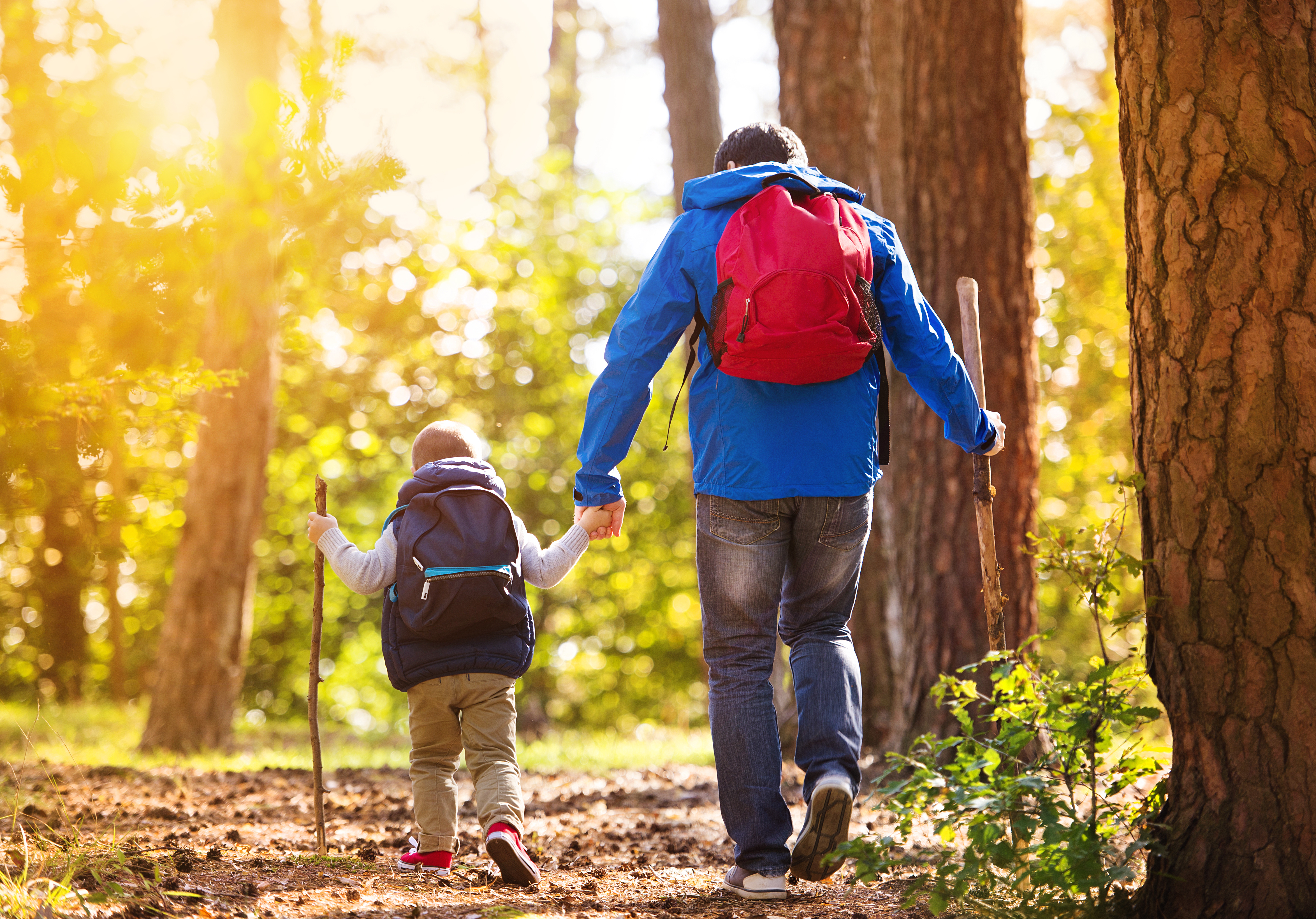 Montreat
Montreat is located at the foot of the Black Mountains, east of Asheville. The trail network here ranges from easy to difficult, and suburban environments to wild-looking vistas. Much of the area is protected under a conservation easement, which permanently protects the area from development. The topography is generally rugged, a basin surrounded by steep ridges. Some nice hikes in the area include Graybeard Mountain, Lower Piney, Lookout, and the Gate trail. There's sure to be something here for all skill levels, and the nearby downtown of Black Mountain is just a couple miles away and is a great place to stop if you come off the trail ready for a hot meal!
Rattlesnake Lodge
The Rattlesnake Lodge trail is another great option for those who don't have a lot of driving time! Located close to Asheville, this hike leads you to the ruins of a historic early 1900s lodge that burned in 1926. The moderate, well-maintained path is part of the Mountains to Sea Trail and features switchbacks, rock outcroppings, the remains of an old spring house, and a beautiful forest setting. For those who want more time outside, it's possible to continue hiking beyond the lodge to its old reservoir, adding one mile to your journey.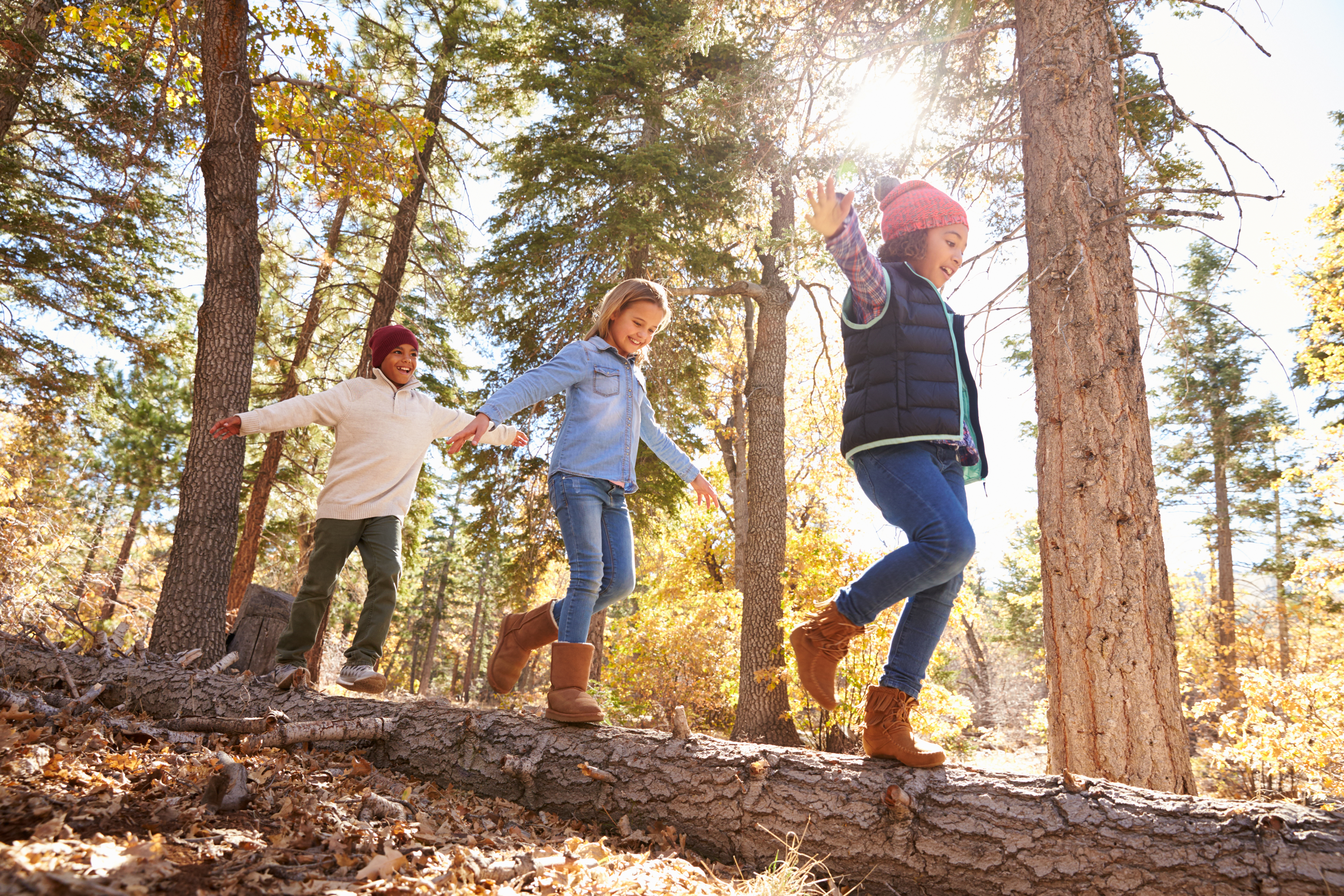 Big Ivy
Many folks looking for trails close to Asheville overlook Big Ivy, assuming the Barnardsville area is just a little too far out of town. In truth, this trailhead area actually makes a great and convenient place to hike in the Asheville area. Trails range in difficulty and include all the beautiful scenery that makes Western North Carolina so appealing. Trails in this area also tend to be quieter and less trafficked than many other favorites in the region, which can be a nice change of pace. For those interested in waterfalls, Douglas Falls is a beautiful moderate hike in Big Ivy that leads to a majestic grand finale.
Turkeypen Gap
If you're into longer, more challenging hikes, the Turkeypen Gap trail in Mills River is an excellent option. This is one of the more challenging trails in the Pisgah area but is also one of the most beautiful. Turkeypen Gap travels up and down various knobs across a ridgeline and is very steep in places. You'll enjoy a beautiful forest, which makes this a perfect hike during fall, although it's enjoyed by visitors and locals year round. It's also possible to connect with trails in the Davidson River area if you want to take your fun even further.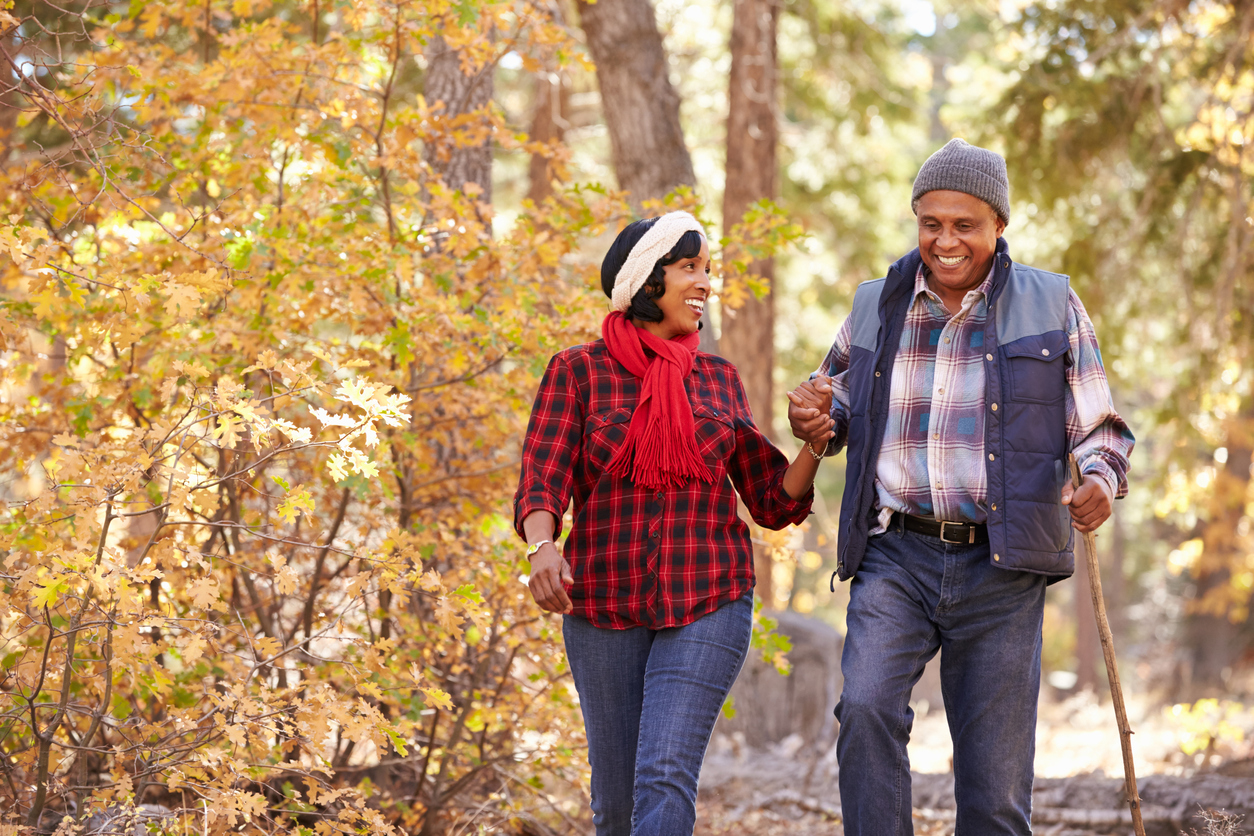 Davidson River
The Davidson River area is one of the most popular places for outdoor recreation in Pisgah National Forest. You'll find hiking, mountain biking, rock climbing, and fishing enthusiasts enjoying all this watershed area has to offer. Since it is one of the first stops you encounter by car when entering Pisgah in the town of Brevard, just one mile inside the entrance, it's a good choice for those who want to get out on the trail but not take too much drive time to get there. It's possible to connect to other trails like those in Mills River, Bent Creek, or Turkeypen Gap to enjoy a backpacking trip.