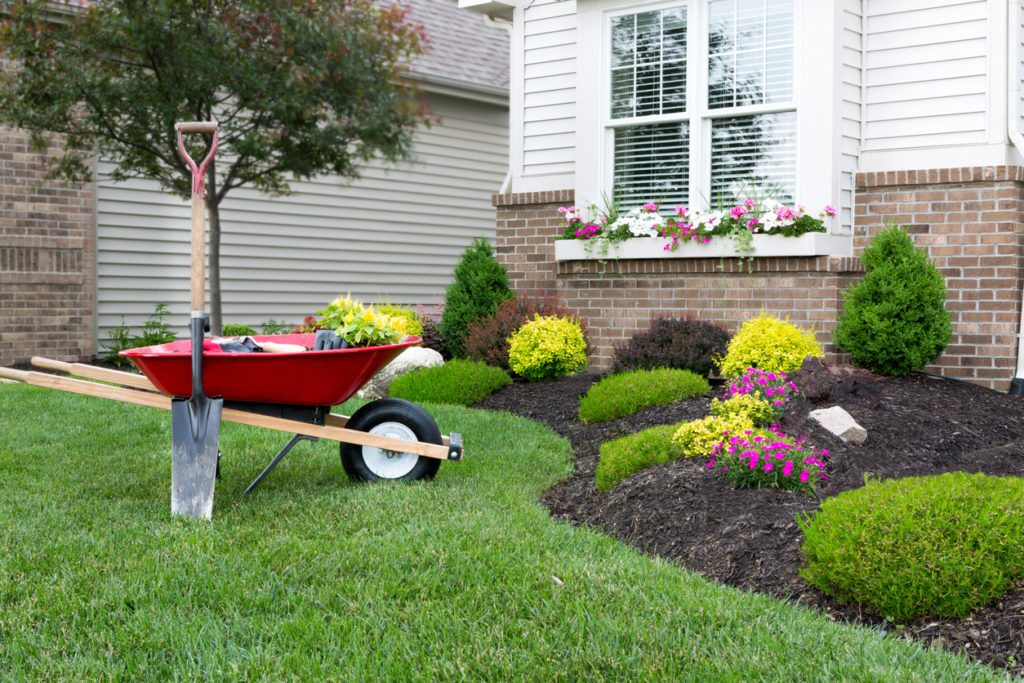 Now that the warm weather is making its appearance, we get the itch to clean and refresh our homes for Spring! Whether you're listing your home or settling in for the season, here are some tips for improving your home's curb appeal this Spring:
1. Make Your Front Door Stand Out: Add a Pop of Color
Updating the paint color to your front door is a great way to draw attention and create a warm entryway to your home. Bright hues are on trend this season– aqua blue and canary yellow are among our favorites! If your home is more traditional and doesn't lend itself to this bold update, check out our next tip.
2. Refresh Your Foliage
Planting fresh flowers or greenery at your entryway is one of those tried-and-true ways to freshen up your doorway. Remember to choose plants based on the amount of sun they'll receive at your doorstep. We love fresh florals in the springtime, but traditional choices like boston fern and kimberly queen fern will last all season!
3. Get a Head Start on Gardening
Now is the time to get in the garden and prep for warmer weather! Make sure to pull weeds now to avoid letting them get out of hand. Shrubs and trees can be pruned, and perennials need their spent foliage removed to make way for new spouts. Add mulch where needed to ensure that garden beds are able to make the most of spring rains, which leads us to our next tip…
4. Clean those Gutters!
Make sure that gutters and drains are cleared of debris from winter. Spring showers are sure to come, so maintain your home's drainways by making a clear path for stormwater. Add rain barrels now to collect nature's most precious resource and distribute it throughout the landscape.
5. Repair Siding, Fences, and Porches
Time takes its toll on fences, siding and wooden porches. Spring is the best time to repair fences before warmer weather brings plants that overgrow, making the task more difficult. Repairing siding ensures that your home stays sealed from unwanted pests. Lastly, repair any damaged boards on porches to maintain safety for yourself and others who are entering and exiting your home.