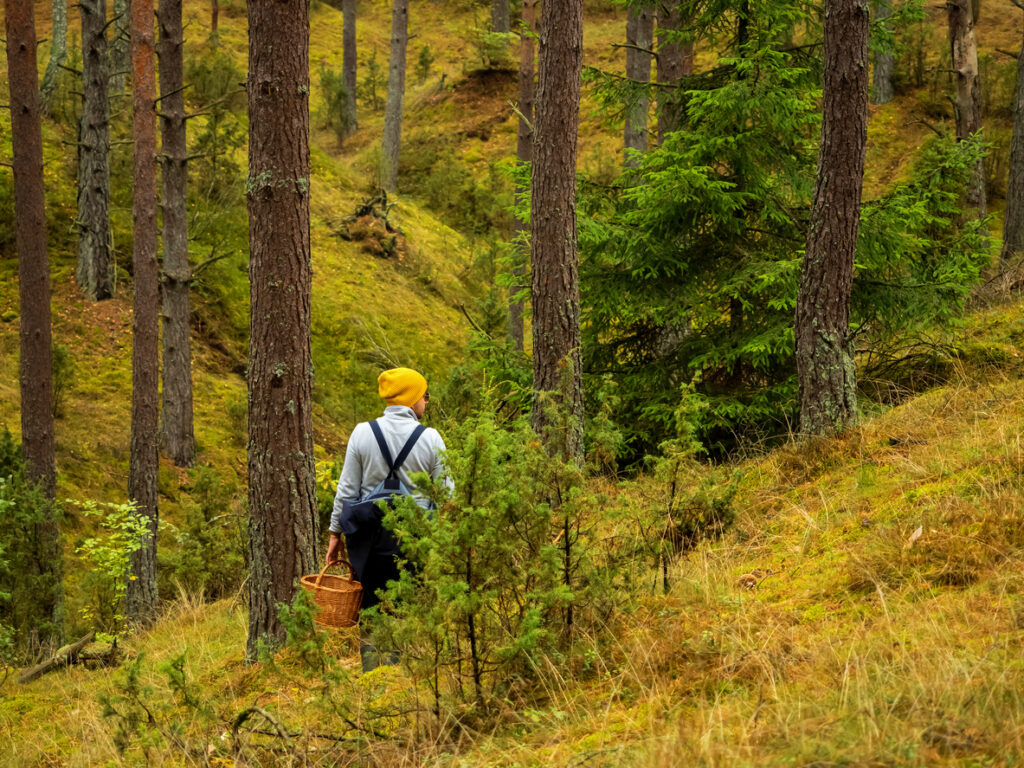 With its abundant forests and diverse terrain, Western North Carolina is a haven for mushroom enthusiasts, offering the ideal conditions for a vast array of mushroom species to thrive. If you're interested in foraging for mushrooms in this region, there are a few things you should know before you head out into the woods. In this guide, we'll cover the basics of mushroom foraging in Western North Carolina, including where to find mushrooms, how to identify them, and which ones are safe to eat.
Where to Find Mushrooms in Western North Carolina
Mushrooms grow in a wide range of habitats, from damp forests and meadows to old growth forests and along streams. In Western North Carolina, some of the best places to find mushrooms are in the Great Smoky Mountains National Park, Pisgah National Forest, and the Blue Ridge Parkway. Look for areas with rich, organic soil and a good amount of moisture, such as near fallen logs, under trees, and around rocks.
When to Forage for Mushrooms in Western North Carolina
The best time to forage for mushrooms in Western North Carolina is during the spring, summer, and fall months, when the temperatures are mild and the ground is moist. Different types of mushrooms fruit at different times of the year, so it's important to know what to look for based on the season. In general, spring is the best time to find morel mushrooms, while summer is the best time to find chanterelles and other gourmet mushrooms.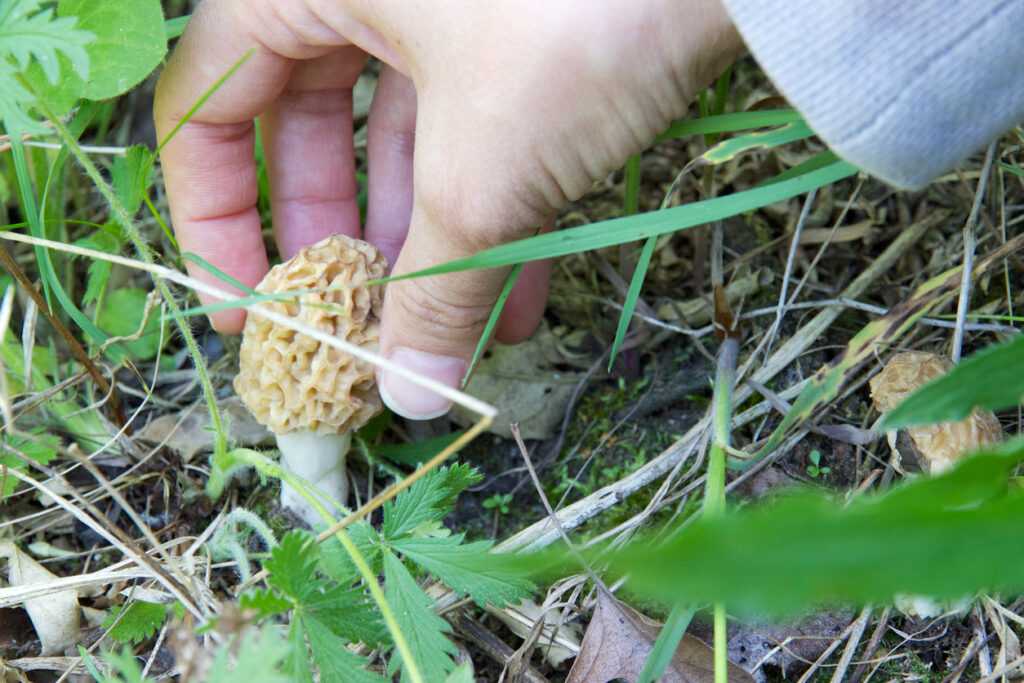 How to Identify Mushrooms
One of the most important things to know when foraging for mushrooms is how to identify them. While many mushrooms are edible and delicious, some can be poisonous and even deadly. Before you go out foraging, it's important to study up on the different types of mushrooms that grow in the area, and to learn how to identify them based on their color, shape, texture, and other characteristics. Some good resources for mushroom identification include field guides, online forums, and local mycology clubs.
Which Mushrooms Are Safe to Eat
While there are many delicious and safe-to-eat mushrooms that grow in Western North Carolina, there are also many poisonous and deadly ones. It's important to only eat mushrooms that you are absolutely certain are safe, and to never eat a mushroom that you cannot positively identify. Some common edible mushrooms that you might find in Western North Carolina include morels, chanterelles, oyster mushrooms, and chicken-of-the-woods.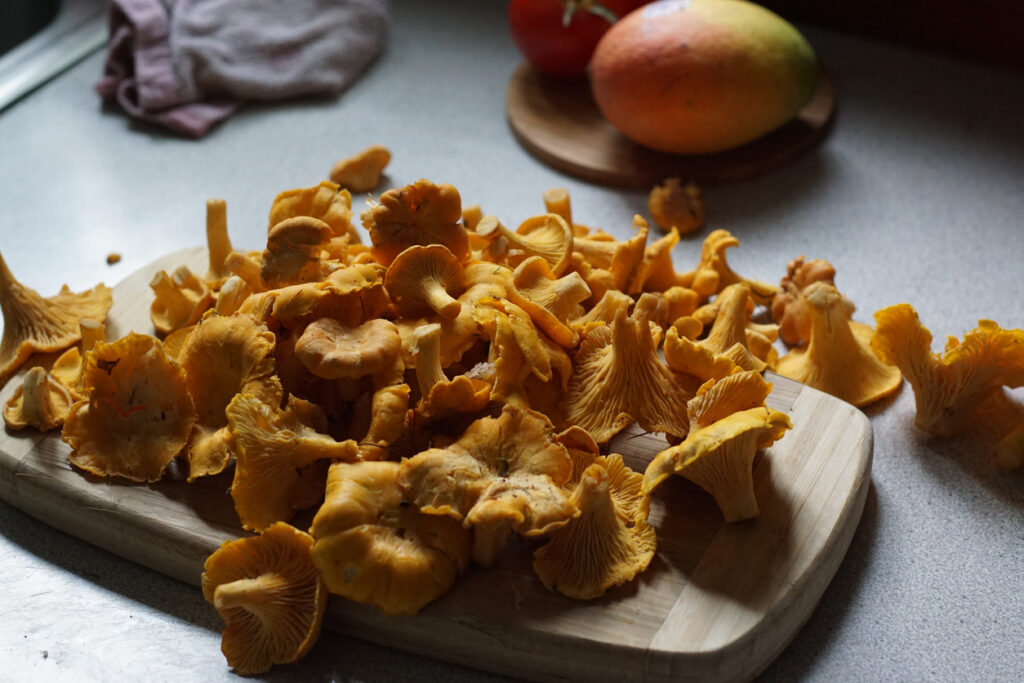 Common Western North Carolina Mushrooms
Chanterelles: Fruity and delicate, these golden-hued mushrooms are a late summer and early fall favorite.
Morels: Rich and nutty, honeycomb-shaped morels are often found in the forests of WNC in the spring.
Hen of the woods: With its meaty texture and umami flavor, this mushroom is a versatile ingredient for many dishes.
Oyster mushrooms: Delicate and velvety, these mushrooms are perfect for stir-fries, soups, and other dishes year-round.
Reishi mushrooms: Found on dead or dying trees, these mushrooms are popular for their health benefits and often used in teas and tinctures.
Lion's Mane mushrooms: Another medicinal mushroom found on dead or dying trees, lion's mane mushrooms are believed to promote brain function and reduce inflammation.
Boletes: Meaty and rich in flavor, boletes are a family of mushrooms found in the forests of WNC.
Black Trumpets: Delicate and velvety with a smoky flavor, these mushrooms can be found in late summer and early fall.
Tips for Safe Mushroom Foraging
To ensure that your mushroom foraging trips are safe and successful, here are a few tips to keep in mind:
Always carry a field guide and use it to positively identify any mushrooms you find.
If you're unsure about the identification of a mushroom, don't eat it.
Always leave some mushrooms behind, so that they can continue to grow and propagate.
Make sure to dress appropriately for the weather and the terrain, and bring plenty of water and snacks.
Consider joining a local mycology club or taking a class to learn more about mushroom identification and foraging.
It's important to note that while foraging for mushrooms can be a fun and rewarding activity, it's essential to exercise caution and proper identification techniques. Many mushrooms can be poisonous, and you must do your research and consult with a knowledgeable expert before consuming any wild mushrooms. With a little knowledge and practice, you can become a skilled mushroom forager and enjoy all of the delicious and healthy benefits that these amazing fungi have to offer!