With our abundance of waterfalls and temperate rainforest climate, Asheville is a natural place to find swimming holes!
While we enjoy moderate summers, we are in the South and it can still get hot in the area, so it's nice to know where you can take a swim whether you're here on vacation or a local. Many of these spots can get crowded during summer months, so for the most part we suggest heading out in the mornings, evenings, or weekdays.
These are our favorite recommendations for places to cool off and take a dip in and around Asheville: the best Asheville swimming holes!
Sliding Rock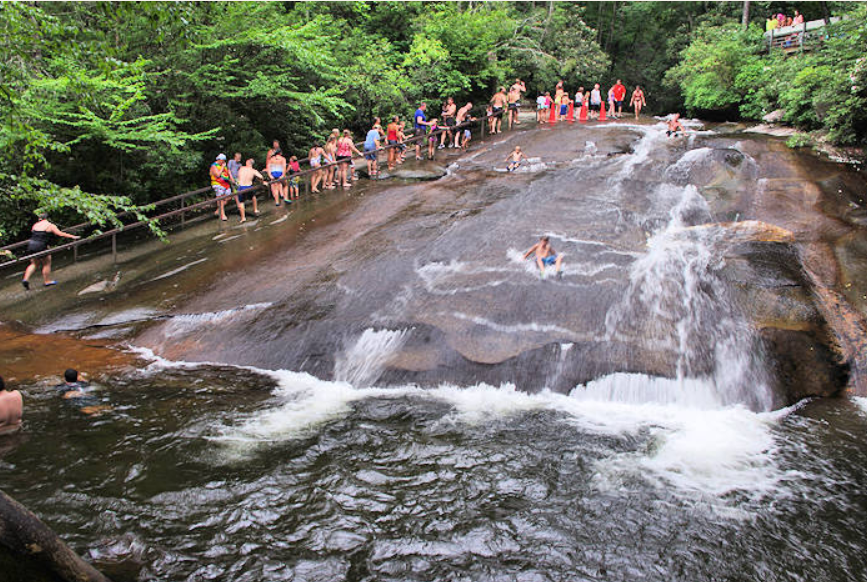 The most popular swimming hole near Asheville is Sliding Rock, which is located in Pisgah National Forest and features a slick, natural 60-foot water slide that ends in a 6-8 foot deep pool. The ride is quick and fast-paced, and the water is refreshingly cool. This is our only local swimming hole that has lifeguards during the summer.
Skinny Dip Falls
Skinny Dip Falls is actually one of the most family-friendly swimming areas in our area. It's only half a mile off the Blue Ridge Parkway, making it a short hike for little legs. There are plenty of shallow pools to wade in as well as a 6-foot rock to jump off from.
Hooker Falls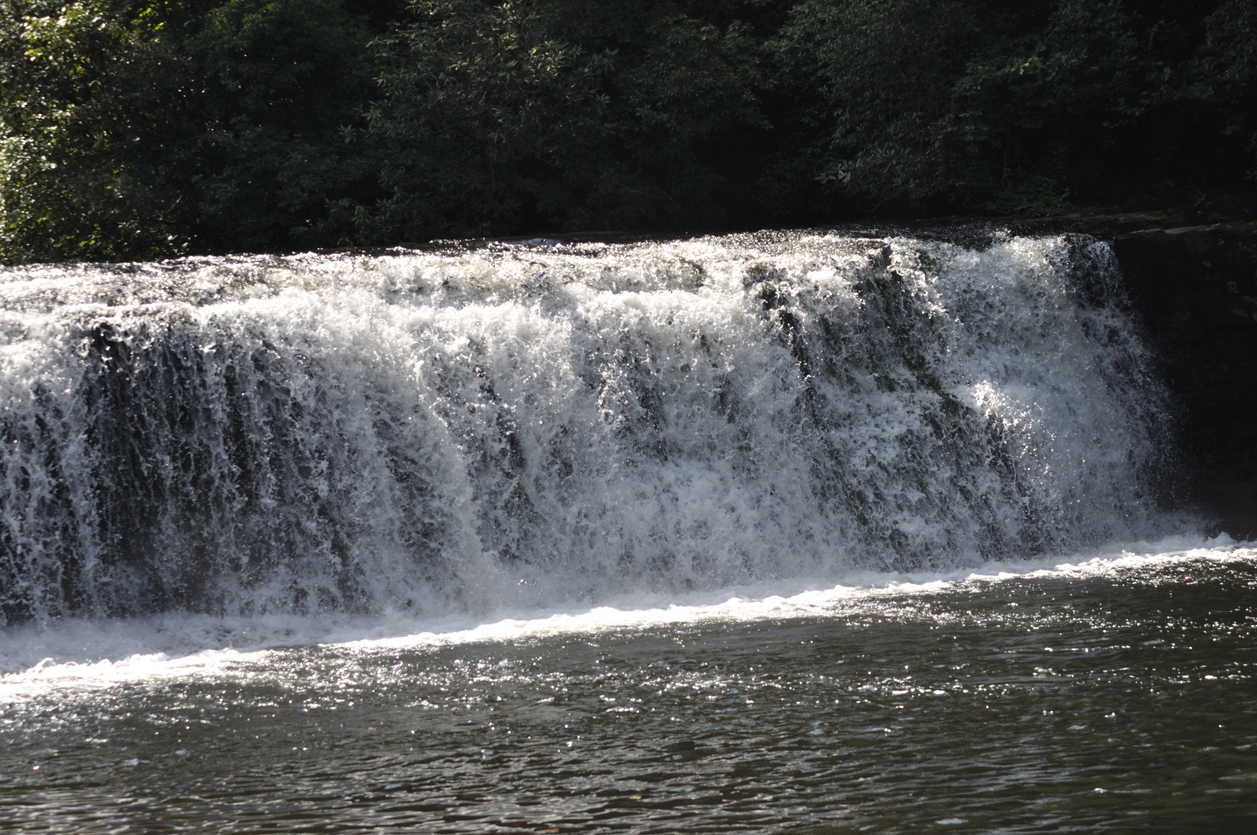 Hooker Falls is located in DuPont State Recreational Forest and features a swimming hole at the bottom of a 12-foot waterfall. Its calm waters make it a good choice for children or below-average swimmers. You can even wade under the waterfall for a jolt of crisp mountain water! Some folks bring inner tubes or enjoy the rope swing.
Midnight Hole
Easily accessible but usually less crowded Midnight Hole is located at the Big Creek trailhead in Great Smoky Mountains National Park, just 4 miles off I-40. It's an easy 1.4 mile-hike in. Clear waters and a narrow waterfall, plus smooth boulders perfect for sunbathing, are waiting for you.
Turtleback Falls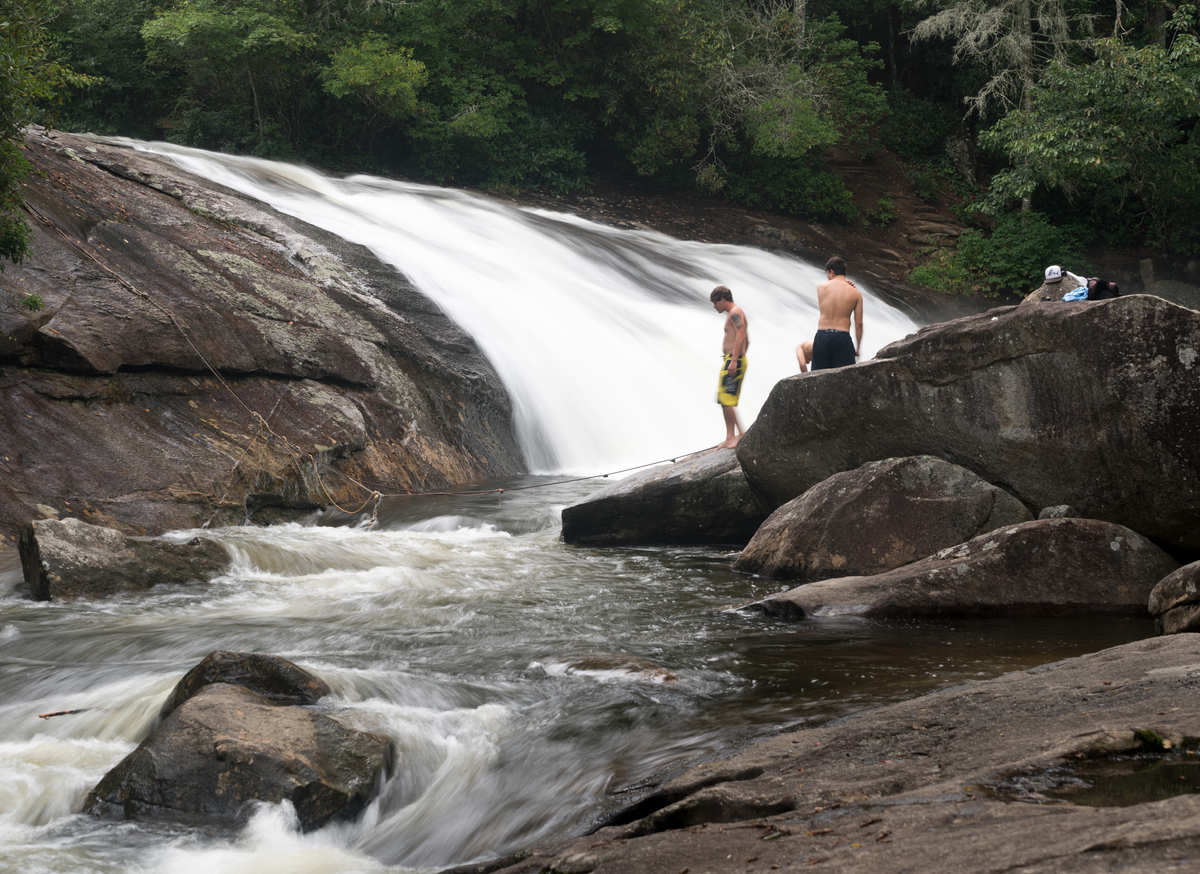 Some folks think of Turtleback Falls as a less-crowded Sliding Rock. If you're a strong swimmer, you can head out to Gorges State Park and enjoy this slide down the falls to a 20-foot drop into the pool below. About 1/4 mile downriver is the more tranquil Hidden Falls, and Rainbow Falls is also nearby.
Schoolhouse Falls
A gorgeous 1.5-mile hike in Panthertown Valley, which has been described as the Yosemite of the East, lands you at Schoolhouse Falls. You'll find a picturesque curtain of water cascading 20 feet into a pristine pool, along with a small sandy beach with a gentle incline into the water. One of our favorite features of this spot is that you can walk behind the falls!
Lake Lure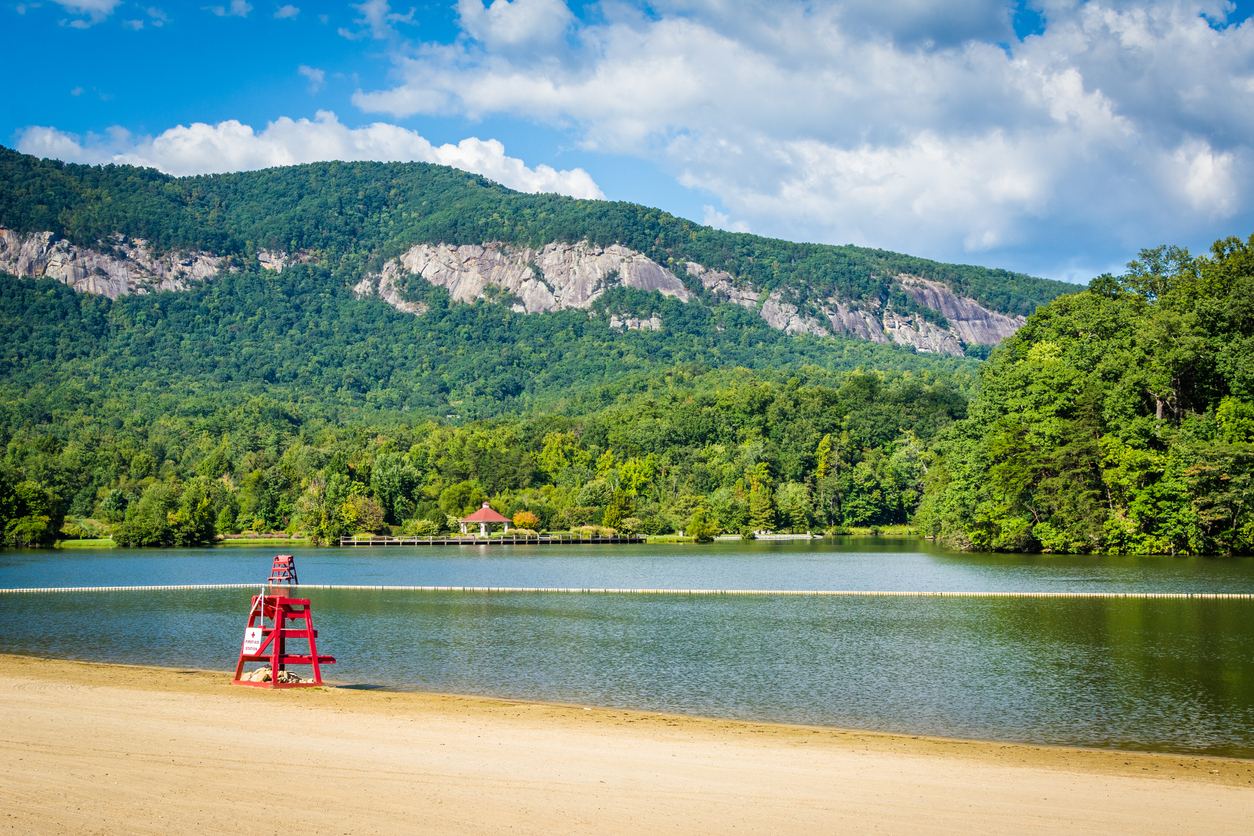 If you're looking for a sandy beach but don't want to drive to the coast, Lake Lure is a totally accessible daytrip from the Asheville area. Located near Chimney Rock in the Hickory Nut Gorge, the lake is surrounded by mountains. A wide, sandy beach, waterslide, restrooms, snack bar, and picnic tables are available. You an even rent boats, canoes, and kayaks at the marina.