Best Waterfall Hikes in Western North Carolina
Western North Carolina is known for both its waterfalls and hiking, and what better way to spend a day in the area than to combine these two things! Locals and tourists alike love waterfall hikes around Asheville and its surrounding areas, and there is certainly no shortage of these stunners to enjoy during your visit. The Brevard area alone, for example, is home to more than 250 falls! If you're looking for the best waterfall hikes in WNC, these are our top recommendations, listed by difficulty and distance.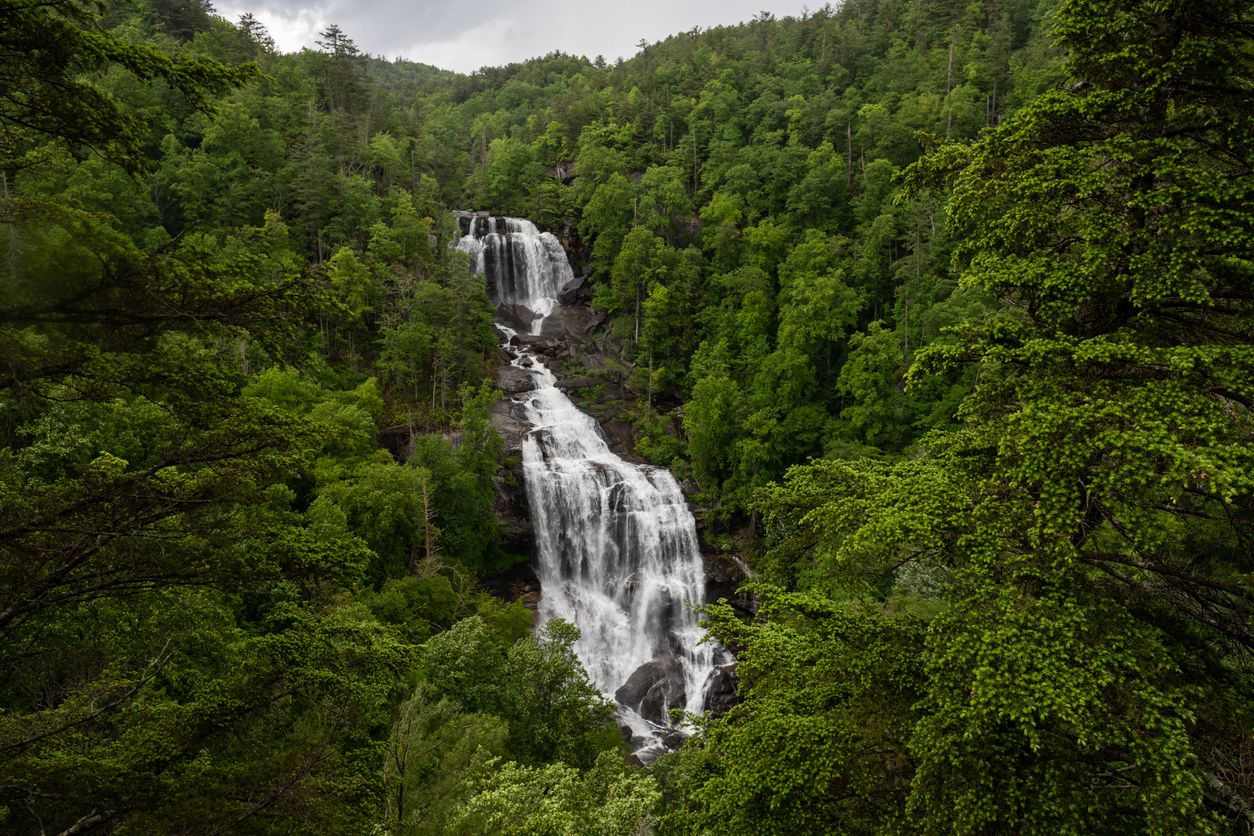 Whitewater Falls
Distance: 0.6 miles, round trip
Difficulty: Easy
If you want bragging rights for visiting the tallest waterfall in North Carolina, make sure you add 400-foot Whitewater Falls to your agenda! A short hike on a paved trail, this one is scenic with a stunner of a view as the grand finale. You can enjoy these falls from two overlooks on the trail. This trail is considered wheelchair-accessible and is great for folks who need accessible options for the outdoors.
Moore Cove Falls
Distance: 1.4 miles, round trip
Difficulty: Easy
Located in Pisgah National Forest in "The Land of the Waterfalls", Moore Cove Falls tumbles majestically in a single sheet and is one of the few waterfalls in the area that you can walk behind. This hike is family friendly due to the gentle climb and shorter distance. It's also incredibly easy to pair with a visit to the roadside Looking Glass Falls, which is just a few minutes drive away.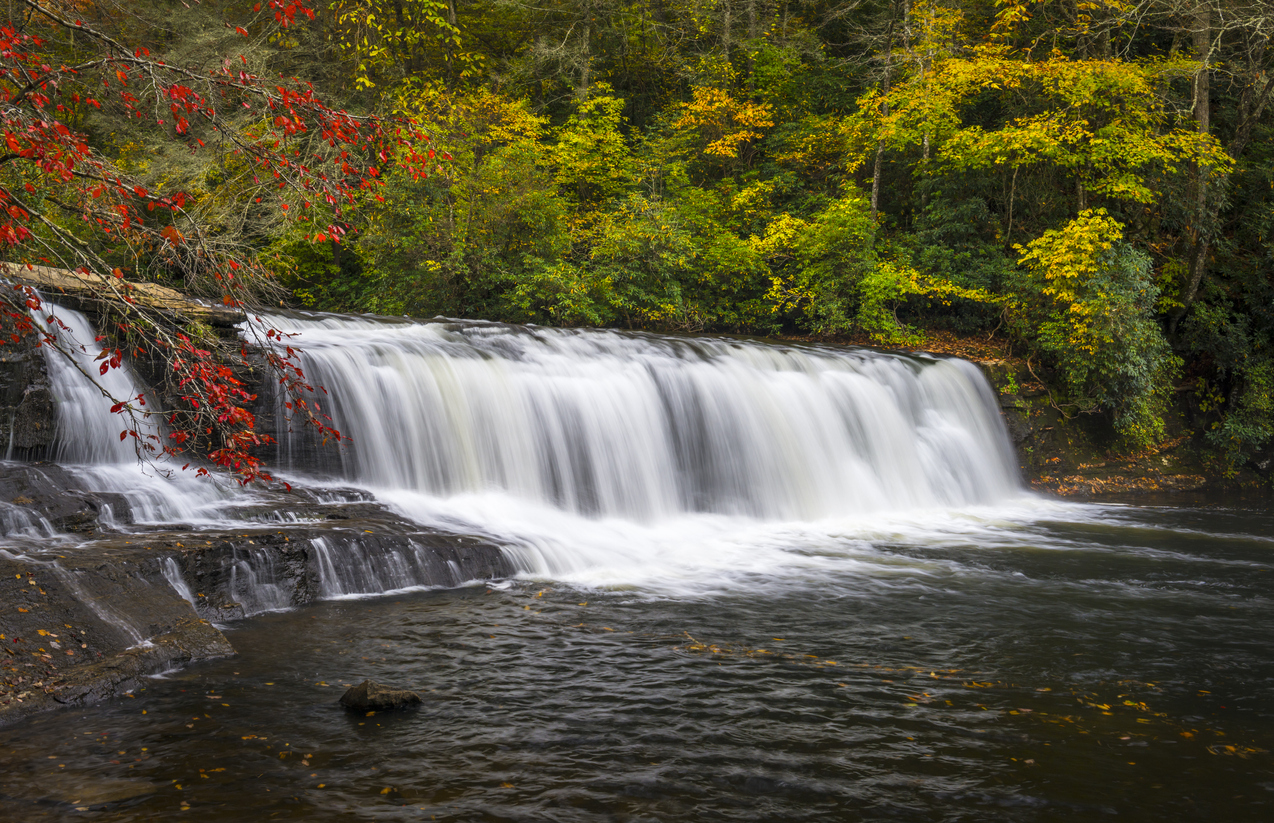 Dupont State Forest Three Waterfalls Hike
Distance: 4.5 miles, round trip
Difficulty: Easy
Dupont State Recreational Forest, about 40 miles from Asheville, is located between Breard and Hendersonville. Here you can hike to three gorgeous cascades in less than five miles! The three-trail combo will take you to Triple Falls, High Falls, and Hooker Falls. If you want to make sure to get your fill of waterfalls during a short visit to the area, this is a great way to feel like you've gotten a lot of bang for your buck.
Skinny Dip Falls
Distance: 0.8 miles, round trip
Difficulty: Moderate
Skinny Dip Falls is only half a mile off the Blue Ridge Parkway, making it a short hike for little legs. There are plenty of shallow pools to wade in as well as a 6-foot rock to jump off from. Its multi-tiered waterfall is surrounded by steep, craggy rocks and rhododendrons. This area is also one of the most popular summertime swimming holes near Asheville.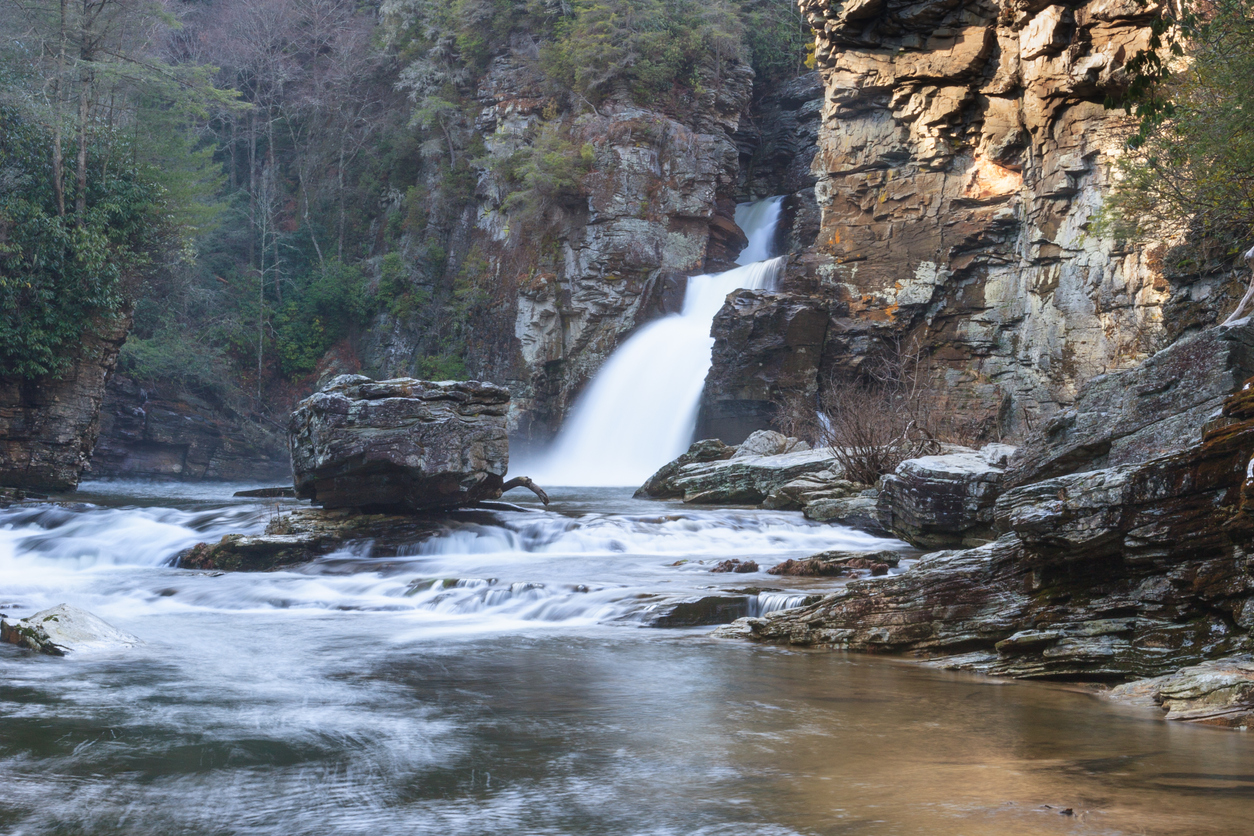 Linville Falls
Erwin's View Option: 1.5 miles, round trip
Difficulty: Moderate
Plunge Basin Option: 1.4-1.8 miles, round trip
Difficulty: Moderate, but slightly more challenging than Erwin's View
Linville Falls make a stunning 90-foot drop into Linville Gorge, with its surrounding rocky cliff walls and foliage creating a gorgeous backdrop. There are several ways to view these falls, with two main trails: Erwin's View and Plunge Basin. Erwin's view is the easier of the two and stops at three overlooks. The Plunge Basin Trail, although a bit more challenging, provides an up-close view of the waterfall on the floor of the gorge.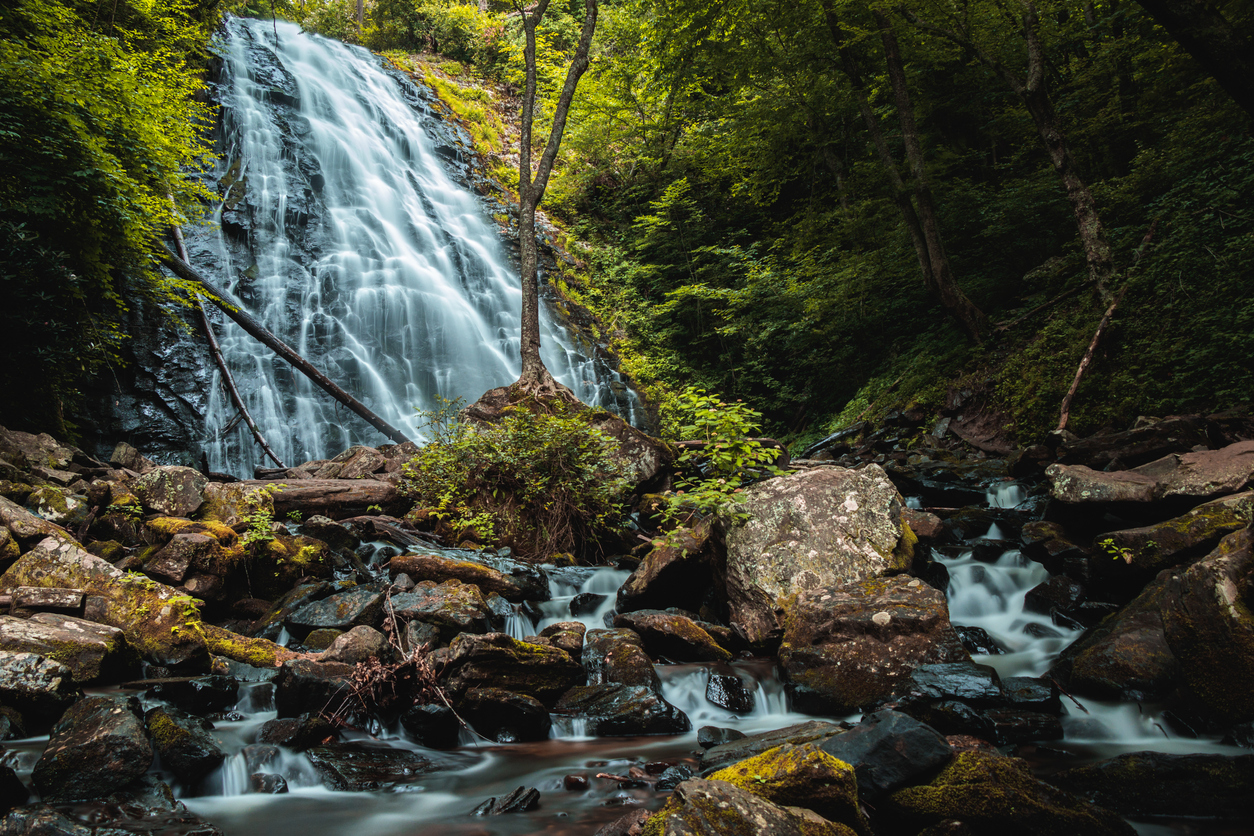 Crabtree Falls
Distance: 2.7 miles, round trip
Difficulty: Moderate
Just off the Blue Ridge Parkway lies the towering cascades of Crabtree Falls. From the parking lot, you'll descend down a trail within a dense forest filled with rhododendron, mountain laurel, and the other vegetation native to our local temperate rainforest. These falls are a great place to, with caution, catch a great selfie on the rocks.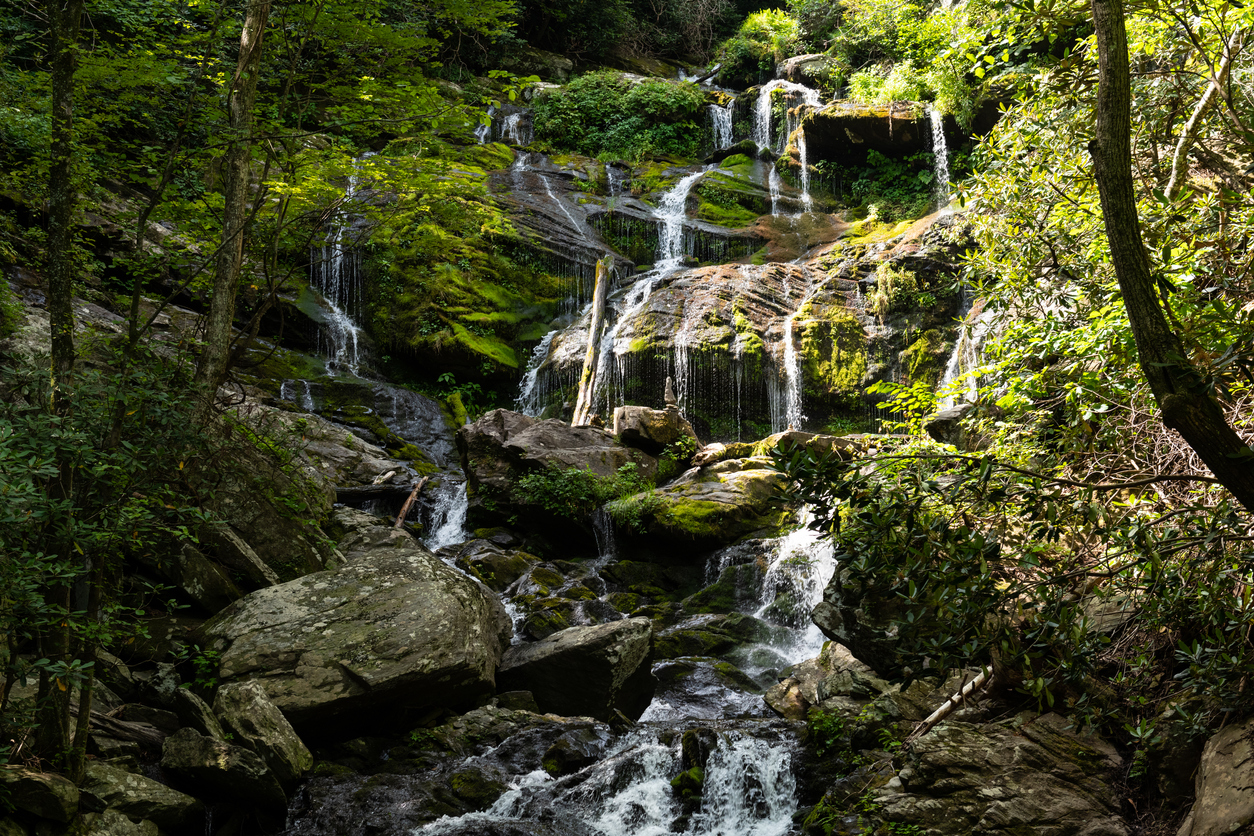 Catawba Falls
Distance: 3.0 miles, round trip
Difficulty: Moderate
Catawba Falls is one of the most popular waterfall hikes in Asheville. While rated as moderate, most of the walk is at a gentle grade along a mossy, rocky forest. There are several stream crossings so be prepared to get your feet a little wet if you're not used to rock-hopping! If you want the best views of the falls at the end, you might want to climb on the rocks a bit, at your own risk, for a closer view. This is a popular waterfall hike for many families.
Graveyard Fields Falls

Distance: 3.2 miles, round trip
Difficulty: Moderate
Graveyard Fields, just off the Blue Ridge Parkway south of Asheville, is characterized by its rolling meadows and high-elevation, flat valley, plus, of course, its two stunning waterfalls! You'll also find relaxing sections of stream and easy wading spots for the kids. During the summer, keep an eye out for wild blueberries and blackberries along the trail.