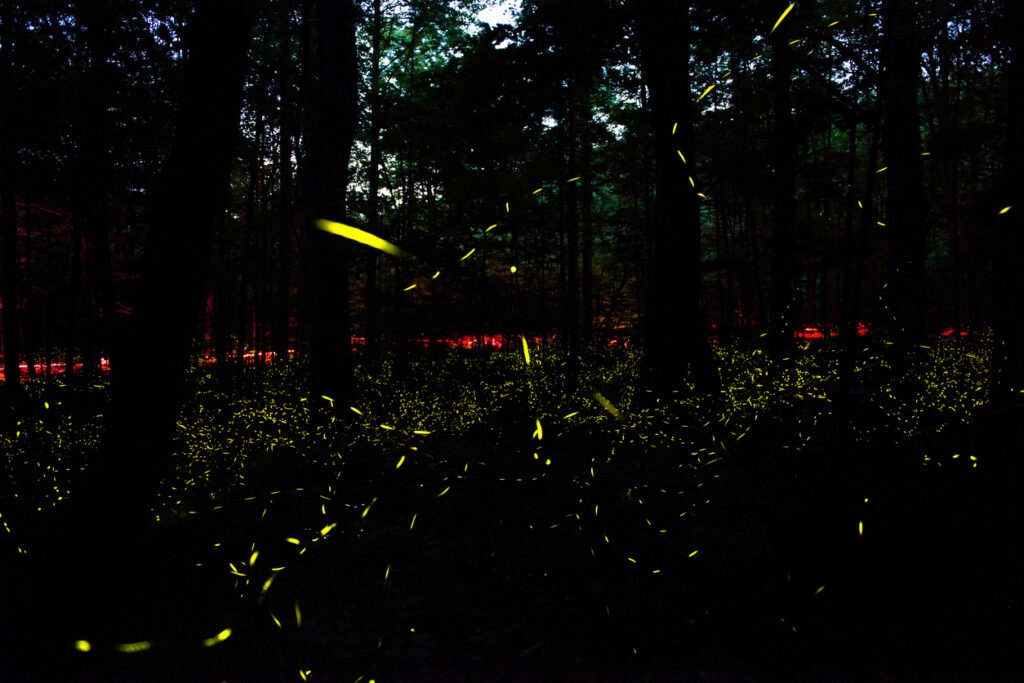 In the heart of Western North Carolina lies a magical phenomenon that illuminates the night sky during the warm summer months—fireflies. These mesmerizing creatures fill the air with their bioluminescent glow, creating an enchanting spectacle for those fortunate enough to witness it. If you're eager to find an extraordinary sight, consider one of these miraculous, firefly-filled places to visit. This is your guide to the best places to see fireflies throughout Western North Carolina.
Great Smoky Mountains National Park
As one of the most biodiverse regions in the country, the Great Smoky Mountains National Park serves as a natural habitat for a multitude of firefly species. Elkmont, located within the park, is particularly famous for its annual synchronous firefly display. During late May and early June, visitors flock to witness the synchronous flashing patterns of Photinus carolinus fireflies, an experience you won't want to miss. However, securing a parking pass through the park's lottery system is essential.
Cataloochee Valley
Located within the Great Smoky Mountains National Park, Cataloochee Valley is renowned for its diverse wildlife and rich history. In addition to spotting elk and other wildlife, lucky visitors may catch a glimpse of fireflies illuminating the valley after sunset. Take a leisurely stroll along the meadows or explore the Cataloochee campground area to experience the magical charm of fireflies amidst the rustic Appalachian landscape.
Pisgah National Forest
Nestled in the heart of the Blue Ridge Mountains, Pisgah National Forest offers a serene environment perfect for firefly viewing. Head to the Cradle of Forestry or the Pink Beds area, where you'll find dense foliage and meandering streams that create an ideal habitat for fireflies. Plan your visit during late May or early June, and prepare to be captivated by the sparkling display against the backdrop of towering trees.
DuPont State Recreational Forest
DuPont State Recreational Forest, known for its picturesque waterfalls and scenic hiking trails, is also a fantastic place to witness fireflies. Visit during the peak summer months, particularly around July, to see fireflies dancing in the lush surroundings. The tranquil ambiance, combined with the bioluminescent spectacle, makes this location a true hidden gem for nature enthusiasts.
Nantahala National Forest
For a truly immersive firefly encounter, head to Nantahala National Forest. This expansive forest offers numerous camping areas and hiking trails, providing ample opportunities to experience the mesmerizing glow of fireflies in a tranquil environment. The Joyce Kilmer Memorial Forest, with its old-growth trees and rich biodiversity, is particularly noteworthy for its firefly displays. Spend an evening camping under the starry sky, and let the fireflies create a whimsical ambiance around you.
Tips for Firefly Viewing
Plan your visit during the peak firefly season, typically between late May and July.
Check weather conditions, as fireflies tend to be more active on warm, humid nights.
Carry a flashlight with a red filter to preserve your night vision and avoid disturbing the fireflies.
Dress appropriately for the outdoors, considering the weather and insect protection.
Be respectful of nature and refrain from using flash photography or disturbing the fireflies' habitat.
Embarking on a firefly viewing adventure in Western North Carolina is an unforgettable experience that will transport you into a world of natural wonder. From the misty mountains of the Great Smoky Mountains National Park to the peaceful forests of Pisgah and Nantahala, each location holds its own unique charm and offers an opportunity to enjoy a natural phenomenon you'll remember forever.

If you are interested in learning more about Western North Carolina, contact Altamont Property Group, one of the most trusted and experienced real estate teams in the region.
Altamont Property Group
828-782-5582
altamontpropertygroup@gmail.com