Woven into the fabric of Asheville's culture is its ever-growing beer scene. From old classics to new, experimental flavors, Asheville breweries are in no short number. In fact, the city has the most breweries per capita in the entire United States. This is our guide to Asheville's best breweries.
Downtown Asheville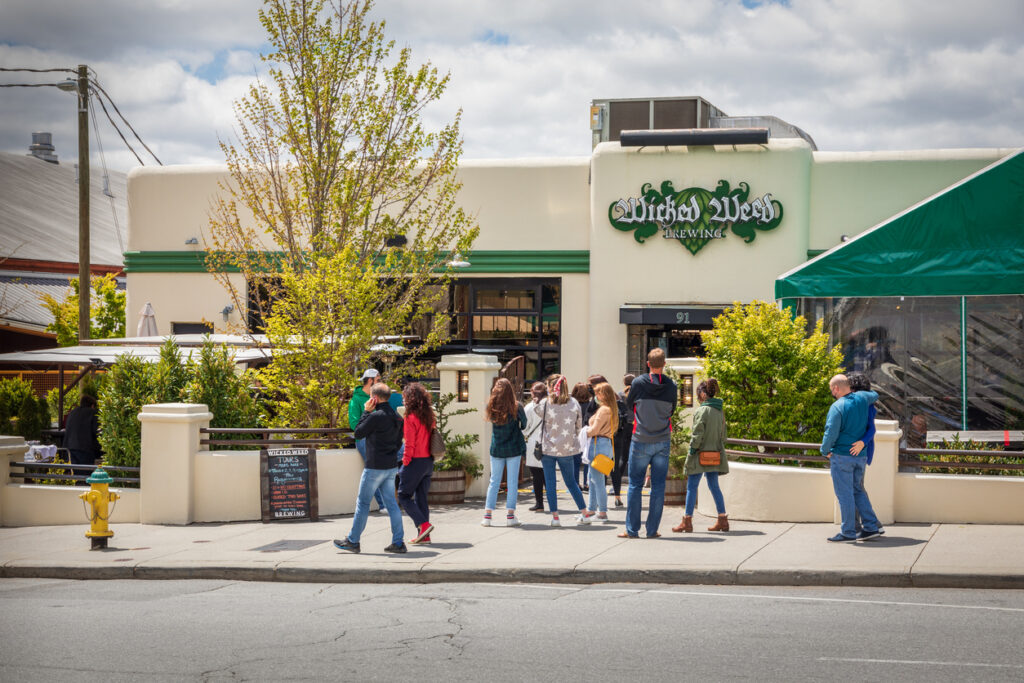 Wicked Weed Brewing
Wicked Weed sure is unique, with three different locations all offering something new for the public. With its original location in downtown Asheville, the Brewpub is home to a bottle shop, restaurant, and 15-barrel brewery. Bring your pup and some friends to enjoy this special location. Second in line is the Wicked Weed Funkatorium, which is a one-of-a-kind taproom dedicated exclusively to sour beer. Located in the South Slope, this location offers a special experience to all of its guests. Finally, we meet Wicked Weed West. This third location is their newest, located in West Asheville, with a 50-barrel production facility, taproom, and food truck.
Bold Rock Hard Cider
One of Asheville's best breweries is not quite a brewery at all! This new taproom in the heart of Asheville's downtown is known for its hard cider, hard lemonade, hard teas, and other craft drinks. You can even bring the whole family and enjoy live music, their unique scratch kitchen, and events. Bold Rock Hard Cider also has a location in Mills River, NC if you are outside the downtown area. Bold Rock is definitely not one to miss if you are looking for great drinks and fun you won't forget.
Green Man Brewery
As the second oldest brewery in Asheville, Green Man Brewery has been serving up delicious ales since 1997. They are known for their traditional take on English-style beer. The Green Man Brewery has two hopping locations, both in Asheville's brewery district South Slope, with one location offering a great indoor/outdoor rooftop social area. Be sure to visit if you are looking for consistent quality ale and a great time.
Eurisko Beer Company
This sophisticated take on a taproom-based brewery is a great place to try one of Eurisko's modern beers. Their ales cover a wide variety of styles and flavors, so there is no shortage of drinks to choose from. With outdoor seating, an upstairs taproom, and a soon-to-be downstairs lounge, this brewery is a great place to hang out with friends. You can find Eurisko Beer Company in the well-known South Slope district.
Catawba Brewing Company
This dog-friendly brewery is known for its craft beer and hard seltzers. At Catawba Brewing Company you can find weekly rotating small-batch beers that release every Thursday, so you'll never get bored with the choices. As with many other Asheville breweries, you can find weekly events, music, and more at this local favorite.
Twin Leaf Brewery
This small, independently-owned brewery is a perfect place for the whole family to enjoy. You can check out the outdoor patio for all sorts of events while cozying up to one of the brewery's special Belgian-style ales. Twin Leaf Brewery also has IPAs and sours, so this is definitely not one you want to miss.
Wedge Brewing
This brewery has several distinctive locations, both in the Downtown Asheville area. You won't want to miss this one with specialty ales, lagers, and Belgian-style beers. Find their new location in the Grove Arcade or check out one of the two in the heart of the River Arts District. Wedge Brewing is both pup and family-friendly so you are sure to find a few laughs at whichever location you visit.
Wehrloom Meadery
You can't miss Asheville's first craft meadery! This distinctive location in the South Slope is a great option for everyone as its unique brews appeal to beer and cider lovers. Wehrloom Meadery is also family and dog friendly for a great time no matter who you bring. If you are looking for a drink you may have never tried, then this place is for you.
Noble Cider
For a non-traditional choice, Noble is the way to go! Noble Cider has two locations in Asheville, one mainly for production of cider and mead, and a taproom downtown! Both locations offer indoor and outdoor seating to really get the full experience. Check out their wide variety of specialized drinks and have a great time!
Hi-Wire Brewing
Hi-Wire has three Asheville locations, one in the South Slope, River Arts District, and Biltmore Village. Hi-Wire is nationwide, and for good reason. The brewery's roots began in Asheville, but became well-known for its balanced beers that can be enjoyed time and time again. You are sure to enjoy a Hi-Wire brew, as they tie in tradition with innovation.
South Asheville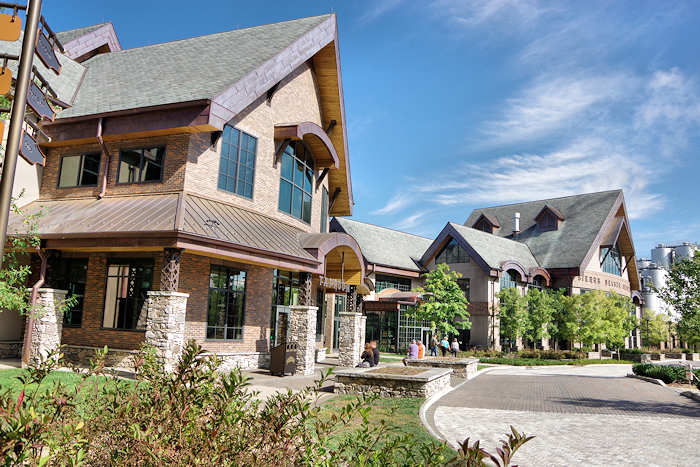 Sierra Nevada Brewing
One of the most iconic and well known Asheville breweries, Sierra Nevada is also located close to the Asheville airport, making it an easy and inviting stop for tourists visiting by plane. The Mills River area taproom and gardens offer food, some of the best beer in the area, tours, and a beautiful setting.
Burial Beer Company
Located on the original CCC Forestry Camp, this brewery has a wide list of offerings. With a full kitchen and wine from their winery, you can also experience over 24 beers on tap. Burial Beer Co. is an immersive and casual space for community members to come together, but don't forget to book a tour and tasting experience to really dive deep into the whole operation.
12 Bones Brewing
If you are looking for a variety of brews and delicious BBQ, this is your place. Located in Arden, one of South Asheville's biggest neighborhoods, 12 Bones Brewing has a selection of both classic and experimental styles on tap in this community-like taproom. Get to know your neighbor on the covered patio.
Highland Brewing
As Asheville's original craft brewery opened in 1994, Highland Brewing sits on 40 acres of luscious land. You can find walking trails, disc golf, volleyball courts, and all sorts of fun in addition to the many beers available. Make sure to check out their website for upcoming events and make time to visit this special Asheville brewery.
Thirsty Monk Brewery South
This two-floor, unique brewery in Biltmore Park offers a special experience for any beer lover. On the bottom floor, you can find Belgian beer, with rare and classic styles readily available. Once you go upstairs, you'll find American craft styles with an open patio to round out the excursion. With several locations, Thirsty Monk Brewery is sure to excite you and all your friends.
Hillman Beer
New to Asheville and not sure where to go? Along with so many other great options on this list, Hillman Beer is a great place for food and beer combined! With their full kitchen and family-friendly atmosphere, you can have a great time in their taproom or one of their outdoor areas. They also have a second location in Old Fort, NC so make sure to stop by if you are ever in the area.
Sweeten Creek Brewing
South Asheville's Sweeten Creek Brewing offers delicious beers, a cozy tasting room, and a large outdoor space. Bears Smokehouse BBQ shares space with Sweeten Creek Brewing, and together the two offer specialized food and beer pairings. This family-friendly spot is a great option to add to your list.
7 Clans Brewing
One of the newest breweries on the scene, 7 Clans Brewing is a majority-female indigenous-owned company. The brewery derives its name from the 7 Clans of the Cherokee. This South Asheville taproom is located in a burgeoning area just outside of Biltmore Village, making it an easy choice for a self-guided brewery crawl!
North Asheville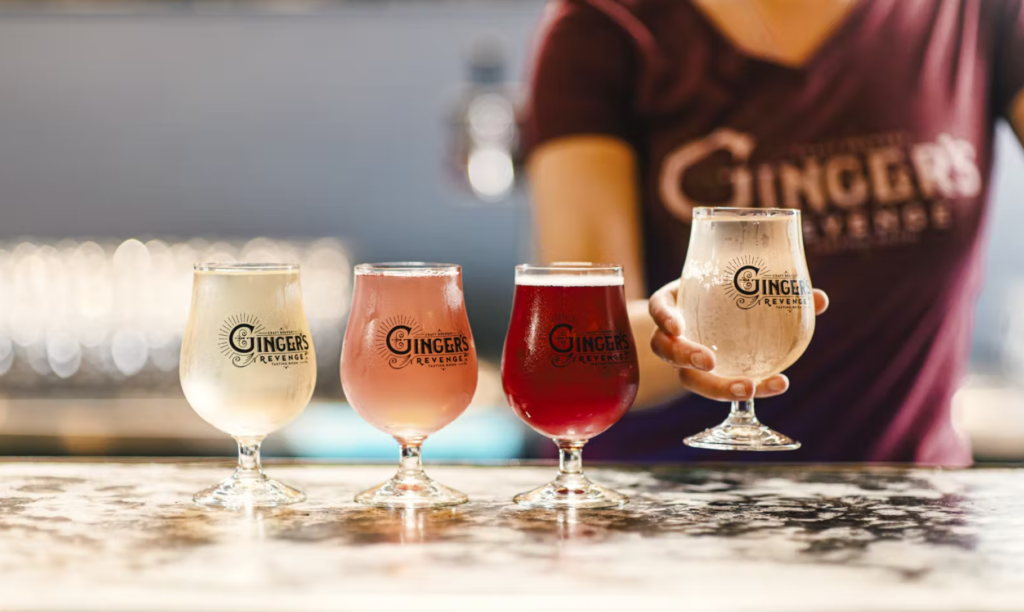 Zilicoah Beer Co.
Right outside of the Downtown area, Zillicoah is located in Woodfin along the riverfront. They claim to be furiously passionate about fermentation and it shows in their beer. Cozy up along the water with a beer in hand at this North Asheville spot.
Ginger's Revenge
If you are looking for something gluten-free, then this stop in the Woodfin area is right for you. Ginger's Revenge specializes in gluten-free ginger beers that are made with 95% organic materials. Here you can also find a large variety of other drinks, including non-alcoholic options. There is really an option for everyone. This family- and pet-friendly brewery often has food trucks, live music, and events, so make sure to add this to your list of must-tries.
Riverside Rhapsody
This small brewery in Woodfin specializes in craft IPAs and Belgian-style beer. However, Riverside Rhapsody is also moving into sour beer and lager territory. This dog-friendly space is a comfortable, fun environment that is sure to offer a great community-feel and a great time. Don't miss this watering hole with its live music and food trucks.
West Asheville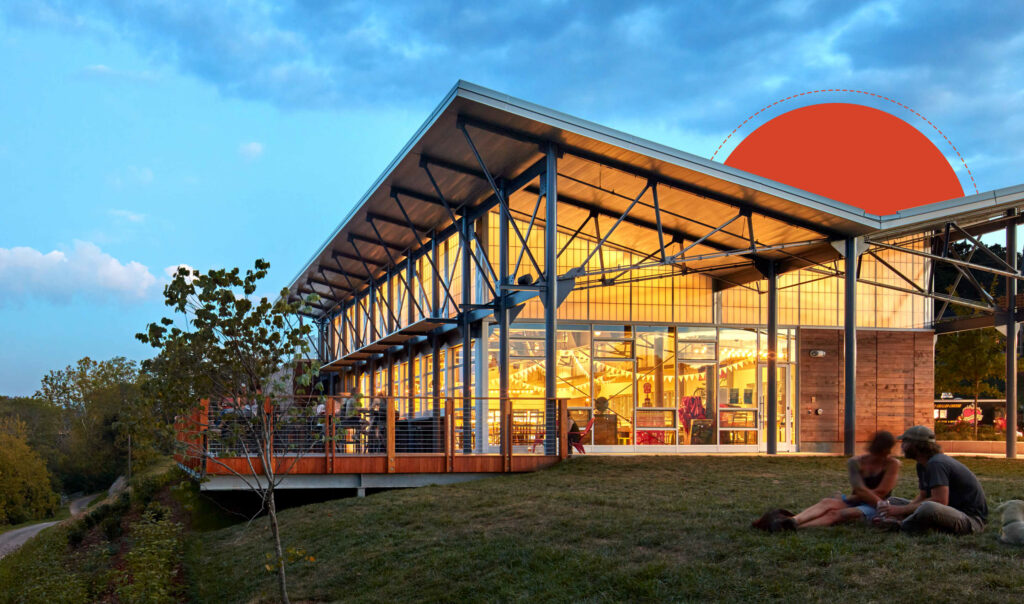 New Belgium Brewing
Sitting right along the French Broad River, New Belgium Brewing is the place to be and a classic for visitors to the Asheville area. Guests can get quite the view of the River Arts District while enjoying the tasting room, beer garden, or taking a tour (hint: we've heard it's one of the best tours in the city!) You can't forget about the front lawn, usually filled with games and other activities. Plus, you'll never get bored with the rotating calendar of events, live music, food trucks, and more.
One World Brewing West
This quaint community gem is known for its small-batch brews and good times. With beer brewed right on site, customers can sit both inside or outside with their taproom, outdoor patio and open yard with plenty of games. When you get hungry you can just hop right over to their One World Brewing Food Truck for a quick bite to eat. One World Brewing is a great place to bring a friend and grab a spectacular local beer.
Archetype Brewing
Archetype has two locations, one in West Asheville, and one Downtown. However, the West Asheville location is where the production magic actually happens. You can enjoy time with friends in their open floorplan taproom while watching the brewers at work. The Downtown location is more of a cozy, lounge feel. Whichever one you choose, you know you will have a great time!
East Asheville and Black Mountain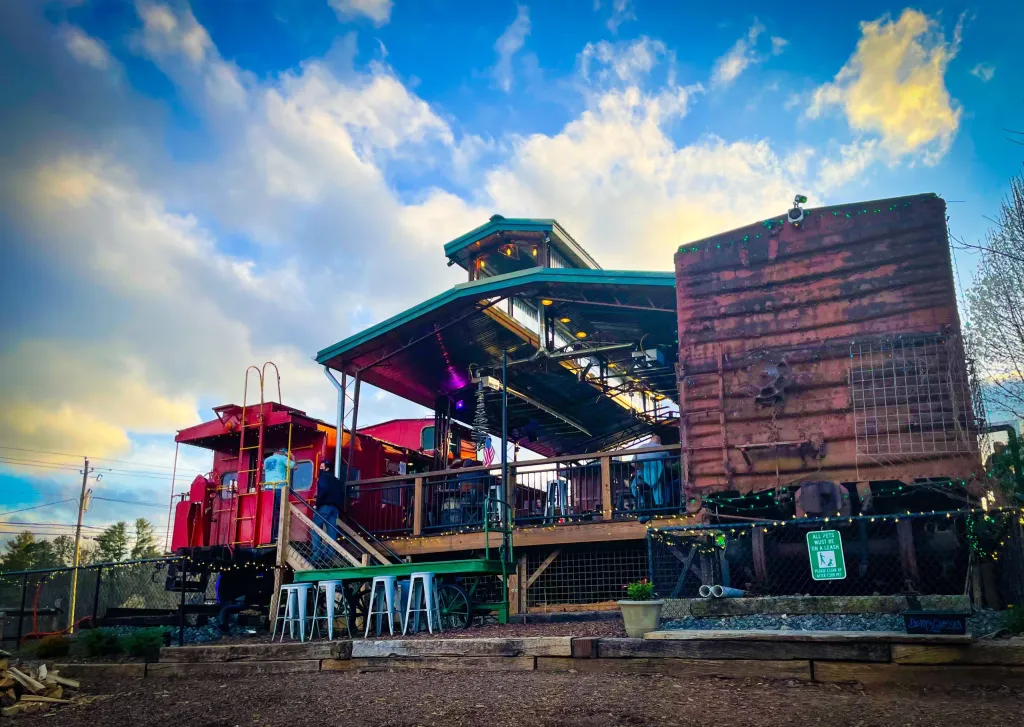 BLK MTN Brewing
This gem is known by many to have an ever-changing draft list that stems from diverse inspiration. With stunning views of the mountains, find BLK MTN Brewing right in the heart of Black Mountain, NC, which is only a short drive from Asheville's center. BLK MTN Brewing has a little something for everyone with progressive takes on classics and traditional ales that are here to last.
Whistle Hop Brewing
This brewery is a must-go if you are looking for an unforgettable, fun experience. Operating out of an open-air train station, this brewery showcases a boxcar, caboose, and heated deck for patrons to enjoy. In addition, families and pets can explore 3 acres of games, slides, and an outdoor fire pit over terraced beer gardens. There is a rotating schedule of food trucks, events, and live music. You won't be short on fun at Whistle Hop Brewing!
Turgua Brewing
Turgua Brewing is a unique farmhouse brewery and winery offering cider and mead, located in the Fairview area. Its owners are passionate about the environment and sustainable agriculture, so have dedicated themselves to brewing with locally-farmed ingredients using simple production methods. Enjoy your food and drinks in the taproom, under the sun on the deck, or in the ample outdoor space by the creek. Live music and food trucks could be in your future if you make a stop by Turgua!
Weaverville and Marshall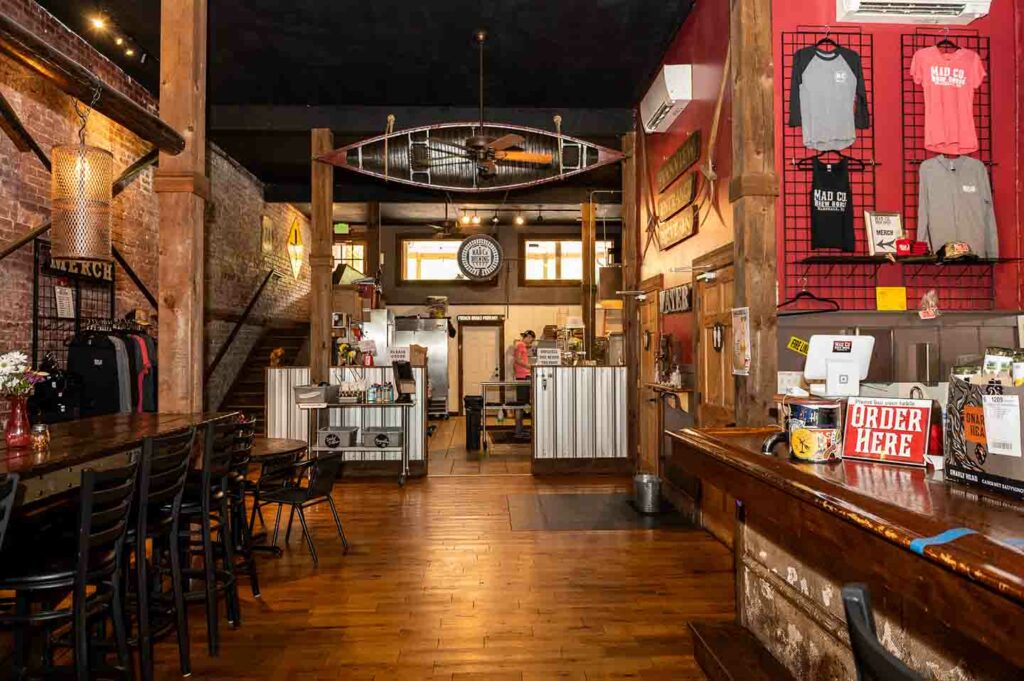 Zebulon Artisan Ales
This exclusive location is only open in small windows on Fridays and Saturdays. With an ever-changing beer rotation, guests are always waiting for the perfect time to try their classic takes on beer. Zebulon Artisan Ales features Belgian, FrenchfFarmhouse, traditional, and even mythological/forgotten style ales. All of their beers are unfiltered and there are no beers consistently on tap, so you know each time you visit will be a unique experience.
Leveller Brewing
Leveller Brewing is one of the newest breweries in town, located right on main street in Weaverville, NC. They feature farmhouse ales and a beautiful, cover outdoor patio surrounded by lush passionflower vines. The brewery offers a selection of snacks but also allows outside food.
Mad Co. Brew House
While not actually in Asheville proper but north of the city in downtown Marshall, Mad Co. is the only of its kind in the area. Pizza and beer? Yes, please! This mix of a pizza kitchen and taproom is sure to excite with a variety of small batch craft beers. Customers can enjoy beautiful views of the French Broad River from the deck, spend time with friends under the covered patio, or even hang out in the tasting room. There is plenty to enjoy at the Mad Co. Brew House!

At Altamont Property Group, we love to celebrate local businesses both in and out of Asheville. While these are only a few of the many wonderful breweries in the Asheville and Western North Carolina area, this list is a great place to start. You really can't go wrong in the beautiful city we call home. If any of the neighborhoods mentioned here interest you, we can help you search for real estate properties so that we can help you begin your journey.
Contact us at 828-782-5582 or altamontpropertygroup@gmail.com to learn more about how we can help you find just the right spot for you!