If you're looking for a place to enjoy skiing, tubing, and snowboarding close to Asheville, North Carolina, you're in luck! There are a number of options within 2 hours of the city where you can indulge in your favorite winter sports. This is your guide to ski slopes near Asheville.
All of these options offer lodging, so you can choose whether to stay in Asheville and make the drive out to ski for the day, or to stay overnight in a location where you'll have the slopes right out your back door. Whichever resort you visit during your vacation in Western North Carolina, you're sure to find some of the best winter sports and fun.
Wolf Ridge Ski Resort
Wolf Ridge Ski Resort is the closest resort to Asheville and offers winter sports for all ages. The resort, located in Mars Hill, North Carolina, offers elevations of 4,700 feet and is nestled beneath Big Bald Mountain. It is here, just a little more than 30 minutes from Asheville, that you have the chance to "Ride the Wolf."
Instructors are available to learn skiing or snowboarding, and the resort offers 54 acres of skiable terrain, lighted runs, lifts, 4 easy trails, and 2 black diamond runs. Snow tubing fun offers fun for all ages. Inside the resort, enjoy relaxing in one of the resort's rocking chairs near a roaring fire, hot chocolate in hand. Two restaurants are also located on-site. Day rates, group rates, and season passes are all available.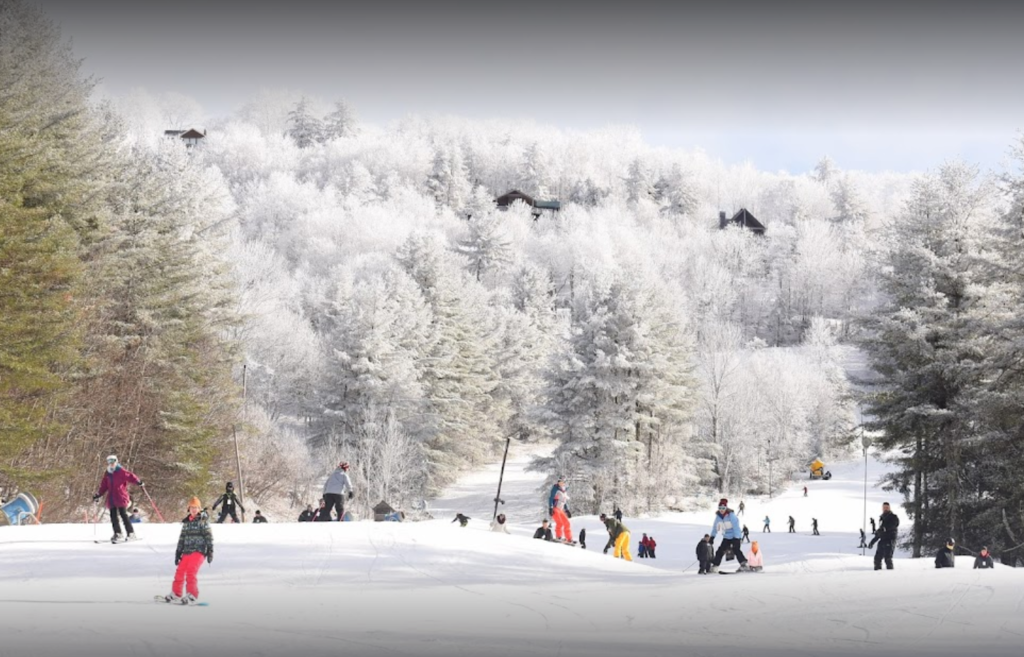 Photo Source: Wolf Ridge Ski Resort
Cataloochee Ski Area
Located less than one hour from Asheville, Cataloochee Ski Area is located in Maggie Valley, North Carolina, in the Great Smoky Mountains. Skiing and snowboarding aficionados will be happy to learn that the Cataloochee Ski Area offers multiple trails, lifts, and slopes for a variety of experience levels.
The eighteen slopes and trails are rated 44% beginner, 39% intermediate, and 17% advanced to expert. A Terrain Park offers a place to practice your jumps, tricks, and landing skills. Lessons are available for kids ages 4-12 as well as for adults. Day rates, group rates, and season passes are available.
Also, the Cataloochee Ski Area's Tube World offers snow tubing fun every winter. A moving carpet lift takes you and your family to the top of the hill, and you tube your way down an exciting snow-covered run! This is a great winter sport activity for the whole family and is a favorite of local families.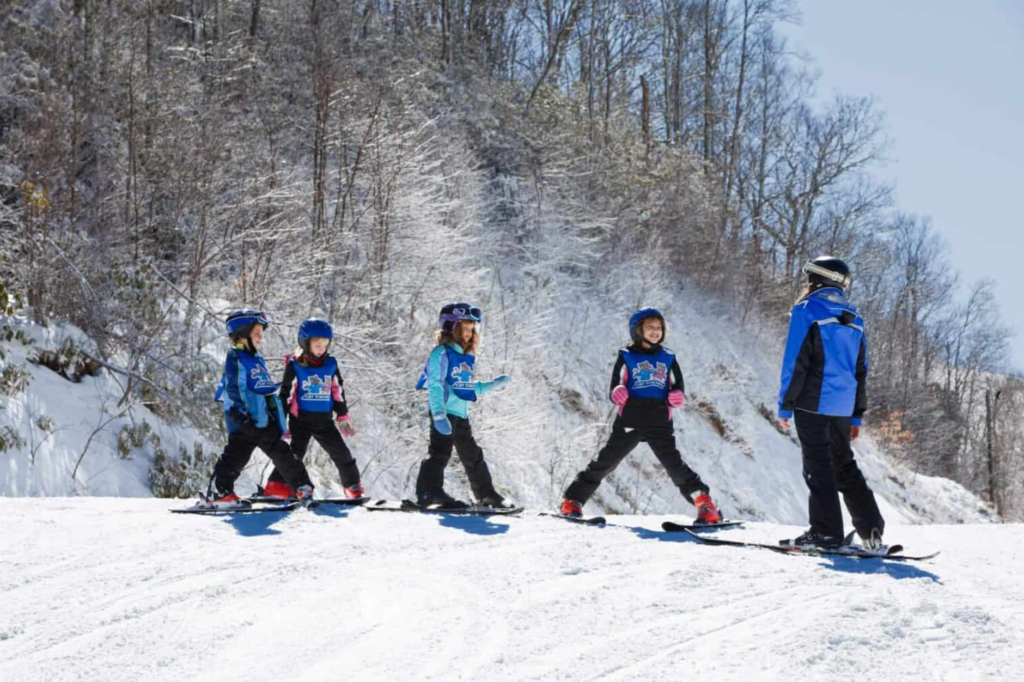 Photo Source: Cataloochee Ski Area
Ski Resorts in the High Country
There are three popular ski resorts near the charming college town of Boone, North Carolina: Appalachian Ski Mountain, Beech Mountain Ski Resort, and Sugar Mountain Resort. Each offers all your favorite winter sports, lessons, pro shops and more. While these are the furthest from Asheville, clocking in at just under 2 hours from the beautiful mountain city, their location and their slopes, which arguably offer better snow and more amenities, makes them a popular choice.
Appalachian Ski Mountain is a family-focused ski resort with a classic feel. Those interested in terrain parks should take special note of this option. The mountain offers three terrain parks, a unique offering compared to the other resorts on this list. Regardless of whether you'll take advantage of these, however, this is a great resort for beginners and families, offering many beginner runs. A large lodge at the base pays homage to the classic ski resorts of old. In fact, this was the high country's first ski area and opened more than 50 years ago. Lessons, lifts, ice skating, rentals, and more are available.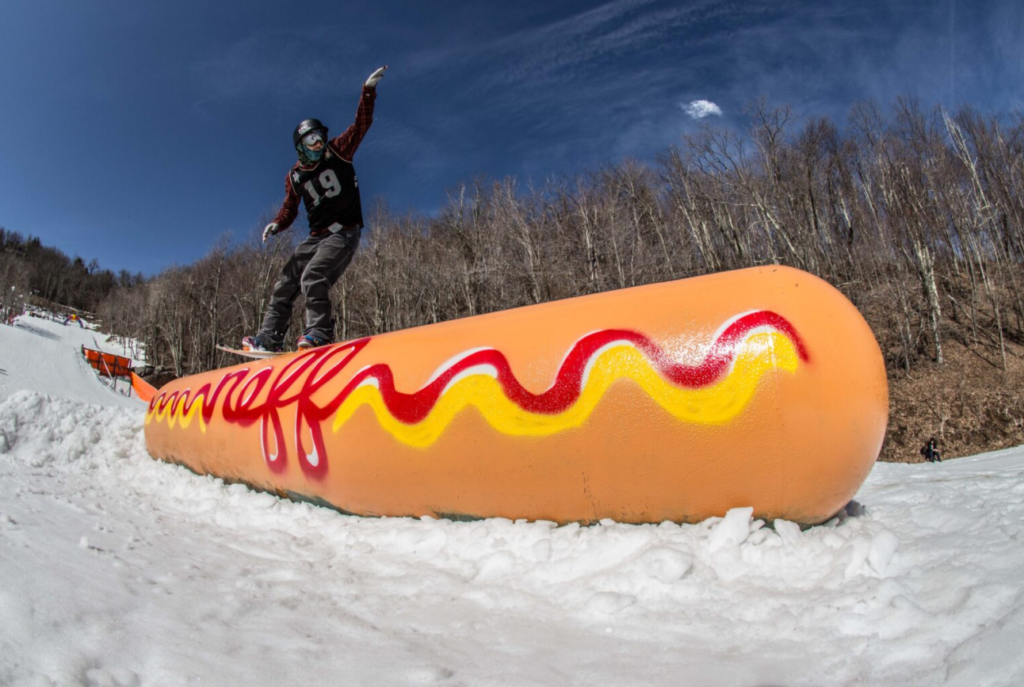 Photo Source: Appalachian Ski Mountain
Beech Mountain Resort is often a favorite of Western North Carolina locals. This spot boasts the claim to fame of being the highest ski area in the Eastern United States. With all the usual offerings of the resorts on this list – multiple runs, lifts, lessons, and more – it's actually the character of this resort that sets it apart from others. At the base of the slopes is a Bavarian-style lodge and at the top you'll find an outdoor deck serving beverages and offering incredible views over the Blue Ridge Mountains. Fun, unique events offer a taste of the local flavor. One of the most popular is a retro 80s weekend complete with contests, prizes, and bands. The resort also hosts events like men's night, ladies' night, and more. Those in your party who aren't particularly interested in skiing might enjoy tubing, the skating rink, and just relaxing and watching others hit the slopes.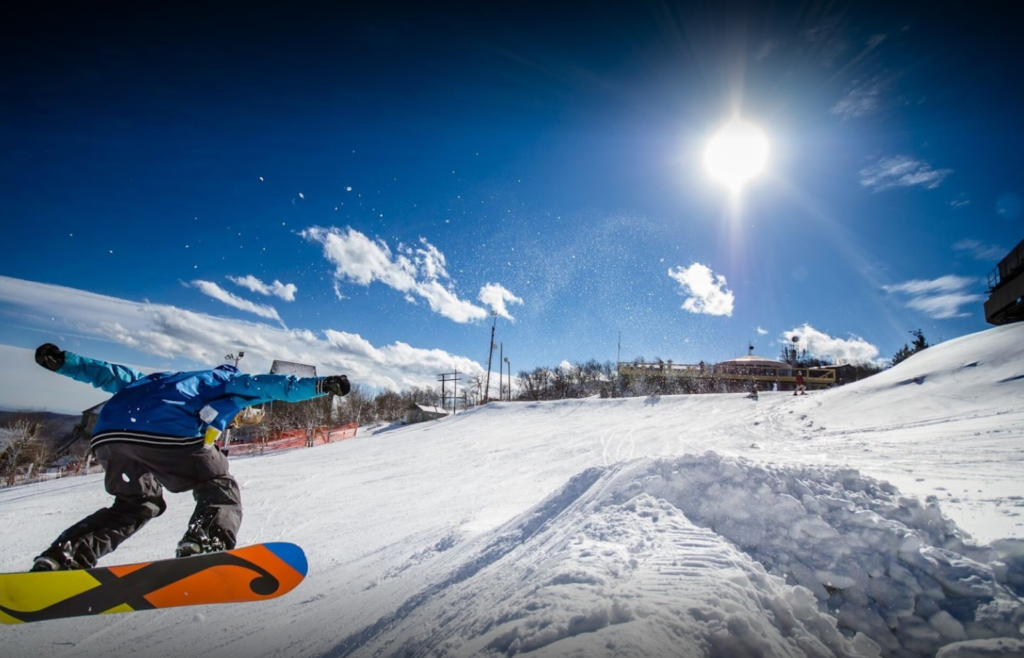 Photo Source: Beech Mountain Resort
Sugar Mountain Resort offers the largest ski area in all of North Carolina, with the most diverse range of runs and the most vertical drop. Coming in at 125 acres of skiable terrain and offering 8 lifts and 21 runs, there is also an excellent base lodge to enjoy relaxing, lunching, and watching the slopes. This resort even offers a skating rink and snowshoe tours. Some "extras" offered here that you won't find at most if any of the other resorts on this list include children's events, childcare, seasonal events, shopping, and a spa.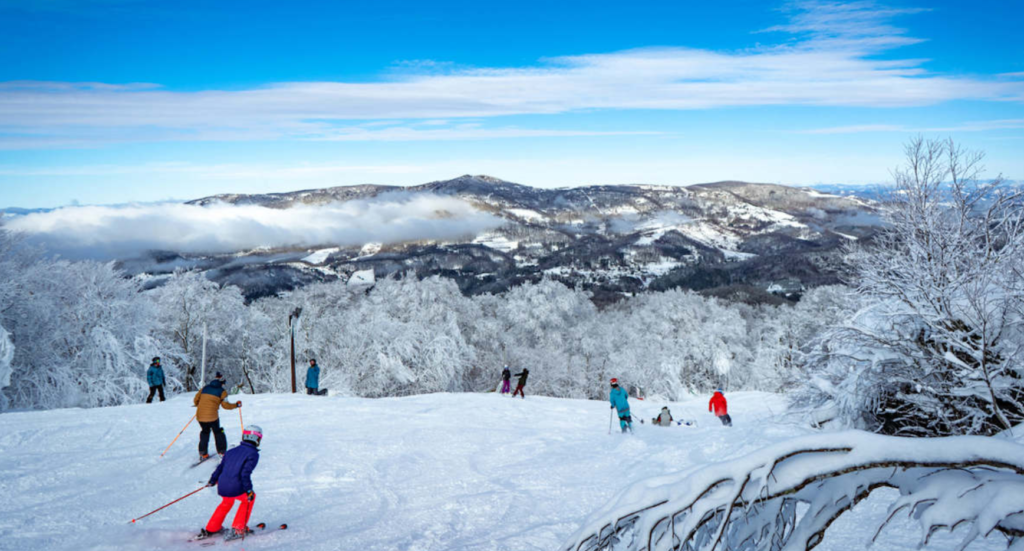 Photo Source: Sugar Mountain Resort