If you've ever been to the beautiful Western North Carolina area, you know how you can't go wrong visiting any of the many pristine lakes. From Lake Santeetlah near Robbinsville, NC to Lake Junaluska in Waynesville, NC the area is filled with beautiful scenery and lakes for anyone to enjoy!
This is a guide to the best WNC lakes where you can enjoy boating, kayaking, paddleboarding, and more in and on some of the most pristine waters in the Southeast! You can also learn more about homes for sale near these lakes and search for real estate in each area.
Bear Creek Lake
Bear Creek Lake is one of Western North Carolina's best hidden gems. You can find Bear Creek Lake in Tuckasegee, a few short minutes away from the Western Carolina University campus. This lake is off the beaten path and has provided many visitors with low traffic on the water, beautiful shorelines, and the occasional bald eagle sighting. Vacationing is also available at the local resort that can be seen from the water.
The Bear Lake Reserve community in Tuckasegee is a popular community for folks interested in living in this beautiful area. With mountain views and lakeside homes offering a variety of designs including villas, cottages, condos, and more, residents have a number of options to suit their needs. Neighborhood amenities include an amphitheater, hiking trails, on-site dining, pools and hot tubs, fitness centers, and even a private theater! You can find homes available in Bear Lake Reserve here. Or you might be interested in searching other homes in the Tuckasegee area outside of the planned community. You can also contact us with more specifics about what you're looking for and we're happy to provide guidance to meet your needs.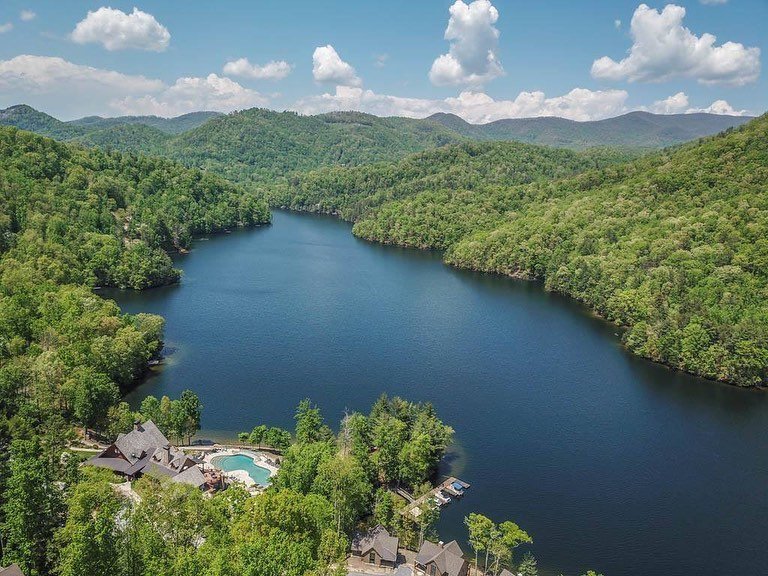 Lake Glenville
Lake Glenville is a beautiful reservoir filled with pristine waters and lots of fun. Fun fact: Lake Glenville's elevation is the highest of any lake East of the Mississippi! Located right outside of Cashiers, Lake Glenville might be your top choice if you are looking for a day full of swimming, fishing, and boating. There is a small public beach located right across from the High Falls parking area that is sure to be a place for family fun. Be sure to spot one of the several waterfalls while you are there.
There are a number of prestigious communities in the Cashiers area near Lake Glenville offering privacy, nature-focused amenities, and gorgeous homesites. You can learn more about homes available in the Glenville or Cashiers areas by searching on our site, or contact us for information on particular communities that might be the right fit for you.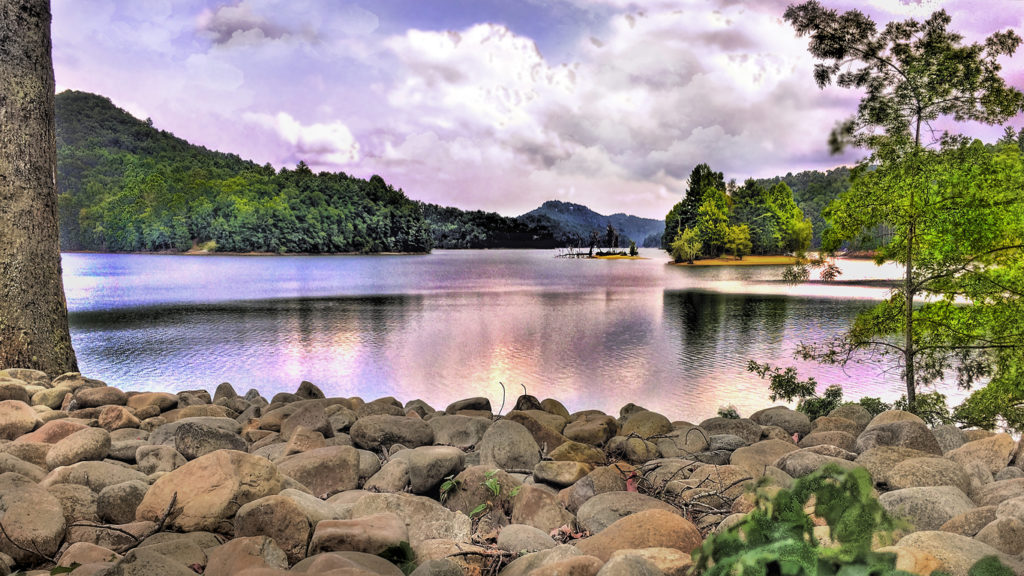 Lake Santeetlah
Located in Robbinsville, Lake Santeetlah is great for motorboaters and paddleboarders alike! With its 76-mile shoreline, largely surrounded by Nantahala National Forest, Lake Santeetlah is a beautiful sight that has opportunities for fun of all kinds! Along with the large boating community, Lake Santeetlah offers a lakeside campground and beach area for the family to enjoy. Lake Santeetlah has one of the most beautiful, commercially-undisturbed lakes in Western North Carolina, with beautiful emerald green waters and lush trees lining the shores.
Because Lake Santeetlah is one of the most unspoiled lakes you can find in the North Carolina mountains, there are a limited number of homes on its waters. It is, however, possible to find a place to call your own near this beautiful area, whether in the town of Lake Santeetlah itself or nearby Robbinsville, which is only six miles away. Contact us and we can help you get started on a search.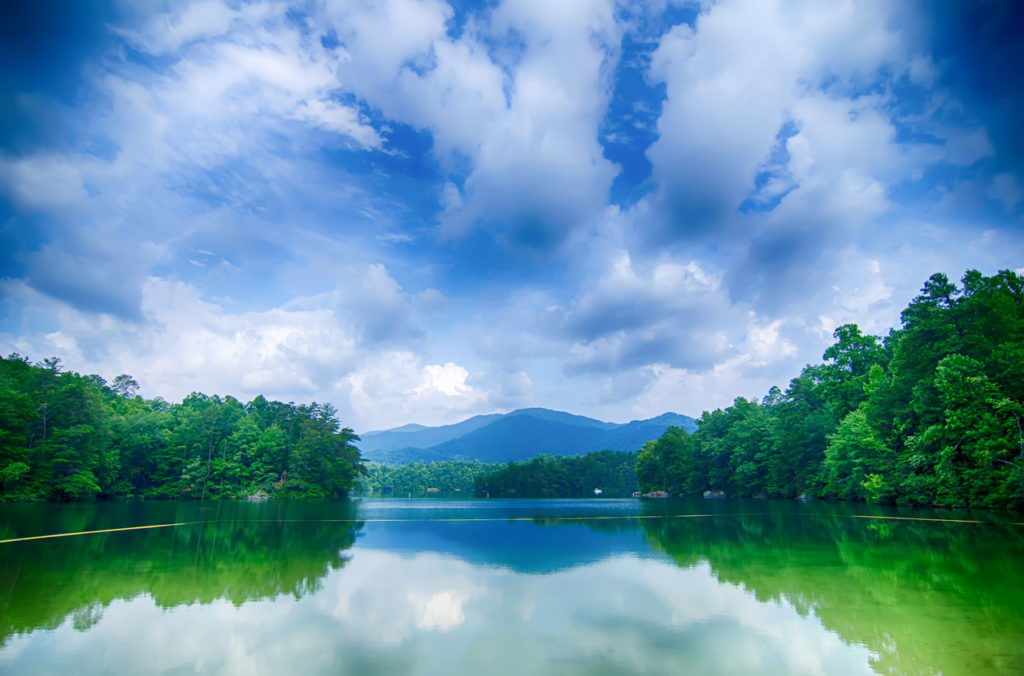 Lake Lure
As one of the more famous lakes on this list, you might have heard of Lake Lure for its claim to fame as the setting of the film Dirty Dancing. Aside from its picturesque views, Lake Lure is a place to see many North Carolina native wildflowers and even monarch butterflies depending on the time of year. In addition to your lake visit, make sure to stop by Chimney Rock State Park, which is right down the road!
Some of the most beautiful lake homes in North Carolina are located on Lake Lure. In fact, visitors to the lake can enjoy boat tours specifically designed to take in the sights of these homes (from a very respectable distance!) One of the most popular private, gated communities on Lake Lure that Rumbling Bald on Lake Lure. Rumbling Bald promises its residents a championship golf course and resort-style amenities! You can search for homes in Rumbling Bald on Lake Lure here, or search for other homes on Lake Lure. Or if you'd like, contact us and we can help walk you through finding a home in the area that is right for you.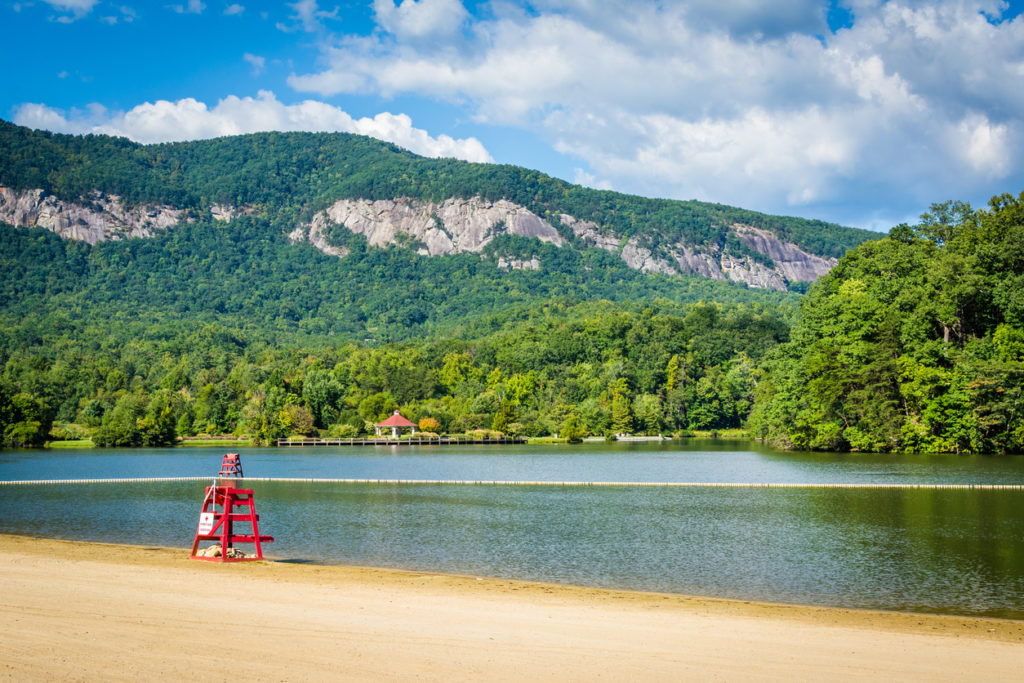 Lake Junaluska
Located near the heart of Waynesville, Lake Junaluska is a relatively small lake, but makes for a great little weekend getaway! Walk the beautifully created 3.7-mile loop trail around the lake, or take on one of its many amenities like the tennis courts, pool, and more. The trail offers many hidden treasures, like the meditation pier, rose gardens, and even a labyrinth adjacent to a historic stone church by the water. Bring your paddleboard or kayak, or rent one! Don't forget to stop by the gift shop for ice cream after.
Around Lake Junaluska, well-kept homes and yards line the streets. Peppered among them are beautiful bed and breakfasts and inns. The Lake Junaluska Golf Course is also found here. You can search for homes around Lake Junalsuka here. Another possibility for those wanting to live close to this lake is searching for homes in the charming and growing town of Waynesville, which is just a few miles away. We're also available to help guide you on your search and answer any questions about living in the area.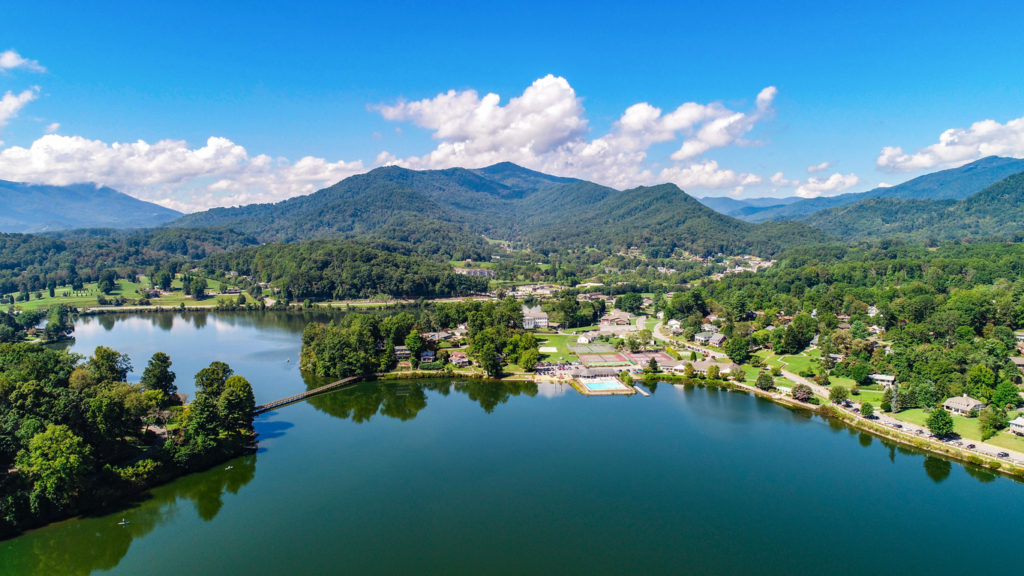 Fontana Lake
Fontana Lake is by far the largest on the list, with an amazing 231 miles of shoreline. A trip into the Great Smoky Mountains will take your breath away as you come across this beautiful body of water. You might want to take a quick drive or walk across the dam for a spectacular view, and the visitor center nearby can show you just how the tallest dam in the Eastern US came to be. If time on your trip allows, be sure to check out the Bryson City area where you can take a ride on the Great Smoky Mountains Railroad! This train is a Western North Carolina family favorite, offering many beautiful experiences during the year, like its infamous Fall leaf peeping or holiday Polar Express rides.
Living in Bryson City is a great option for folks wanting to live close to Fontana Lake and all that the Great Smoky Mountains have to offer. You can search for homes in the town here, or contact us and we can help guide you further.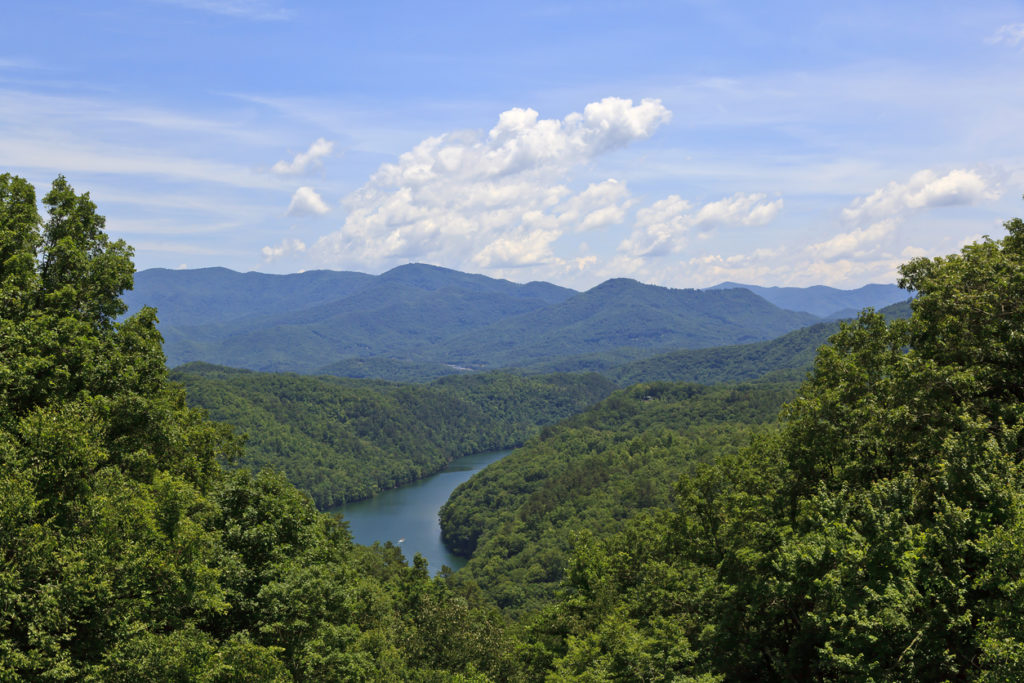 Nantahala Lake
Created in 1942 in Nantahala National Forest, this lake is filled with clear waters to match the blue sky – definitely a sight to see! Although this lake is controlled by Duke Power, water sports like fishing, boating, swimming, and more are all permitted on the lake. If whitewater rafting interests you or your family, Nantahala Lake feeds into the Nantahala River, a well-known rafting spot. For information on homes near Nantahala Lake, please feel free to reach out. While this is an area of sought-after homes, we can you navigate the market in this area of Western North Carolina.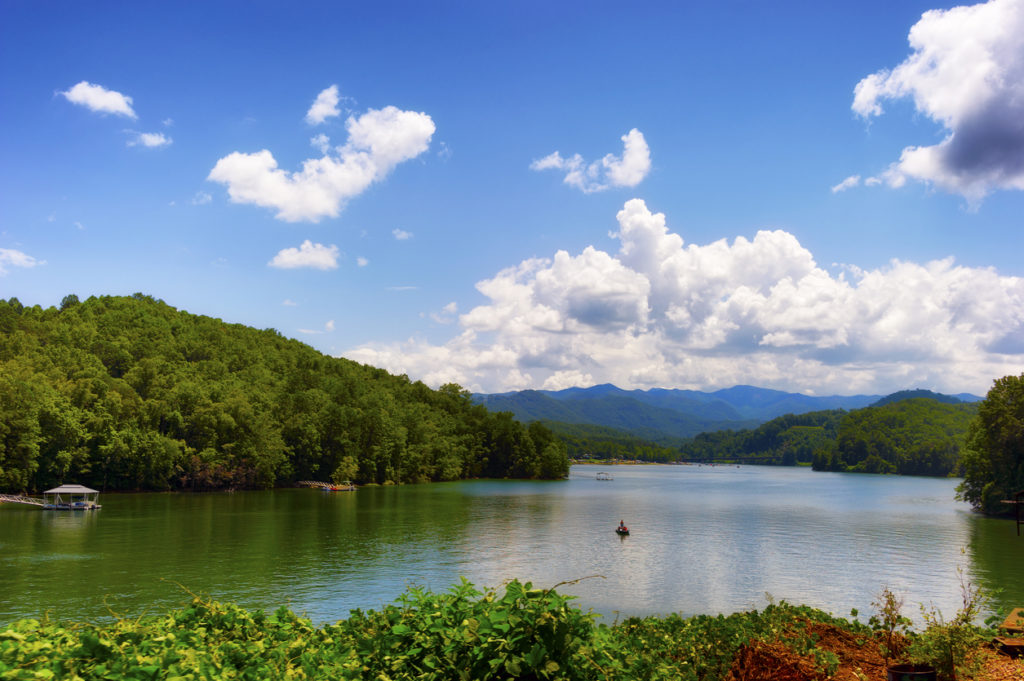 If you're looking for a lake home in Western North Carolina, we'd be honored to help assist you in your search. You can reach us at 828-782-5582 or altamontpropertygroup@gmail.com.