Biltmore Estate and Biltmore Village are some of the most iconic ways to enjoy the holiday season in Asheville. If you are looking for festive Christmas activities and events in the area, these are a don't miss. This is all about the holidays and Christmas at Biltmore Estate!
Biltmore Estate
From November 4 through January 7, Biltmore is a magical place to visit.
Inside the largest home in America are 55 elaborate hand-decorated trees, including a 35-foot live fraser fir in the Banquet Hall, one thousand poinsettias, and miles of garland.
Throughout the extensive grounds, visitors enjoy more than 100 decorated trees with 25,000+ ornaments, 1.5 miles of fresh garlands, 500 wreaths and sprays, 2,000 poinsettias and 100 kissing balls. The front lawn glows with a 55-ft. Norway spruce with 45,000 lights and hundreds of luminaries, and the outdoor gardens and conservatory are full of winter plants.
The estate's dozen shops are perfect for holiday gift-giving. Candlelight tours of the house feature choirs and live musicians.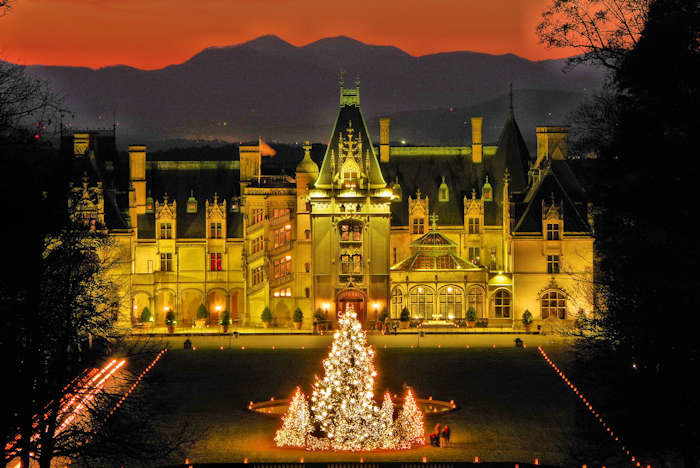 Biltmore Village
The small village just outside the gates to Biltmore Estate is Biltmore Village, which was originally created by George Vanderbilt as a "company town" for his estate workers. Designed to reflect the qualities of a quaint English country village, the area today is a well loved commercial district with a mix of shops, restaurants, and other businesses.
For one weekend every December, the historic Biltmore Village transforms into a Christmas village a la Charles Dickens. "Dickens in the Village" falls on the first weekend in December. The immersive holiday experience features strolling characters, actors and musicians in Dickensian-era costumes, musical performances, excerpts from a production of "A Christmas Carol," a tree lighting, visits with St. Nick, and more.