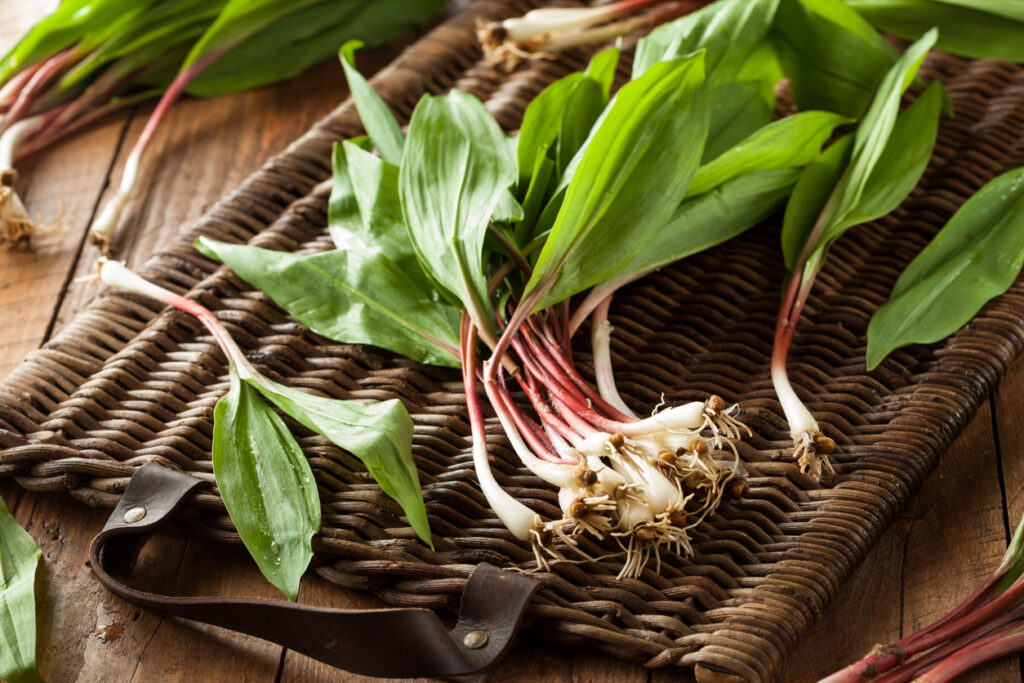 Spring is upon us in Western North Carolina, and with it comes a highly anticipated foraging season for wild ramps. Known for their pungent flavor and unique appearance, ramps, also known as wild leeks, are a beloved culinary delight that grows abundantly in the Appalachian region. As the temperatures rise and the forests awaken from their winter slumber, foragers eagerly venture into the woods to harvest these delicious wild treats.
What are Ramps?
Ramps (Allium tricoccum) are perennial wild onions native to North America. They are characterized by their broad, lily-of-the-valley-like leaves, which are dark green in color, and their slender, purplish stems. Ramps are known for their strong flavor, which is a unique blend of garlic and onion, with a hint of sweetness. They are versatile in the kitchen, adding a burst of flavor to a variety of dishes, and are often used in both traditional and modern Appalachian cuisine.
Harvesting Ramps
Ramps are typically harvested in the spring, usually from late March to early May, depending on the weather and location. They are usually found in rich, moist, wooded areas, often near streams or rivers. Harvesting ramps is a delicate process that requires sustainable practices to ensure the long-term viability of these wild plants.
When foraging for ramps, it's important to follow ethical guidelines to protect the plants and their natural habitat. Here are some tips for responsible ramp harvesting:
Harvest selectively: Only take what you need and leave the rest. Avoid overharvesting or taking the entire plant, as ramps take years to establish and reproduce.
Avoid damaging the bulbs: Ramps grow from bulbs, and damaging the bulbs can prevent them from regrowing in the future. Use a sharp knife or scissors to carefully cut the leaves above the bulbs, leaving the roots in the ground.
Leave some behind: Leave some ramps behind to allow them to flower and produce seeds for future generations. This helps sustain the population and ensures that ramps will continue to grow in the wild.
Respect private property and regulations: Always ask for permission before harvesting ramps on private land, and follow any regulations or guidelines set by local authorities or landowners.
Using Ramps in the Kitchen
Once you've harvested your ramps, it's time to bring them into the kitchen and put their delicious flavor to good use. Ramps can be used in a variety of dishes, from simple sautés to more complex recipes. Here are some ideas for using ramps in your culinary creations:
Sautéed ramps: Heat some butter or oil in a pan and sauté ramps until they are wilted and slightly caramelized. Season with salt and pepper to taste, and serve as a side dish or as a topping for eggs, pasta, or grilled meats.
Ramps pesto: Blend ramps with pine nuts, Parmesan cheese, olive oil, and lemon juice to make a flavorful pesto. Use it as a sauce for pasta, spread it on bread, or use it as a marinade for grilled vegetables or meats.
Pickled ramps: Preserve the tangy flavor of ramps by pickling them in vinegar, water, sugar, and spices. Pickled ramps make a great addition to charcuterie boards, salads, or sandwiches.
Ramps soup: Use ramps as the base for a delicious soup. Sauté them with other vegetables, such as potatoes, carrots, and celery, and simmer them in broth until they are soft. Puree the mixture and season with herbs and spices for a flavorful and comforting soup.
Ramps frittata: Whip up a ramp-filled frittata by sautéing ramps with eggs, cheese, and other vegetables or meats
Ramp season is an exciting time for foragers and food enthusiasts alike in Western North Carolina. These wild leeks offer a burst of unique flavor that can elevate a variety of culinary creations. However, it's crucial to harvest ramps responsibly and sustainably, following ethical guidelines to protect the plants and their natural habitat for future generations. Whether sautéed, pickled, blended into pesto, or used in soups and frittatas, ramps are a true Appalachian delicacy that can add a special touch to your springtime meals. So, grab your foraging gear and head out into the woods to experience the joy of harvesting and savoring these delicious wild treats during the ramp season!