Buying local in Asheville and Western North Carolina means the freshest food, numerous organic options, and the good feeling that comes from supporting local farms. One of the best ways to buy local produce, artisan goods, baked goods, dairy products, and more is at one of the many WNC farmers markets.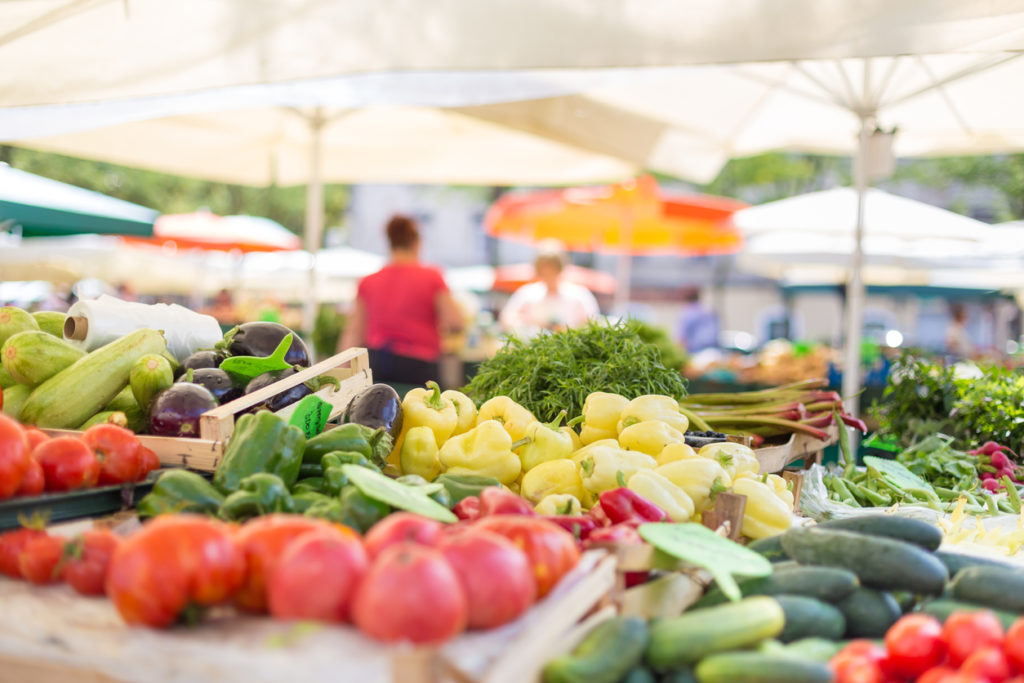 Most Popular WNC Farmers Markets
Western North Carolina Farmer's Market, located in a 36-acre complex nestled between I-40 and I-26 on Brevard Rd. Admission and parking are free and you'll find produce, mountain crafts, jams and preserves, baked goods, a deli, and even plants for sale. The market is open all year, seven days a week.
Asheville City Market is on North Market Street between Woodfin and East Walnut streets. Free and street parking are available. This market is held 8 am to 12 pm outside through the 3rd Saturday in December, with special holiday hours before moving into the Asheville Masonic Temple for Winter. A unique quality of this market is that it is a "producer only" market, which designates that sellers can only sell items they have produced; in other words, no commercial farms are present.
North Asheville Tailgate Market is the area's oldest market and features more than 40 of the best farmers, bakers, chefs, and more. This market is located on the UNC Asheville campus in commuter lot C, just a couple miles north of downtown Asheville. The market is open Saturdays from 8 am – 12 pm, April to November.
Other Markets Around Town
West Asheville Tailgate Market
Tuesdays 3:30 – 6:30 pm, April through November
Location: 718 Haywood Road, Asheville
East Asheville Tailgate Market
Fridays 3 – 6 pm, May through September
Location: 954 Tunnel Road, Asheville
Black Mountain Tailgate Market
Saturdays 9 am – 12 pm, May through October
Location: 130 Montreat Road in Black Mountain
Henderson County Tailgate Market
Saturdays 8 am – 12 pm, April through October
One of the oldest open-air markets in the region, this market is a Henderson County favorite
Location: 100 North King Street, Hendersonville
Henderson County Curb Market
Tuesdays, Thursdays and Saturdays 8 am – 2 pm
Indoor co-op market since 1924 with 100 vendors
Location: 221 North Church Street, Hendersonville
Haywood's Historic Farmers Market
Wednesdays & Saturdays 8 am – 12 pm, Late April through December
Location: HART Theatre, 250 Pigeon Street, Waynesville
Madison Co. Farmers & Artisans Market
Saturdays 9 am – 12 pm, April through October
Location: Mars Hill College, at the intersection of Highway 213 and Athletic Street
Morganton Farmers Market
Saturdays 8 am – 12 pm, April through October
Location: 300 Beach Street, Morganton
Wednesdays 2 – 6 pm, May through October
Location: 111 N. Green Street, Morganton 
River Arts District Farmers Market
Wednesdays 3 – 6 pm
Producer-only market with an incredible variety of products, this is another Asheville favorite.
Location: 175 Clingman Avenue, Asheville River Arts District
Transylvania Farmers Market
Saturdays 8 am – 12 pm, mid-April through December
Location: 190 East Main Street, Brevard