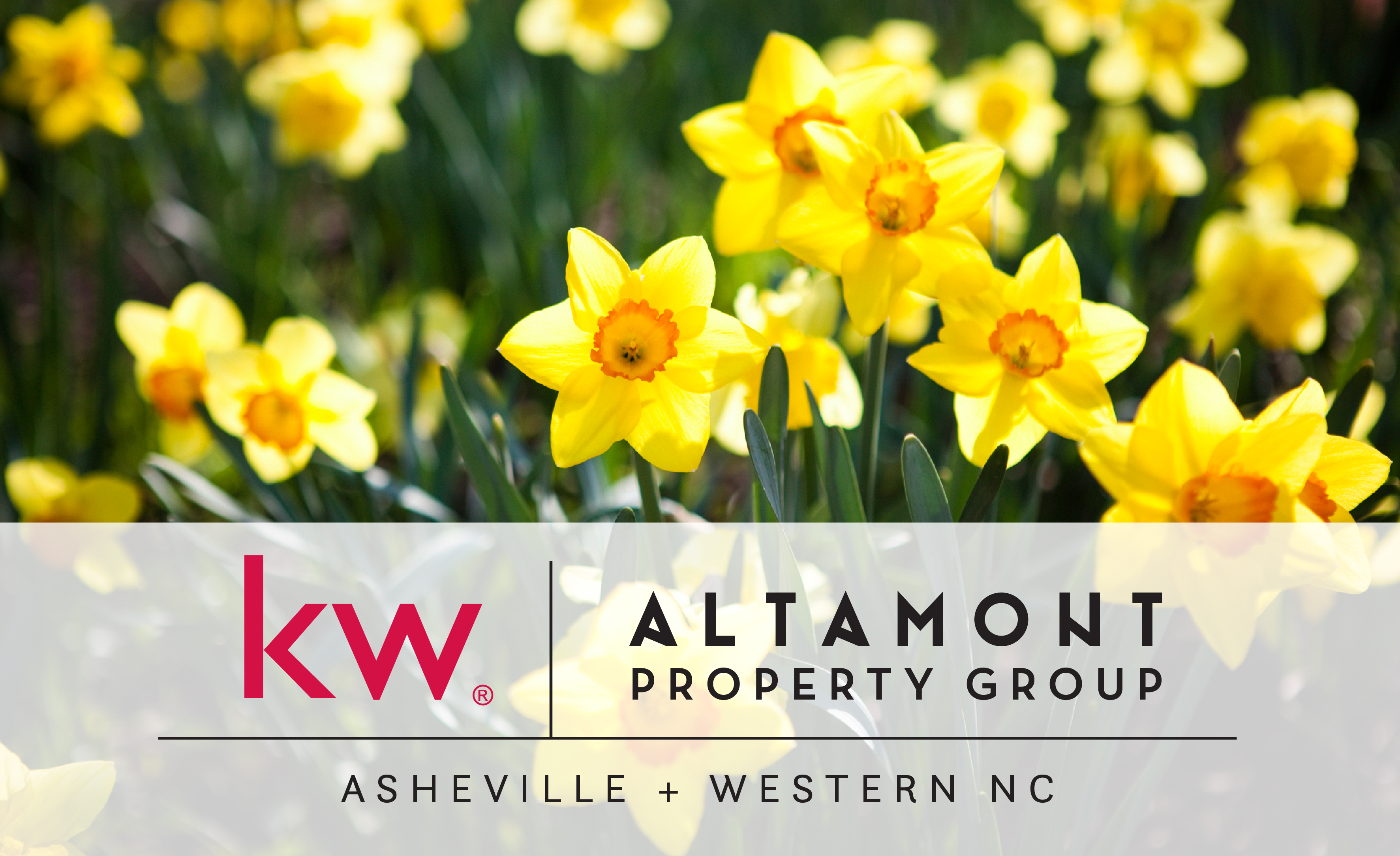 To all of our clients, friends, family, and associates,
The effects of COVID-19 are being felt throughout the world, and unfortunately we're also experiencing them here at home. There is a lot of uncertainty surrounding the current environment, and the next few weeks will prove challenging for us all.
We write this from a realistic perspective, yet also from an optimistic perspective that we will rebound and prosper. The market conditions in Western NC were robust before the current economic stagnation, and most signs point to things on the rebound once the all clear is given from state, national, and worldwide health officials. Message: remain calm and be optimistic! It may take some time, yet the market conditions are far different than in 2008. Western NC is a popular place and it will continue to be. Lending regulations are responsible. Inventory is low and buyer demand is high. Bidding wars are still happening for the best properties. Interest rates are low. Please know we have no crystal ball to tell for sure, yet the conditions are still ripe for a fruitful housing market, this simply seems like a stall caused by market and economic uncertainty.
We are regularly keeping up with the latest updates from national, state and local health authorities so we can be confident that the policies and procedures our team represent the best available practices to maintain the health and well-being of our clients and our agents, while continuing to provide an expert and comprehensive real estate service.
Additionally, we wanted to write and keep you informed of steps we're implementing at Altamont Property Group to offer the absolute best for our clients during this challenging time. We are taking the CDC's recommendations for self distancing and self quarantine seriously, and urge you to do the same for the greater good. Please see below for some details on our efforts:
–OFFICE VISITATION & VIRTUAL MEETINGS – The Keller Williams offices are closed for the safety of our associates and clients. We are adhering to CDC guidelines during the corona virus outbreak. Pursuant to the CDC's recommendations for social distancing and in person social interaction, we have implemented the proper telecommuting protocols to meet face-to-face with clients. We have a dedicated Zoom channel set in place, so please be in touch with us about your preferred time to virtually meet, and we will send you the Zoom link. You know we love you and want to meet in person, and it's still easy to do so!
–SANITATION & HEALTH PROTOCOLS – All of our team members will have hand sanitizer and disinfectant wipes for showings. If we are not feeling well, we will decline to meet you in person and instead suggest we meet digitally (see below for more). If you are not felling well, we ask you disclose to us and we will meet you digitally. Agents will encourage clients to ride in separate vehicles. We also will follow CDC guidelines to give 6′ space between people during interactions. Additionally if any other measures will help you feel comfortable and secure, please let us know!
–CLIENT COMMUNICATION – You already we know we care about our people, and we are prompt in our communication. We will always uphold this standard, especially during challenging times. If you have any questions about the current market or any specific concerns, we are here to help! Please know you have market experts on your side who care.
–INTERNET MARKETING – Never has quality online marketing been as important as it is now. We will continue our commitment to providing a custom webpage for every listing, making information about each property easily available to buyers and their agents.
–VIRTUAL SHOWINGS / VIDEO WALKTHROUGHS – For buyers, we are glad to offer video walkthroughs of homes and properties you'd like to see. We visit the property, take the videos, then upload them online so you can view them on demand. For sellers we will upload these videos to have on file for any buyers to view on demand. Virtual showings are real now, and we intend to make them available on demand for our clients. Conventional tactics of using photos to encourage showings can only go so far if buyers can't visit the property in person. Video is going to prevail and we will work to be on the forefront of this shift.
–ELECTRONIC DOCUMENTS AND SIGNATURES – We already have full electronic capabilities for signatures, property information, mapping, communication, and more. For virtually everything you can name, we can handle it electronically. Inquire with us for more information!
–COMMUNITY & LOCAL BUSINESS SUPPORT – Make no mistake, businesses throughout Western NC are struggling. Our team always pledges to support local businesses as often as we can, and we encourage our friends, family, clients, and network to visit www.ashevillestrong.com to learn more about ways to support local businesses during this difficult time. The ripple effects we've seen throughout the local economy are very apparent, especially for businesses that rely on in-person interactions. Our community members from all walks of life are affected, and we pledge to be there for support as best we are able. Asheville Grown is another excellent resource for supporting local businesses, along with Asheville City Schools.

Please know that your business is a top priority for us here at Altamont Property Group. More important us is your health and wellness. We are here to help you make sense of uncertain times to find the utmost success possible in the Western NC real estate market.

Much love, and please spread positivity. The world needs it now, and good times are around the bend. We are here for you.
Our best,
Collin + Jenni O'Berry, Chris Gragtmans, Ross Pritchard, Ella Tzinberg, Elizabeth Snyder, and April Mojica
Please connect with us at altamontpropetygroup@gmail.com or 828-772-1667 for further discussion, or to learn more about how to succeed in your goals.