By Katie Rice, Broker
Last winter, I had a client reach out to me wanting to buy some land. She had a tight budget of $200,000 or less, and her goal was to build something private, small, and sustainable.
I started by searching MLS, but I didn't find anything that met her needs. Then, I had a lead on an off-market lot that I thought might be a good fit. However, there were a lot of nuances to the lot that made it difficult to get the information we needed. This is where my real estate and construction experience, dedication to my clients, and commitment to being in it for the long haul came into play!
The lot was being split off from a larger parcel, so the new survey hadn't been completed yet. There were also some improvements on the lot, but the conditions of them were unknown. I had to decide whether my client's loan should be just for the dirt or if it should include a construction loan. And of course, we needed to make sure that she could build a home within her budget.
It took months to suss out all of the details and make sure that all the bases were covered to protect my client, while also keeping the deal alive. But in the end, our meticulousness paid off. She was able to purchase a private 5 acres of land with an improved road, prepped site, well, and septic system – all at a fantastic value!
I'm so proud of what we accomplished together. This deal wouldn't have been possible without a broker who understands the nuances of land, development, and construction. And it wouldn't have been possible without my commitment to being an advocate for my client and being in it for the long game. I take the responsibility of getting my clients the best deal and right fit for their needs seriously; this is not about making a sale. It's an honor to collaborate with my clients.
I'm grateful my client trusted me to help her find the perfect piece of land for her dream home. And I'm excited to see what she builds on it! I hope this story inspires others to find an educated broker who will advocate for them and help them achieve their real estate goals. I'd be happy to talk to you more about how I can help create a success story for you!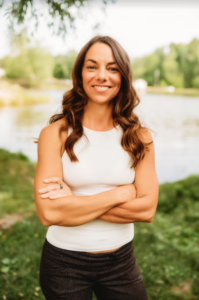 Katie Rice
Office: 828-782-5582, ext. 6
Cell: 828-230-7482
Email: katie.rice@kw.com