+-404 Acres with River Frontage
2385 Huntdale Road, Burnsville NC
Sold for $3,875,000

At the confluence of the Toe and Cane rivers lies the Nolichucky River. It is here you'll find Riversong, which offers an unparalleled opportunity to own one of the premier riverfront properties in the Southern Appalachians.
This truly astonishing +-404-acre gem offers over 3 miles of river frontage along the Cane and Nolichucky, over 90 acres in pastures, 300+ acres of woodlands, +-13,000 square feet of existing tobacco barns, 5+ miles of internal soil roads, and gated, private bridge access from a state paved road.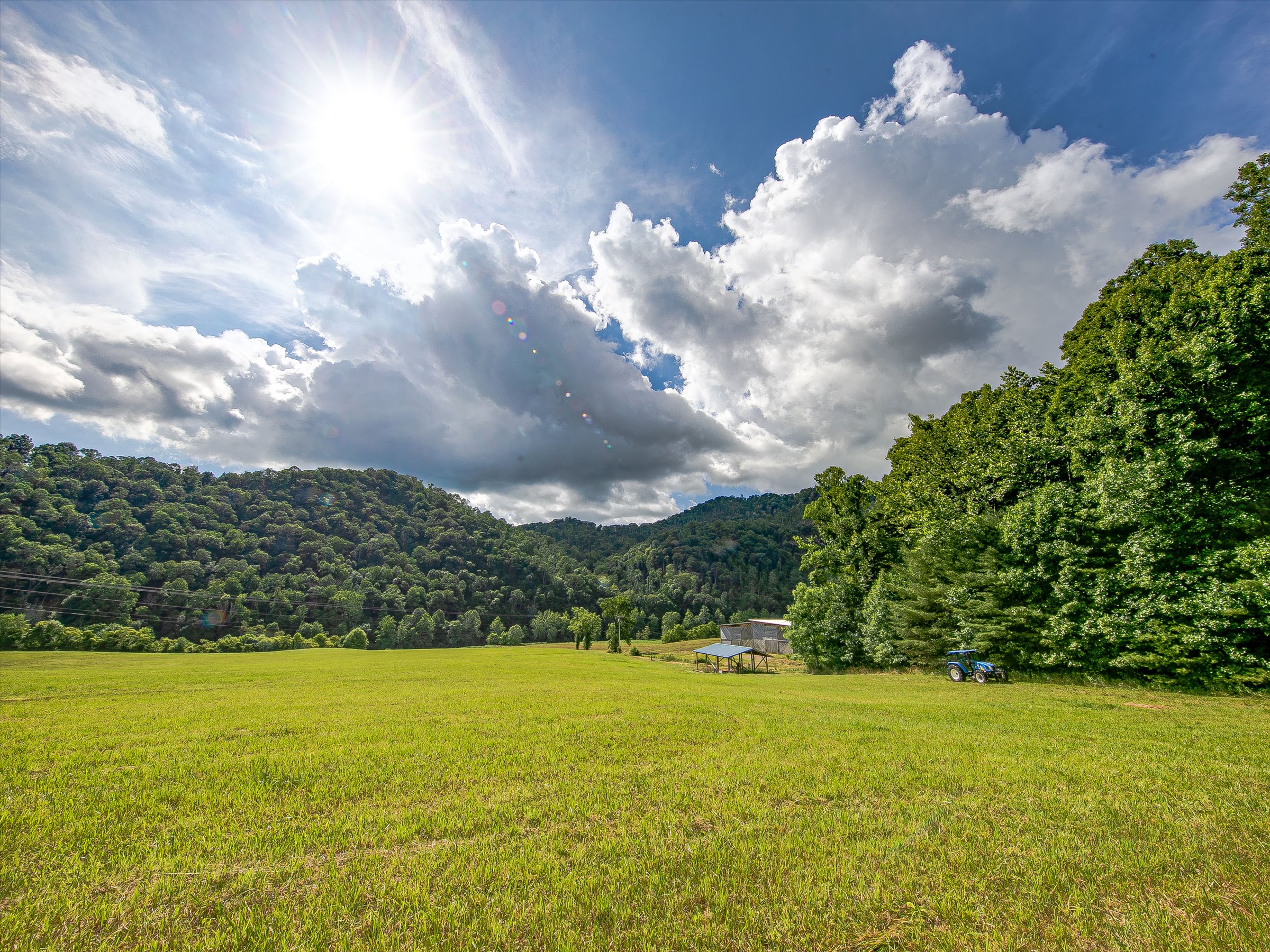 Riversong
Walking Riversong's pastoral acreage will take you across over 90 acres of pastures of fertile, tillable areas along some of the most stunning riverfront property imaginable, plus rolling upper bluffs with beautiful views. River frontage features a perfect mix of rocky shoals, stillwater pools, and private beaches.
The crown jewel of Riversong is its approximately three miles of river frontage, with a width of more than 130 feet of pristine water from shore to shore. This stretch of river is gentle, flowing, and lazy, with just the right amount of small rapids and riffles to make swimming, tubing, and fishing a delight. Enjoying the river along the entire length of Riversong is easy, with a gentle slope and open land. Enjoy fishing, tubing, rafting, swimming, and other water based activities directly from multiple places on the property.
As you move further into the property, you'll find hundreds of acres of forested mountain land. It is truly rare to find views on one property that incorporate, river, valley and mountains from the same spot, yet you'll find it here. The topography varies from gently laying finger ridges and plateaus to steep hillsides covered with flowering rhododendrons. Perhaps unbelievably, high speed fiber optic Internet is available in this rural setting.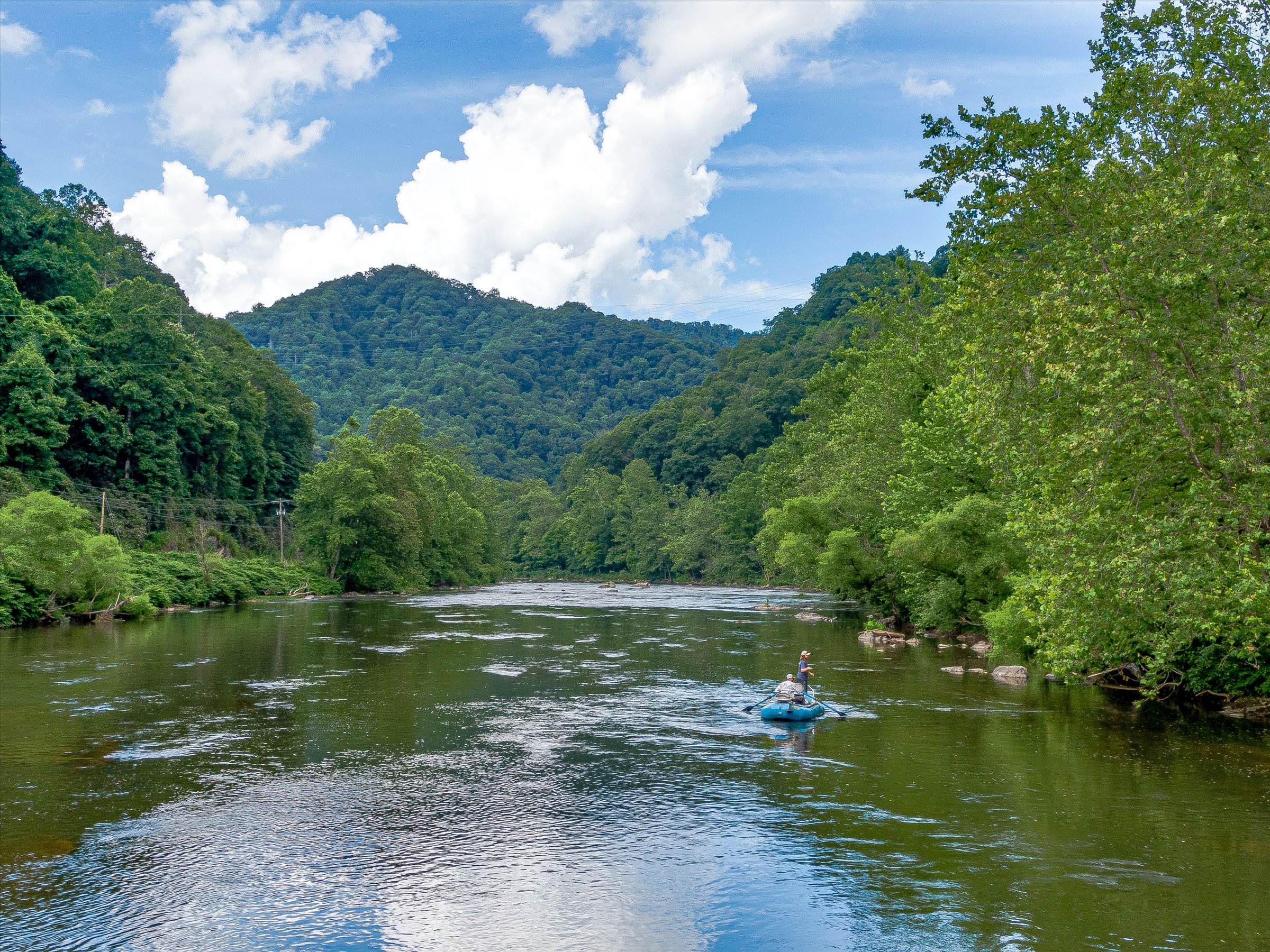 The Nolichucky and its Rich Past
The Nolichucky's waters twist and tumble through the heart of the Eastern Tennessee and Western North Carolina mountains, beckoning lovers of the most untouched places in the world with its promise of the magic of the last major free-flowing rivers in the Southeast. Most of the river rests at the bottom of a deep gorge, with an epic canyon-like landscape that's truly unique in this region.
The Chickamauga Cherokee first called this land home: nana-tu-gluncky, meaning "spruce tree place" or "rushing waters." In the 1770s, Europeans first began to establish settlements along the river's shores, which later served as the birthplace of American frontiersman and folk hero Davy Crockett. Along the Tennessee-North Carolina border, the logging, railroading, moonshine-making, and farming community of Lost Cove was settled along the river around the time of the Civil War. By 1957, the area was deserted, but is still visited by hikers today. The rich history and biodiversity of the Nolichucky and its surrounding lands make it a place that is still revered today.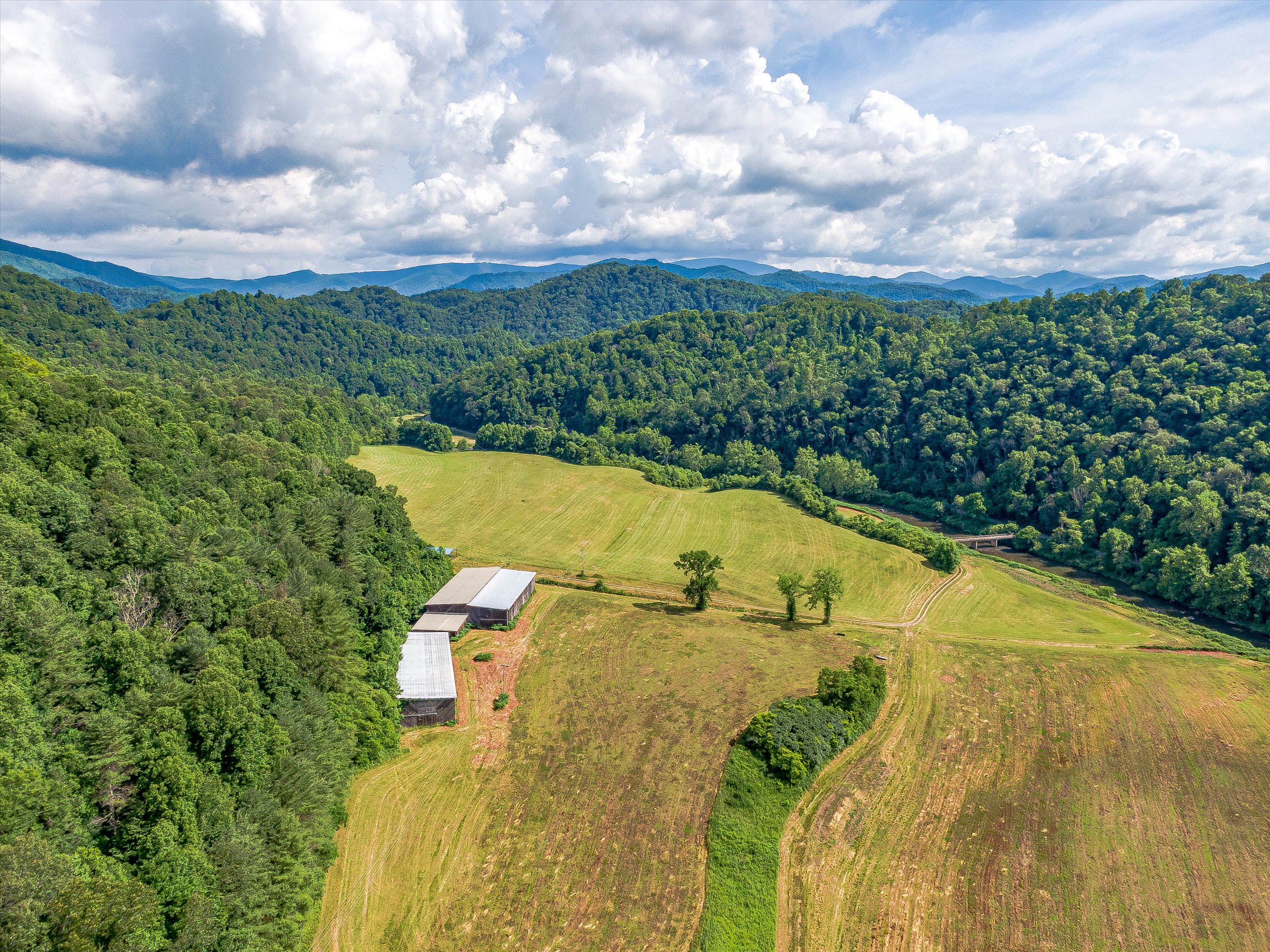 Endless Possibilities
Because there are no public or private use restrictions on Riversong, this land can transform into most anything you'd like. Given the amount of acreage and the varied topography, the potential uses are only limited by your imagination.
Farming
Out of its +-404 acres, Riversong is home to approximately 90+ acres of gently laying, rolling pasture and field. Acreage of this nature is highly sought after for its gentle building topography and agricultural potential. If you dream of a sustainable farm, there is ample acreage to make this a reality. The topography is gentle enough to build large footprint buildings, dressage arenas, stables, and more. In fact, there are already two very large and well-maintained high clearance tobacco barns on the property, totaling approximately 13,000 square feet. These could be used for a variety of agricultural purposes, including farm equipment storage, cattle, horses, or other livestock.
Recreational Paradise
Riversong is rich in flora and fauna, with wildlife such as white-tailed deer, turkey, fox, black bears, geese, and more. Hunters and fishing enthusiasts will find the land and waters a dream come true. Bass, catfish, crappie, musky, and trout swim the Nolichucky, which is considered one of the top three angling rivers in East Tennessee. A multitude of established trails are ready for you to explore on horseback, foot, or ATV.
Event Venue or Vacation Rental
If you are considering developing acreage into an income-producing venture, you might build rental cabins or glamping platforms throughout this land. Short-term vacation rentals with access to rivers are in extremely high demand, and in the right hands this could be a highly successful venture. Another potential business might be an agri-tourist destination featuring an educational working farm where guests can enjoy a short-term stay and have the experience of living on a farm. Given the magical beauty and backdrop of this acreage, a wedding and event venue would fit like a glove. In the right hands, Riversong could certainly become a top vacation, tourist, or event destination in Southern Appalachia.
Estate Lot Development
Some owners might pursue subdividing Riversong's land into estate lots for sale, and will be pleased to know that development concept plans are on file. Approximately five miles of existing logging roads are ready to serve as interior driveways to multiple prime building sites up on the mountain, each of which could take in jaw-dropping views of the surrounding mountains, valley, and rivers below. Several miles of trails also wind through the property.
Family Compound/Homestead
Riversong would also make an ideal family compound or homestead. Secure access and remoteness, alongside the richness of resources, make this property an ideal retreat, with the ability to be completely off-grid if you choose. Springs and water resources critical to homesteading are in abundance, and these could be utilized for micro-hydroelectric generation. The +-90 acres of open fields offer the possibility of installing a small solar farm that could easily generate enough power for a multitude of dwellings. Cultivating crops, gardens, and fruit orchards would offer renewable food sources, and yet there would still be ample room for livestock if desired. Given the topography, a rifle or sportsman shooting range is a possibility. This rare property provides everything a homestead should offer at any time.
Conservation
Conservationists will find an unparalleled opportunity to serve as stewards of the land by establishing and maintaining forested stream-side buffers, controlling erosion, safeguarding the land and water, and protecting the area's biodiversity and ecosystem. In fact, the Cane, Toe, and Nolichucky rivers are home to the Appalachian elktoe freshwater mussel, an endangered species that depends on water quality for its survival. Federal, state, and private programs are available to assist landowners with conservation efforts. There is also a current effort to designate the Nolichucky as a National Wild and Scenic River.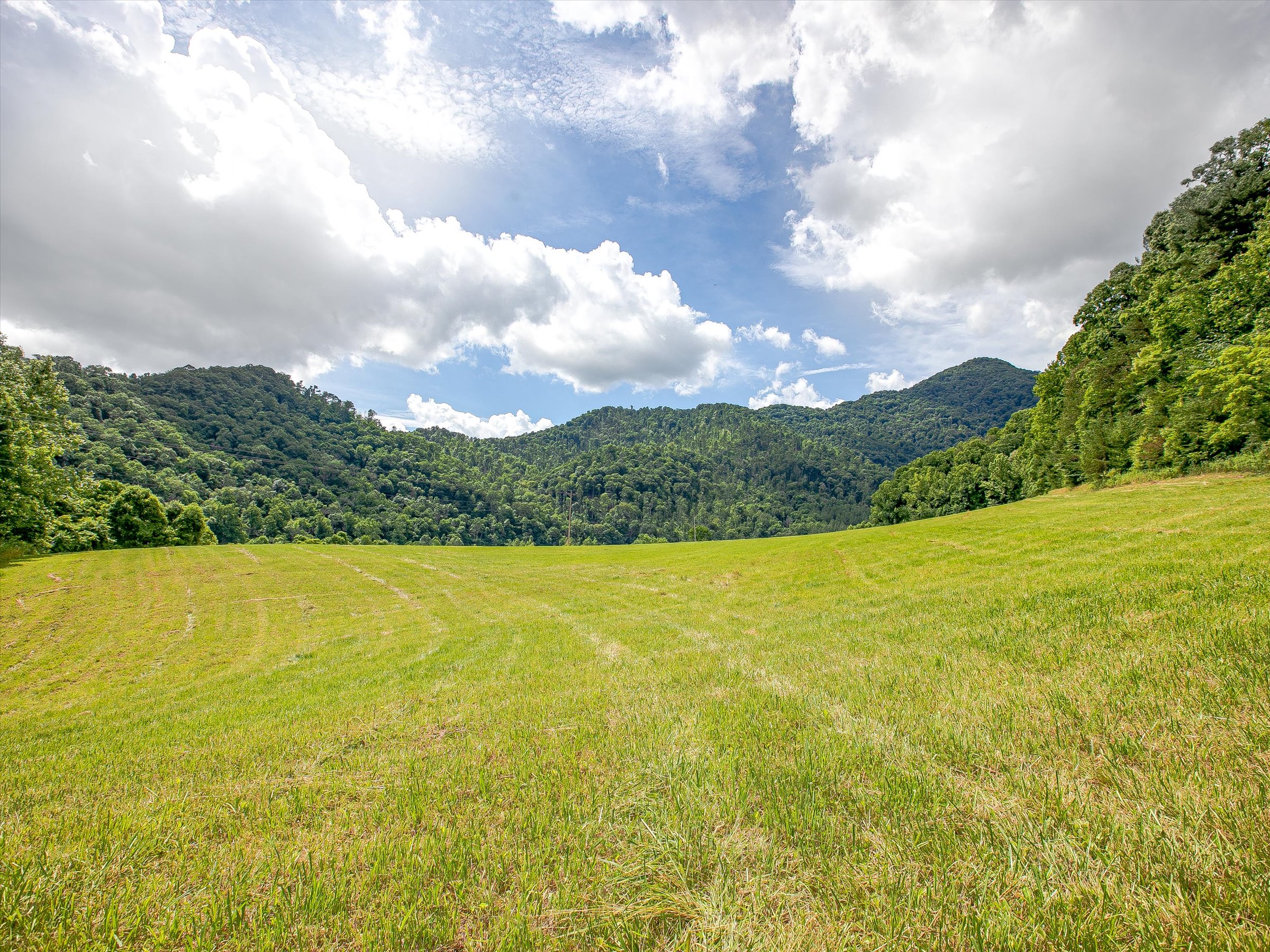 Access and Location
Riversong offers a combination of convenience and privacy. With a natural barrier to entry provided by the river, the only access to Riversong is found by crossing a 150' steel and concrete estate bridge. While there are properties adjoining the western flank of the property, there is no legal access from that side and the topography is very challenging. Those interested in security and privacy will find it here.
Leaving Riversong, driving is easy and comfortable for a jaunt into town. A network of publicly-maintained, paved roads await. An easy, scenic 14-mile drive takes you to the Yancey County seat of Burnsville, filled with shops, restaurants, and services. Burnsville is known for its rural-artistic vibe, with a walkable Main Street filled with colorful street murals and quaint art galleries. In fact, many small towns dot this idyllic countryside, promising easy days exploring places like Mars Hill, Marshall, and Spruce Pine, or even a weekend in the booming college town of Johnson City TN just across the state line.
In less than an hour, you can arrive in Asheville, an Appalachian city with a small-town feel that is rich with arts, culture, dining, and music. Consistently ranked on national "best of" lists, the city was named one of the top 15 cities in the United States by Travel + Leisure in 2020. Other accolades include a coveted recognition among the following: 50 Best Places to Travel (2020, Travel + Leisure), Best Small Cities in the United States (2020, AFAR), Top US Foodie Destinations (2020, Yelp), 10 Bucket-List Sites to Visit in this Decade (2020, USA Today), 9 Best Mountain Towns in America (2019, Jetsetter), and dozens more.
Lovers of the outdoors will relish that Riversong is located near both Cherokee National Forest and Pisgah National Forest, including Mt. Mitchell. The Appalachian Trail, which travels 2,190 miles from Georgia to Main, crosses US Route 19 just 6.3 miles from the property.
Whether you choose to stay on the land at Riversong or make regular trips to the surrounding areas, you'll have plenty of options thanks to this incredible location, which provides seclusion yet accessibility.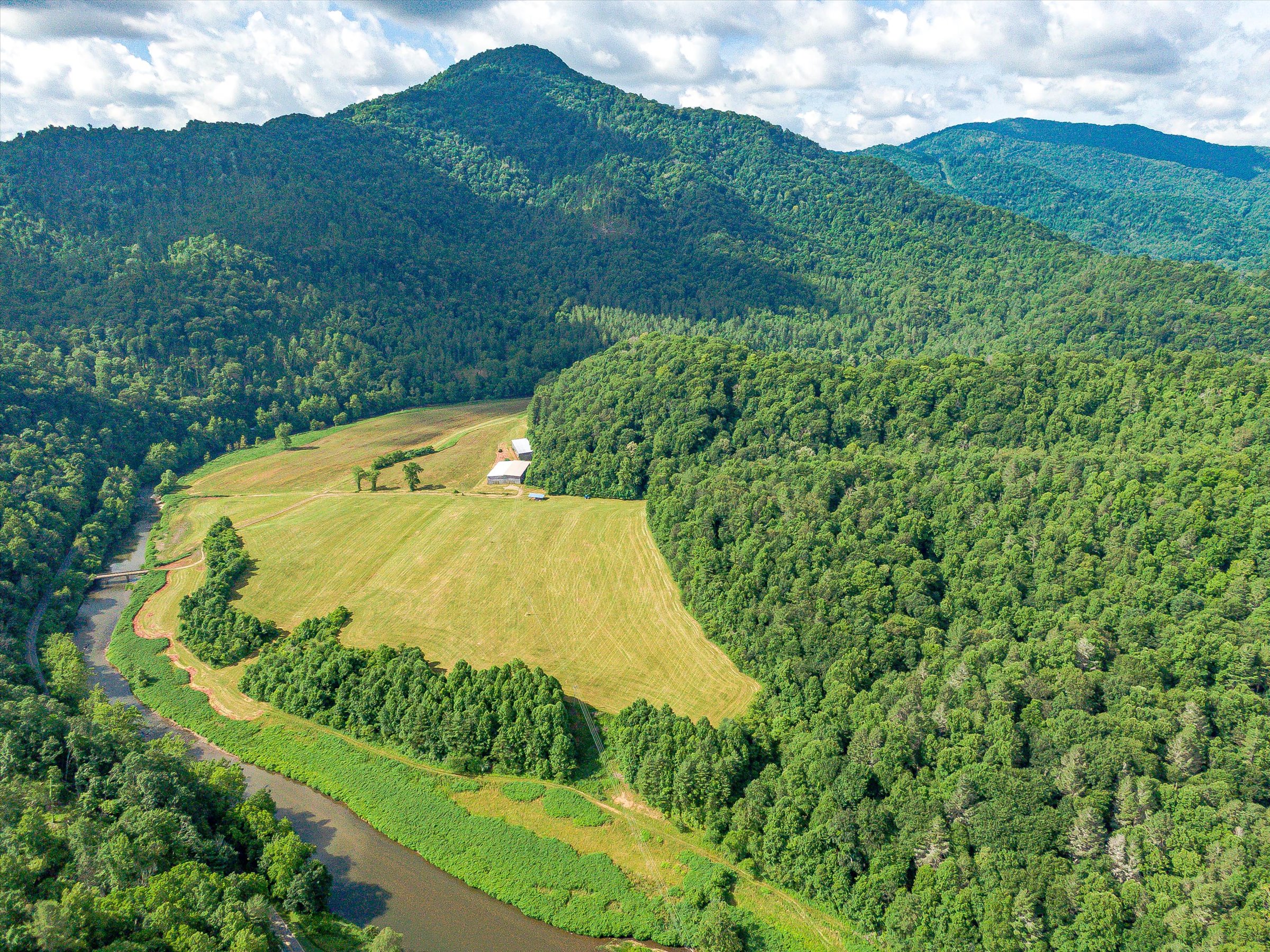 How often can a person simply look around them at the land and water they own and find it as it was hundreds of years ago? Riversong promises unparalleled majesty and privacy alongside vast and varied potential.
Please contact Collin O'Berry, managing broker/director of Altamont Property Group, or Billy May of Altamont Property Group for more information on marketing and selling your luxury land in Western North Carolina.
Riversong is co-listed with John Haynes of Keller Williams Black Mountain.