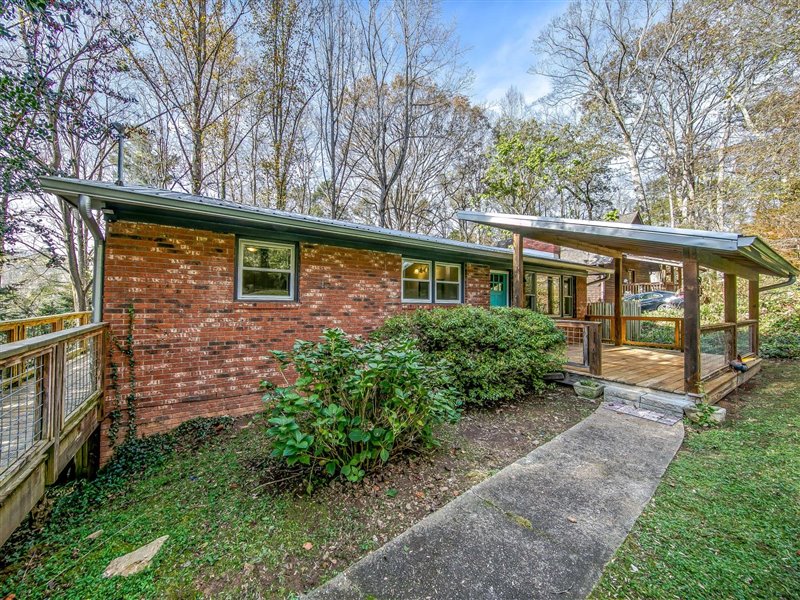 93 Morningside Drive, West Asheville
MLS #3652404 – $425,000

Don't miss this excellent opportunity for a renovated brick ranch home in West Asheville with separate upper and lower living spaces. The setting is very pleasant, with the home set back off the street overlooking a beautiful forest of hardwood trees.
The upper level features an open-concept living space with updates throughout, including hardwood floors, wood burning fireplace accented with mosaic tile, 2 bedrooms, 2 full bathrooms, and a wrap around deck to enjoy the outdoors. The custom kitchen features IKEA cabinetry, granite counters, stainless appliances, and ample counter space for your healthy meal prep. The lower level features an open-concept studio living space with a separate full kitchen, washer, dryer, full bathroom, and a covered private patio. The backyard features separate fenced in areas for both living spaces, perfect for pets.
All considered, this move-in-ready home offers an excellent value on the current market for a solid investment with a central location.
Contact Collin O'Berry of the Altamont Property Group
today for more information.
altamontpropertygroup@gmail.com or 828-772-1667